WordPress Ecommerce Themes
WordPress is an all-encompassing umbrella that seems to have taken every segment under its ambit. Today, eCommerce is a very dynamic niche that is going great. If you observe carefully you will find that lots of web stores use WordPress themes to run their shop. The WordPress eCommerce themes are so popular and powerful, that anyone who is looking to launch a shop or thinking of renovating their old store invariably looks for WP templates. What makes them so catchy is their abundance and quality. The customizability and flexibility of WordPress is already there to make them sought-after.
Well, these days responsive design, i.e. mobile friendly display, has also become a part of the great global WordPress theme saga. The growing number of smart phone users has made it mandatory for shops to have a site that can adapt with all screen sizes. This is why they want the templates to be mobile friendly. The good news is that developers and designers also understand this fact very well. They keep coming with lots of efficient themes every year. Want to check them out? Right below are a collection of 60 themes, waiting to be viewed. Take a look!
Primarily a magazine theme, Clock is also WooCommerce ready. Thus, it can act as a full time eCommerce theme. It is responsive, clean and very easy to navigate. Valued at $35, the theme is a powerhouse of features and its customization options make it all the more tempting.
Food is a mouth watering theme that can help grow your brand on the web. It is responsive, retina ready, built with Bootstrap, ready to customize and much more. With it at your side, you can do absolutely anything you want. Priced at $49, the theme merits attention and admiration.
The $55 La Boutique theme is a multipurpose eCommerce theme that comes with 16 beautiful color combinations and nicely styled elements for your sizing charts, images and notifications. It is responsive and accomodates Slider Revolution and WooCommerce. The theme guarantees optimum user experience and you will love it for sure.
The $35 MagXP theme is WooCommerce ready and you can use it as a proper eCommerce theme. It is very responsive, SEO optimized, cross browser compatible, translation ready, flexible and lots more. You will definitely like the design options and the unlimited colors and layout possibilities.
Especially designed for furniture, home interior and home appliances stores, FurniWood is a WooCommerce compatible theme. It is completely responsive and comes with great color combinations which provide a clean and professional look to your site. The theme will reward you tremendously and give you all the capabilities that you want from it.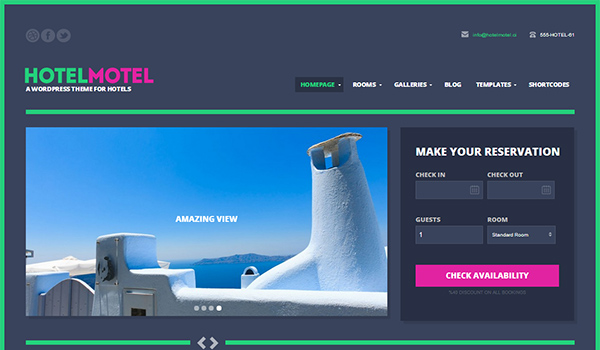 This eCommerce theme has been specially designed for hotels. Based on the flexible Foundation grid, HotelMotel performs perfectly on all monitor and mobile sizes. It lets you create unlimited homepage templates with the powerful shortcode system. The theme has sexy colors, a booking form, cross browser compatibility, localization readiness and lots more.
The $79 Kancing is the best multipurpose WordPress theme for any small business website, like online boutiques selling apparel, clothing, a freelancer showcasing his portfolio or company offering services. It is nicely integrated with WooCommerce and carries the best of features and customization options.
Publisher is one of the most complete WordPress app themes and lets you showcase and sell your eBooks and other digital products. The theme is integrated with WooCommerce and also provides you multiple ways to sell. For example, you can set up an eJunkie cart or just link to Amazon.
Lovers is a Music WordPress theme with a clean, bold, unique design. It is also WooCommerce ready and hence, if you want to sell your musical merchandize, such as albums or songs, then you can easily do so.
The $39 Grid Commerce theme is a WooCommerce enabled responsive WordPress theme that comes with a clean design and minimal layout. It is very easy to use and loads well across screen sizes. The theme is also nicely designed and packed with all the modern features.
The $49 Sport, from MojoThemes, is a powerful WordPress theme with ultra responsive design and modern features. The theme is WooCommerce integrated. You can use it as an eCommerce template to create a web shop that sells sports goods.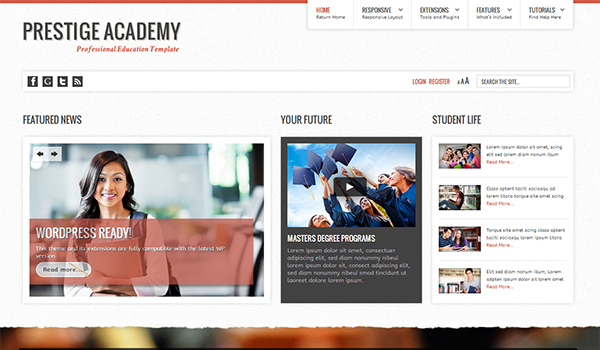 Prestige Academy is a marvelous responsive WordPress theme with great features and customization options. It is best for education and related niche. You can easily integrate it with an eCommerce plugin to create an amazing web shop.
Herringbone is built on Bootstrap and is a fully responsive and retina ready theme. It utilizes WooCommerce, the most popular and powerful eCommerce plugin for WordPress. You will love to work with this theme and it can do wonders for your store.
Immunity, from MyThemeShop, is a multipurpose responsive WordPress theme that includes WooCommerce integration and tons of other features. It is very modern and comes at the price of $35. The theme would do perfectly well as an eCommerce template.
Department is a nice multipurpose eCommerce and business theme designed for those who sell fun and exciting products. It is completely responsive and thus, loads well on different screen sizes which means your customers can access it anywhere and everywhere. What is more, you can promote your sales in a very comprehensive manner.
Restaurant is a responsive eCommerce theme that makes use of WooCommerce. It is very powerful and carries a simple and clean look. Priced at $55, it is a complete package of modern features and you will love to work with it.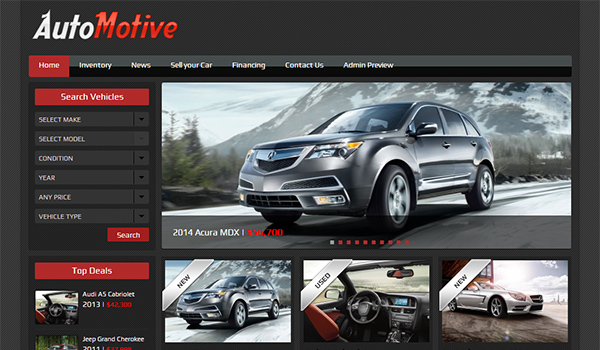 This is a special theme that has been designed for car dealerships. It features responsive layout, batch XML and CSV importing of vehicle listings, Craigslist integration, VIN Decoder and lots more cutting edge technique. You can use it to create a wonderful web store.
The $45 Grepfrut is a minimal and bold software WordPress theme with totally responsive design. The theme is very well designed and does not lack in any department, whether looks or features or functionality.
Designed for women entrepreneurs, consultants and coaches; Jacqueline is a very chic WordPress theme. It can help you sell your services and products through an efficient web shop that visitors and customers can access from all viewing devices.
Ideal for luxury rental villas, resort hotels, boutique hotels, B&Bs, etc. Belafonte is a very modern and minimalist WordPress theme with a responsive layout. It has been designed with the best of features and gives you fabulous performance on all screen sizes and resolutions.
Olympic is a powerful theme that carries a responsive layout, flexible design and many more sought-after features. The theme is a suitable choice for your eCommerce platform and sure to bring you great returns for the price of $39.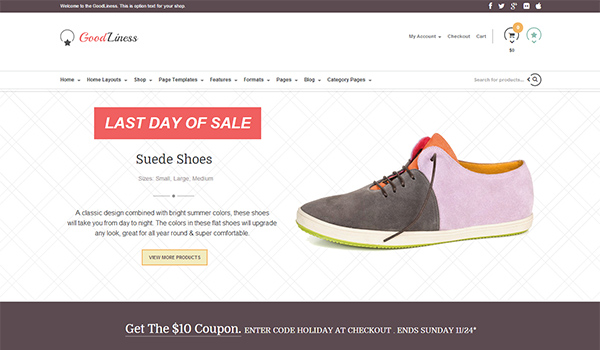 GoodLiness is a clean, super-duper customizable and flexible WordPress theme with a fully responsive design. It has been built with HTML5, CSS3 and Bootstrap 3. The theme is highly user friendly and gives you all the options to create the web store of your dreams.
TheOne, from MojoThemes, is a cross browser compatible, responsive and feature rich WordPress theme with modern design that can suit a wide variety of websites including eCommerce. It is ready for WooCommerce and thus, you can easily get started.
The $55 Mega Shop is a WooCommerce compatible theme that has been designed to serve electronics, home accessories, computers fashion, blogs and match all other kinds of stores. This theme possesses good looks, cutting edge technique and amazing functionality.
Splash, from MyThemeShop, is a review based theme that is also compatible with WooCommerce. It can help you create an interactive web shop where your customers can review and rate products or services, all using the built-in review feature. The theme is also well loaded with other features and offers you a great deal of customization.
This is a special theme that caters to salons and spas. Its colors, layout and functionality; all have been designed with a salon/spa in mind. The theme is very easy to use and also open to customization; you can design it in any way you like.
Babysitter, as the name suggests, is a theme for babysitters/nannies site, a mom's blog or other baby oriented sites. You can use it as an eCommerce platform to sell your services. The theme possesses a flat, clean and responsive design which makes it a hit in the present times and you as well as your customers, both are sure to admire it.
HomeQuest is a contemporary eCommerce theme that caters to real estate agencies, brokers and directories. The theme possesses a pixel perfect design and a bunch of features that will make clients call you again and again. It is fully responsive and thus, you do not need to worry even a little bit about losing customers.
General Commerce is a rocking responsive WordPress theme with a great design that will suit any store. It is very easy to mold and thus, you can turn it any direction you want. You will have a great time working with it and your customers will also enjoy the shopping experience.
Energy is a strong and stylish business theme which you can use as a web store. It works great with gyms, fitness centers, sporting venues and other businesses that want to impress with full-screen photography on their websites. The theme is completely responsive and thus, easily loads across diverse viewing platforms.
Loaded with attractive multiple image Slider, facility to add video/testimonials on the homepage, showing portfolios, several page templates along with a full width page template, animation effect for the homepage scrolling and much more; Compass is really a delight. This responsive theme is apt to be used as an eCommerce platform where you can showcase your products and services in a very engaging and effective way.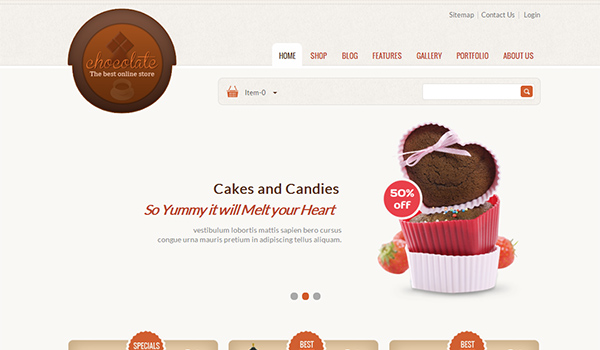 The $49 Chocolate is a WooCommerce enabled WordPress theme that has been designed for chocolate, coffee, drink and cakes store and blogs. It carries a clean and professional look along with a completely responsive design which means your customers and visitors can access you on all viewing platforms.
According to OrganicThemes, Shop makes selling simple. This theme is compatible with the popular and free WooCommerce and Exchange plugins. It helps you create a beautiful storefront in minutes and you can begin selling products within moments after setting up the theme.
EZ Web Hosting is for all the web hosting service providers who want to sell their services. It is very fast and can bring any hosting site to life in minutes. The design of the theme is clean, modern, responsive and full of features.
If you have a hotel or are any other service provider who has got anything to do with travel and tourism then Tourism is the theme for you. Its powerful destination search module and great responsive layout make you available on diverse platforms which helps to expand your customer base and increase sales.
Integrated with WooCommerce, Cease is a fresh business and corporate WordPress theme. It makes things super easy to manage and you can deliver on all types of monitors and mobile devices. What is more, the theme has all the new-age features and customization alternatives.
Glamour is a groovy WordPress theme which elevates minimalism with a splash of color. It comes with WooCommerce readiness, multiple column post display, clean design, customization options and almost everything. It perfectly fits the bill as an eCommerce theme.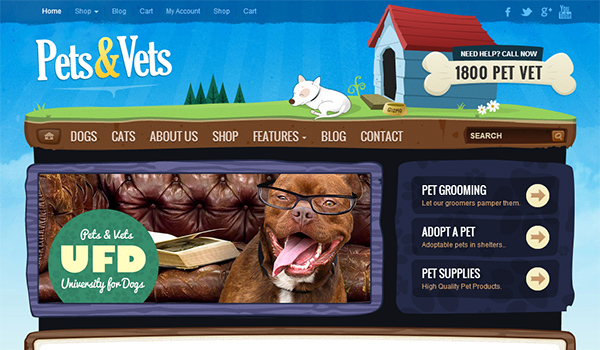 This theme helps you start your own online store for merchandize, pet food, pet toys, etc. It is based on Bootstrap 3 and compatible with WooCommerce. The theme is also responsive and hence, loads well on all screen sizes which directly translates into more sales and expansive customer base.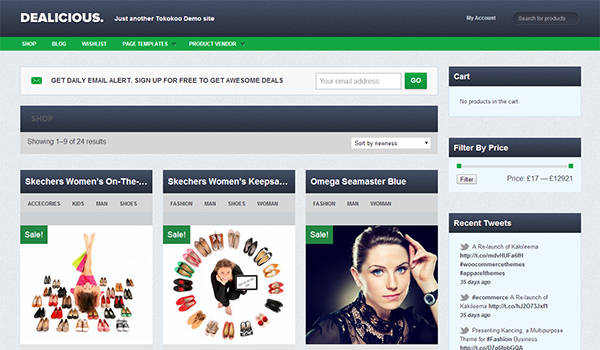 Meant for online deals site, Dealicious is a classic WordPress eCommerce theme that is so catchy and competent that you can easily impress your audience. The theme has got some very exclusive features and all of them work together to maximize your sales and revenue.
Rockafella, from ColorLabs, is a professional and beautiful WordPress theme that has been exclusively designed for hotels. It helps you showcase your rooms, highlight your location and do lots of other things in a very effective and endearing manner.
Victoria is a flexible and customizable WordPress theme with a classic two-columns design, responsive layout and all the fine features. It is best for villas, inns, B&Bs, holiday rentals, hotels, etc. The theme will bring you in the spotlight in simple easy steps and highlight everything to the hilt.
Kelly exudes celebration and festive spirit. This WordPress theme is for websites that offer party styling services or a blog filled with party ideas & inspirations. It is very updated and makes it super easy for you to sell your services.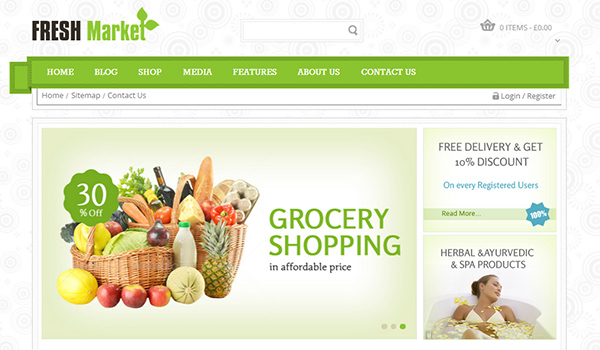 Freshmarket is a grocery WordPress theme that is integrated with WooCommerce and helps you sell fruits, vegetables and other products in a very easy and engaging manner. The theme is very good at its work and you will know this once you get it at your backend.
Design Agency is a responsive WordPress theme that will go great with any creative agency. Its clean design and minimal layout are its best points and you can capitalize on them to garner maximum sales and revenue.
The $55 Glammy is a premium eCommerce WordPress theme. It is very glamorous and provides a sexy shopping setup to your visitors and customers. The theme will definitely cut ice with your audience and they will love to come to you time and again.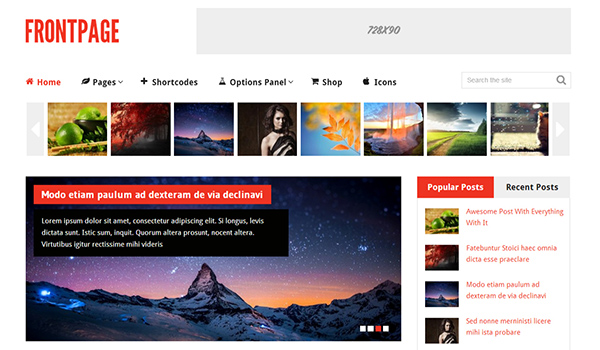 FrontPage, from MyThemeShop, is a WooCommerce ready, fully responsive WordPress theme that can function as a superb store. Priced at $35, the theme is very rich in features and gives you best performance on all viewing devices.
Loft is an easy to use and engaging WordPress theme that is compatible with WooCommerce. It has been designed for the modern interior decorator who needs an online presence but you can also use it to promote other types of products and services.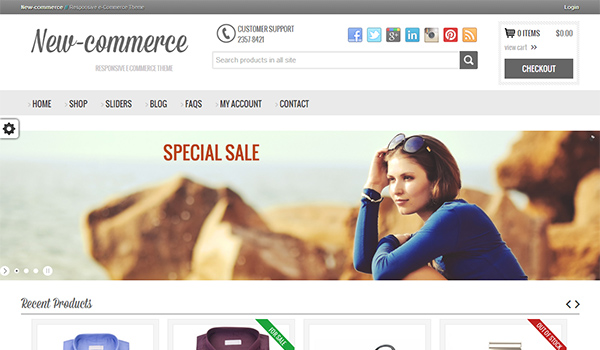 The $59 New Commerce is a latest WordPress theme that utilizes the powerful eCommerce plugin WooCommerce. With it, you can easily create a versatile powered web shop. It is responsive, clean and possesses amazing features. What is more, you can customize it to make it your own.
This eCommerce theme comes with a beautiful retro-styled design. It is packed with all the latest features that are needed to run a competent online store. The theme works best with WooCommerce and allows you to manage the store and customers order with ease.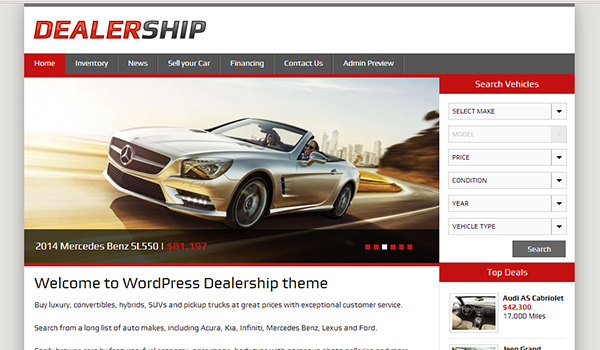 Dealership is a special eCommerce WordPress theme that has been designed for car dealers. It is suitable for all types of dealerships and features full inventory with responsive layout, batch XML and CSV importing of vehicle listings, VIN Decoder and more.
Carrying clean design and minimal layout, Logo Designer is a responsive WordPress theme which you can use to create your own eCommerce store. The theme is very professional and makes use of the best features and customization alternatives.
Infinite is a simple and clean theme which is really versatile and can be used for any agency, company or product website. The theme has some very unique styling options and you can use them to create a classic store.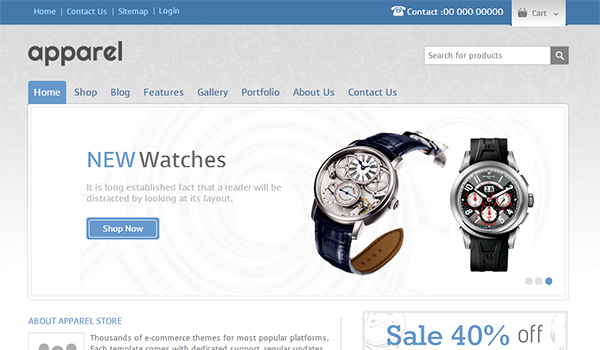 The $59 Apparel is a stylish eCommerce template with WooCommerce readiness that is dedicated to apparel and fashion designer clothes stores. The theme is very easy to customize and you can make it your own with simple tweaks, here and there.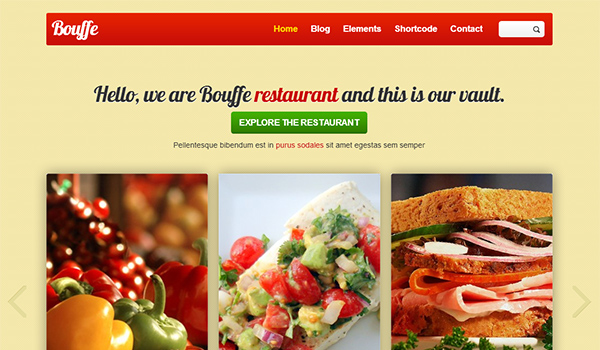 BouffeFood is an eCommerce theme for low budget restaurant business. It possesses a unique design, clean layout and light-weight operation module. The theme is also open to customization and displays your food items in a catchy style so that viewers feel tempted to order them.
The $49 Paris, from MojoThemes, is a latest responsive WordPress theme that caters to holiday houses, bed and breakfasts, hotels and agritourism. The theme is very easy to setup and use. You can get started in minutes and utilize the amazing features for your own benefit.
Here is a reliable and strong eCommerce theme that is clean, fresh, responsive and easy to customize. It can gel with any kind of store and you will love to work with it. Its features are fully up-to-date and offer you excellent service at all viewing platforms.
Whether you are a beginner or a pro, Storefront will suit both of you. This simple, clear and customizable web shop theme has got everything to help you achieve success in eCommerce. The theme is smart and adapts to all screen sizes without any hiccup.
City Guide is a modern city directory theme that can help you create a profitable business in very simple and easy steps. You can charge for content submission using price packages, set up recurring payments, create coupons and do lots more.
Nite is a super latest WordPress theme with a modern widescreen layout combined with flat colors and lots of features. The theme is suitable for a wide range of websites including web shops. It is also mobile friendly and hence, goes great with all types of screen sizes, whether small or big.
Repose, from MyThemeShop, is a flexible, multi-format WordPress theme that is perfect as a web shop. The theme is WooCommerce ready and gets along with all types of viewing platforms, whether desktop or mobile device.