Pick the Right WordPress Blog Theme for You
WordPress has come a long way in recent years. This platform has become a full-fledged content management system now. It serves all types of websites, from web stores to portfolios. There are plenty of themes out there, free as well as premium, that are meant to make your life easier. They are adept at serving all niches and cater to all kinds of tastes. If you focus on blogging, you would find that the best themes tend to be clean WordPress blog themes. Using a clean WordPress blog theme makes it easy to customize and add your own personal touch.
Here, you will discover 75 minimal WordPress themes that are simple and clean. By simple, we do not mean tasteless. They are quite trendy and carry diverse designs and fashionable trends such as parallax, sliders, etc. They are not overdone and possess the right amount of aesthetics and functionality. Beginning from Rainier, a crisp and cool template, the gallery ends at CleanApp, an app theme with a brilliant blogging section. You can use these examples for all kinds of blogs, ranging from community to corporate. Have a look.
Rainier is a minimalist WordPress theme that gives functionality and aesthetics equal treatment. It is very detailed, yet simple and crisp. The template has been designed to make your work easier. It covers all your needs quite well. Check it out and get it into working mode.
A clean and minimal theme, Portfolio would suit your blog requirements quite well. It is primarily a portfolio theme, attached with a blog feature to make your profile more credible and popular. Its features are very friendly.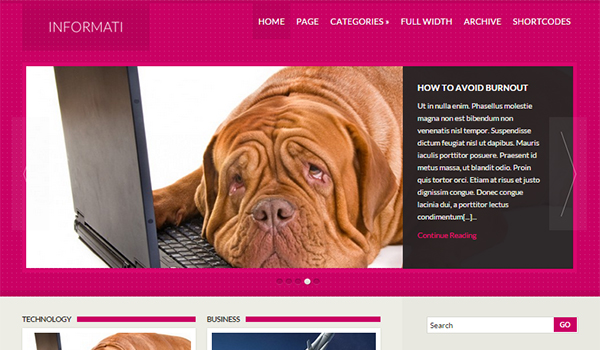 Loaded with a flexible homepage, 7 color schemes, slider support, custom widgets and pages, Informati is one theme you have definitely got to check out. It has all the options you need to get up and running fast.
Minimalism and cleanliness share a very close relation and iBloggo makes the connection in a very stylish form. This HTML5, CSS3 enabled theme features cool animation features. It has a custom design that will showcase your work to the best of its potential.
AppTheme is for app developers that showcases your work beautifully and in a completely professional style. It is a great tool to integrate the blog side by side. It features a rich arsenal of amazing features, such as SEO optimization, cross browser compatibility, 15 custom sliders, HD demo video tutorial, etc.
Speed is the most prominent feature of SEOTips and it is also proficient in SEO optimization. This premium template comes with quick install feature. It looks great on a wide range of viewing devices.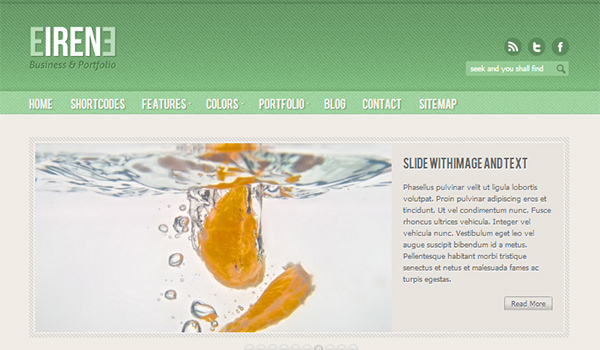 Eirene is a multipurpose theme with great features that can easily build your dream blog in simple steps. Its 6 custom widgets, 6 color styles, sortable portfolio, featured slider and other features are well equipped to handle any kind of content. What is more, the template performs out of the box and gives results.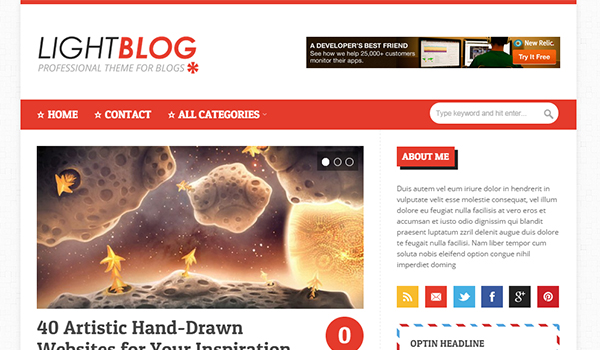 A review is a great way to add more charm and character to your blog. LightBlog is a fully-featured theme with all the fine attributes that will help you make money and earn popularity. It is fully responsive and based on HTML5 and CSS3. The template is ahead of its competitors.
WP-Ellie is a well-designed theme with lots of features and nice customization capability. It is stylish, clean and flexible, with a totally responsive design and custom settings. You will love its performance.
Fully focused on the written word, Statesman is a premium theme that will flatter bloggers completely. The template is very clean and crisp with bloat-free codebase and advanced features. Its in-built SEO settings will lead to more traffic and you will rank higher on the search engine results page.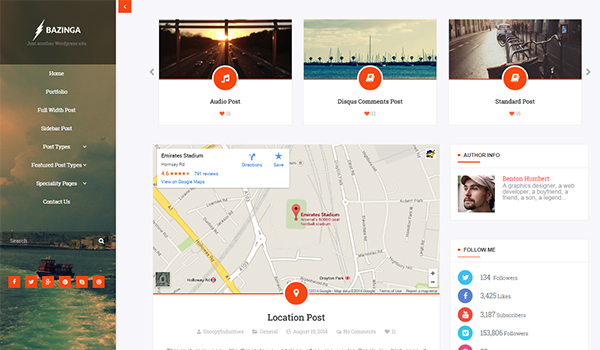 Bazinga is a premium blog theme that has been tailor made for those who love flexibility and want to create a personalized blog. This theme knows what is important for you and provides you all the adequate features in adequate degree. No bloating or overload here.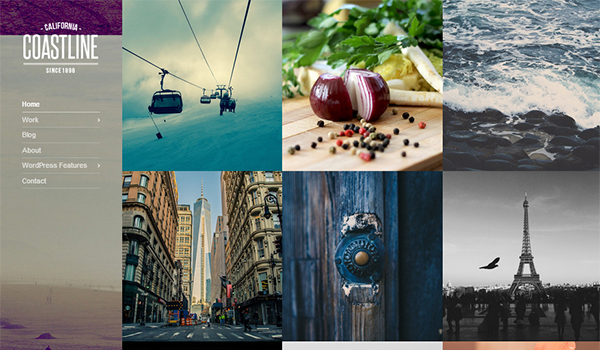 An elegant blog theme, Coastline is uniquely designed and renders clearly on a wide range of viewing devices. The template is home to groovy features like infinite scroll, post formats, shortcodes, color variations, etc. It is easygoing and offers complete support to help you express your thoughts and ideas.
Simple and minimal, Square Blog has got you covered. It is best for creative bloggers and comes with clean design, infinite scroll and many more features. There is no unnecessary load. The template is as clean and clear as a crystal.
Fresh has got very distinct character. This simple blog theme carries multiple custom page templates, a featured slideshow for sticky posts and lots of other stylish elements but they do not overshadow the clean layout. Your content will do all the talking and you can easily make way into the hearts of your readers.
An easy-to-use and engaging theme, Delivery Lite is very prim and proper. It creates the right type of setting for your content and once you are done with the installation, you can start functioning. It is all as easy as operating your Facebook or Twitter account.
Metropolis is an elegantly designed, colorful theme with clean layout that can complement many content setups. It is very well-balanced and knows the tricks to tempt the search engines into giving you good ranking. Just check out the demo and you will be introduced to the brilliance of this premium template.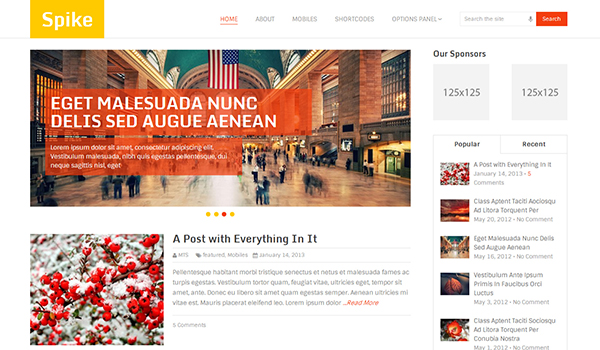 A clean blog need not be devoid of colors and no one understands it better than Spike. It is a bright and colorful WordPress blog theme with a sleek post slider, wonderful widgets, shortcodes and the best optimizations of MyThemeShop. This fully responsive template is also coded with the latest HTML5 and CSS3 techniques.
A clean theme with a creative touch, NYKA has been designed for portfolio websites but would also work well as a blog. Its features are pretty adequate and the template offers you enough room for customization. What is more, it delivers quickly as the installation takes only minutes to get started.
Spectrum has been designed for content focused sites that also want to include beautiful imagery alongside. This premium template is very flexible and also offers you WooCommerce to set up a shop. So, you can enjoy both the facilities at a single platform.
Meant for sophisticated websites, Anchor is a theme that is super mobile friendly and rock solid. A fit platform to host your blog, it is ready with WPML support to help you reach out to maximum number of readers. This template also comes with automatic updates and lifetime support. So, you do not have to worry about anything.
If you believe in hitting the target bang on then Om is really a sample you should quickly bring home. It is very professional and pleasing with right colors, typography and other details. The template offers you customizable footer and header widgets along with lots of other cool characteristics that will make your blog stand out.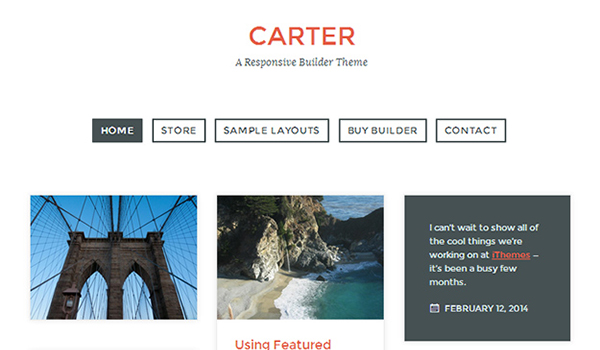 Carter is based on the jQuery Masonry layout and presents your blog posts in a very free flowing fashion. The readers will love the rendering and sure to stick longer on your blog. The features are also brilliant and favor you all the time, at every step.
Carrying a clean and consistent layout along with sophisticated details, Momentum is a theme that works on keeping your readers happy and engaged with your content. It is fast, lightweight, SEO friendly and content-centric. This means it has all the things that are needed to make entry to the top positions.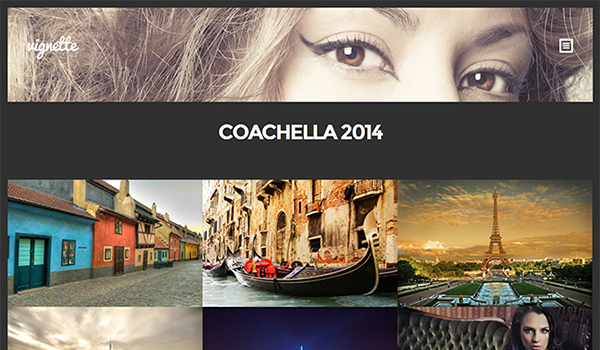 Visuals can bring in a lot of eyeballs to your blog and Vignette knows this quite well. This stunning theme packages your content in a cool style and makes the best efforts to bring them into the limelight. This premium template carries all the modern functions you need to create waves.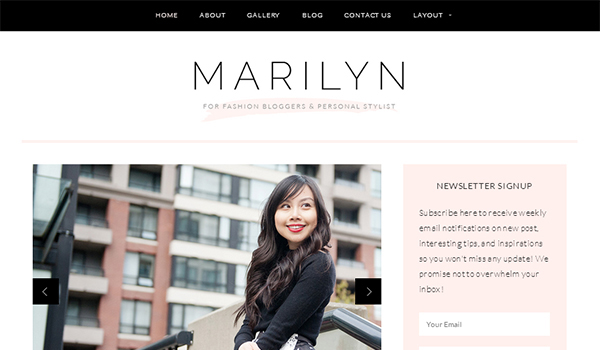 Meant for female bloggers and those that cater to women audience, Marilyn is a very mild and magnetic template. It lets you bring out your chic side to the fullest and gives you good deal of tools such as newsletter sign up form, social media icons, cross browser compatibility and lots more.
Your wedding is very special and thus, the site has also got to be equally special. Now this does not mean you have to be elaborate, Wedding cuts the clutter effectively and comes with a minimal-yet-magnetic design. The unique features of this template will serve your purpose to the fullest.
Carrying bright color combination and contemporary features, Allegro is a theme that brings a nostalgic feeling to your heart. Its beauty will make your blog glow on all viewing platforms and you can also make it follow your commands. The template establishes you as a credible writer and gives you all the fame that you want so dearly.
Sensational is a superb theme from MyThemeShop that brings out the awesomeness of your blog to the fullest. It is packed with diverse color options, SEO optimized design, responsive layout, AdSense readiness, cross browser compatibility and much more.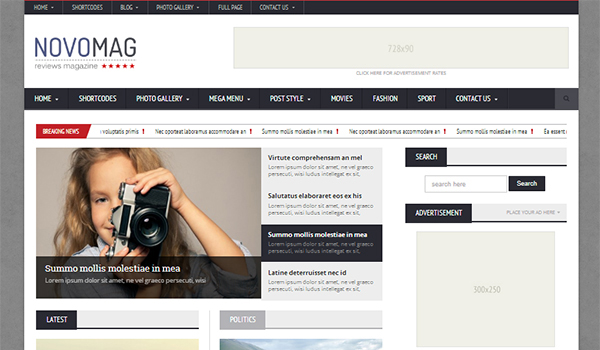 The personal banner system is the speciality of Novomag. This premium template is buzzing with so many features that you can create any kind of site or blog. The 2 blog styles are quite cool and if you want you can also create your own. There is no dearth of options.
Carrying 5 custom widgets, 10 post formats and tons of theme options; Phrase is a powerful theme that would go great with bloggers. This responsive template has got a very content-friendly approach that lets you write to your heart's content and never comes in the way of your creativity and thoughts.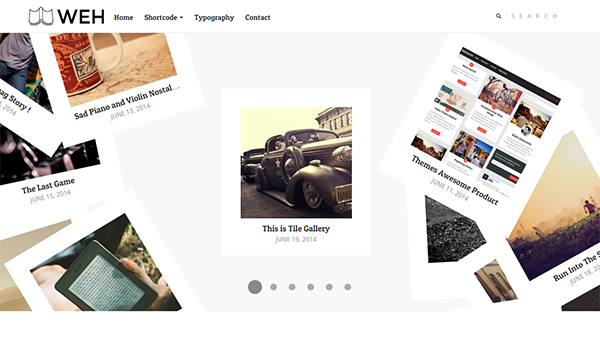 A modern blogging WordPress theme with friendly interface and smart features, Weh will make you say wow. It is very beautiful but simple so that your content gets good exposure and is not overshadowed by the other elements. It is also optimized for readers and treats them to the fullest, whether they are using smart phone or desktop to access your blog.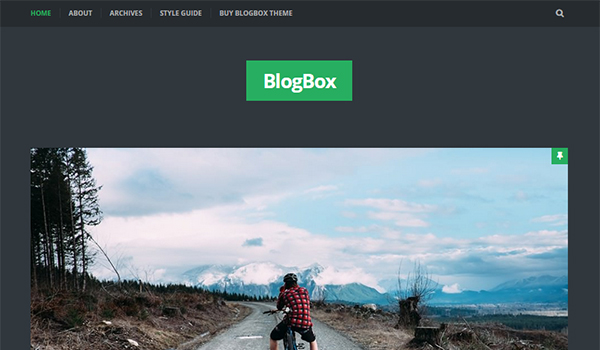 A complete blogging theme, BlogBox is minimal, bold, responsive and easy to use. Best for photo bloggers, it can go with all creative souls. The template carries a clean approach along with social media icons, author box, post format support and many other attributes. All cater to the publicity and packaging of your content.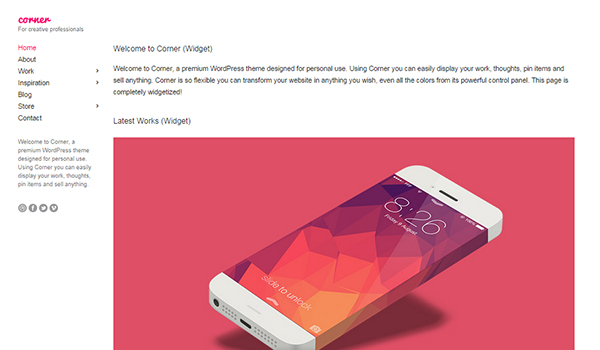 Here is a theme that suits many types of websites/blogs. Its features are fully conducive for your purpose and the powerful options panel lets you do everything, from changing colors to creating slides. Just have it at the backend and enjoy the show.
Corvus is a content-centric theme with dynamic appeal. It has got the most up-to-date attributes and emphasizes heavily on user engagement. You will get a rich library of powerful plugins alongside which you can use to make best impact on your audience.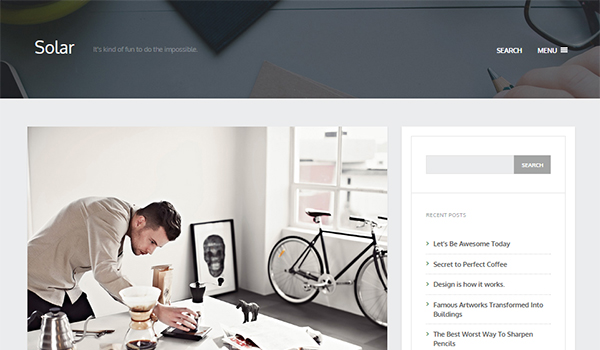 A conventional blog theme, Solar sets up everything for you, leaving you with enough time to focus on writing. Its sharp and responsive design act as the perfect pair for your words and make them gain full attention of your readers, everywhere.
Designed by MyThemeShop, Splash is an HTML5 WordPress theme integrated with review blogging that maximizes content impact. It is very tech-savvy and treats your content with great skill. The nice aesthetics and fine functions together crack the success code fast and give you all that you have been longing for so long.
Here is a beautiful and minimal WordPress theme meant for professional bloggers and photographers. Its features are very advanced and ads friendly. It lets your content flow freely, making it a treat to watch and read.
Video Blog is for video bloggers and comes with the in-vogue flat design. The template is home to updated features and loads with great speed. Your audience can easily access the videos and all other content, on their different viewing devices.
Your online journal gets the best companion in Diary, a modern WordPress theme with completely content-friendly layout. It has got all the cool attributes needed to package your stories, memories, photos, videos and other elements. The beautiful design and easy-to-use features are more than sufficient to set you on the path of success and fame.
Explosion arms you with 10 post formats, 13 awesome widgets, an amazing Page Builder and lots of theme options. The template is fit for any kind of blog and keeps the design very minimal, bringing all the focus on your content. With it, you will have a great ride ahead and your readers will enjoy your stories thoroughly.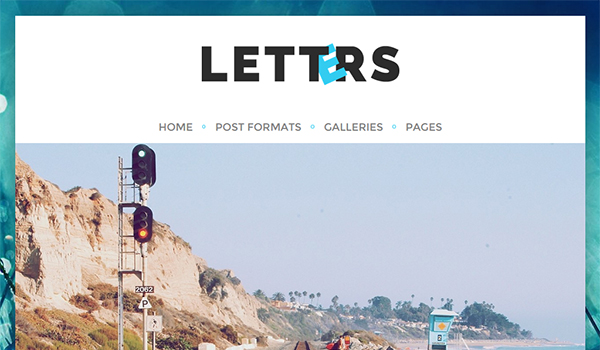 Letters is a SEO friendly and professional WordPress blog theme. It is suitable for different genres and comes with a wide range of features that will always keep you going. Unpack the details with the demo and you will get to know the template better.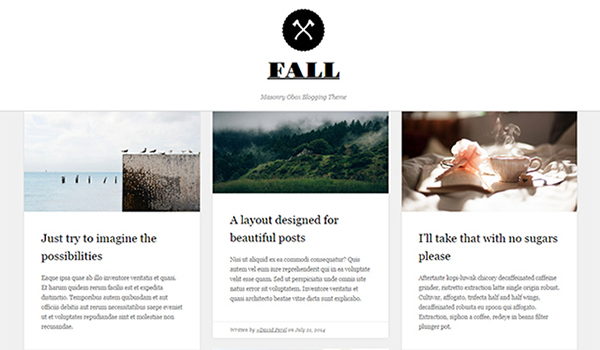 Fall is for casual bloggers and those who want to run a corporate blog. This premium template offers you distraction-free reading and comes packed with a host of cool features such as nice typography, Google authorship support, social profiles, search engine friendly code and many more.
Ideal for business blogs, WP-Prosper is a clean and professional WordPress theme that automatically adapts to the browsers and viewing devices on which it loads. The template is a great friend as it comes with convenient custom setting and flexible layout. You can easily tailor it according to your personal specifications.
Readolog is a minimal blog theme with 7 post formats, 2 page types, 7 custom widgets, translation readiness and much more. The theme is very well-composed and home to all the useful features that you will need to make your mark as a credible blogger. It is very tech-savvy and based on latest technology such as jQuery, Redux framework, etc.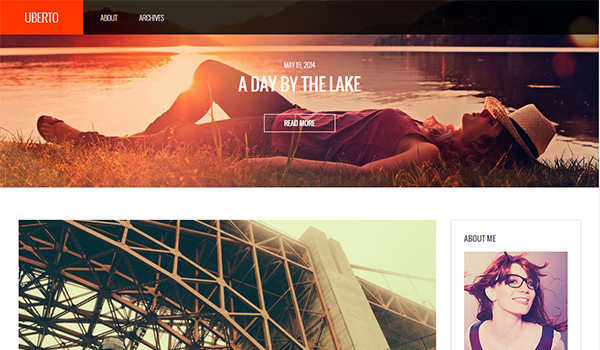 This is a beautiful blog theme with fully responsive design. It is based on Bootstrap and comes with a minimal layout that gives the key role to your content and makes it a hit with the readers and target audience. What is more, you are offered full support for lifetime.
The easily customizable layout and visual layout manager of Circle give you full freedom to design your blog as you like. Its unlimited colors options, retina ready display, responsive layout, 600+ Google fonts are just some of the many cool features that you will get to enjoy if you decide to buy this KopaTheme product.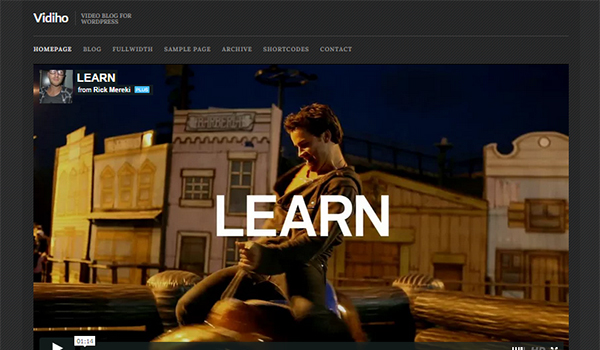 Get a look at Vidiho. This is a fabulous video blogging theme that lets you embed videos in a click. The High Definition slider can host HD videos and the lightbox can carry classic reviews. If you like, you can also use Vidiho as a simple blogging theme. It will perform perfectly.
OnePage is a parallax based single page WordPress theme carrying creative Drag and Drop homepage layout, exclusive blog layouts, responsive design and much more. The template offers a very clean design that gives ideal support to your content and make it catch good deal of attention, on all platforms.
Blogger is an advanced and responsive WordPress blogging theme with infinite features. Its versatile typography options coupled with 600+ Google fonts, author template and other features give it a fabulous appeal, something you will not find easily in other templates.
A firm follower of latest standards, Superbox is a fully responsive theme with extraordinary design and smart features. This premium template is very easy on the eyes and packs your content in such an orderly manner that no reader will leave without putting in a word of praise.
A super cool blogging theme from MyThemeShop, Splash gives an awesome packaging to your content; no matter what the device or screen size on which it is being viewed. The theme is very fast with in-built rating feature and many other features. If you go for Splash, be sure that you are only steps away from your dream blog.
GoMedia is a latest magazine theme with all the characteristics that will give you a great blog. Its modern, elegant design and fully responsive layout are ideal mold for your content. The template best suits personal blogs and community blogs.
BlogPlaza is a classic blogging theme that suits all types of bloggers. It is a great combination of simple customization, awesome usability and powerful features. If you are looking for a template that will deliver instant and substantial results, then this is the way to go.
Crafted for stylish bloggers, Lynette is a lovely theme with fine presentation skills. Its homepage showcase your recent posts and the auto-scrolling slider lends even more appeal to the same. The features are fully equipped to give you desirable results and every dollar that you invest here will bring in good return.
Whether you want to set up a personal blog or a corporate blog, SeaShell makes for an ideal choice. This professional WordPress blog theme rolls out a rocking list of cool features that will give you superb results without taking much time.
Carrying masonry design and responsive layout, Blogdrops holds infinite promises and comes with fresh looks. This minimal WordPress theme includes lots of advanced features, countless color schemes and convenient customization options.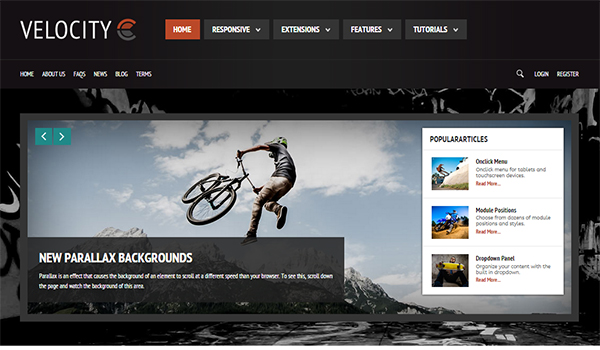 Meet Velocity- a modern magazine and news theme with a rich list of smart features. Its simplistic styling is its USP that works well for all kinds of genres. The template carries a new parallax backgrounds feature that brings in a lot of charisma to your web platform.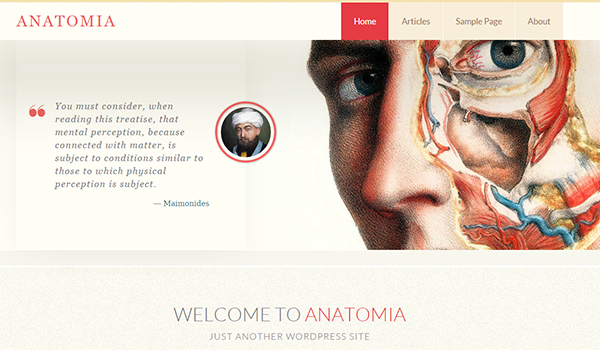 If you want to set up a blog with multiple authors then Anatomia is the way to go. This simple theme can publish posts from multiple authors. It is loaded with lots of features that you will need to get your work noticed.
Mobile First is a completely responsive WordPress blogging theme with flat and minimal design. Its functions are perfectly appropriate for your web platform and you can also tailor it easily to flatter your personal taste.
A super speedy blogging theme, TechSavvy treats your content with great love and presents it nicely on diverse viewing platforms. You will have all the freedom to have your say and can easily get the template to work in your favor.
If you want a theme that has mastered SEO then Schema is your best bet. This fast loading, ultra-SEO friendly WordPress theme bears the best of MyThemeShop features and works according to your specifications.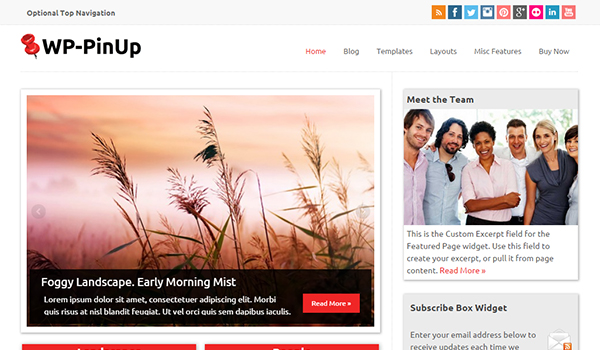 This is a Pinterest-inspired theme that you can manage with simple clicks. You can also include a banner ad and monetize your blog without any problem. You can selectively show/hide image/video, category, post title, excerpt, and date for all types of content.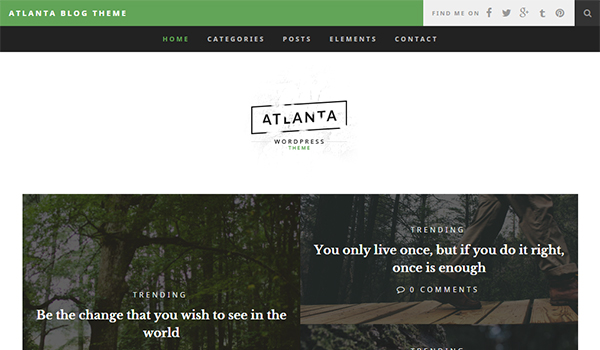 Atlanta is your dynamic WordPress Blog theme with 6 custom widgets, Post slider homepage, post grid homepage, translation readiness, responsive design and lots more. The theme is a great choice for all the modern day bloggers and will deliver equally well in all genres.
Inspirin focuses on single posts. Its awesome typography, 100% responsive design, clean character make it ideal for writers, bloggers and marketers. The theme is a promising product that you can certainly look forward to.
Papuros gives you more than a typical blog. This theme can carry a lot of content without looking cluttered. The homepage is available in two layouts and creates cool reviews of your posts. This template is very charming and technically advanced with social sharing for more than 250 social networks.
Creative Blog is minimal and gentle with full focus on your content. It is ideal for creative bloggers and comes with a fully mobile friendly design that looks cool on all viewing platforms. You will also find it extremely lightweight for the template avoids bloating.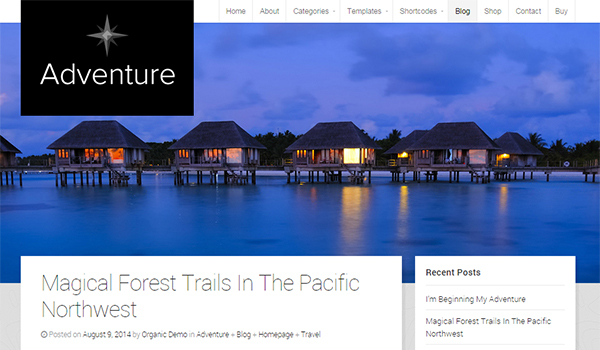 Dedicated to adventure and travel, Adventure is a very fitting theme for bloggers. It carries a full width featured slideshow for showcasing your most important articles. There is also a biography section for your social media links and information. Much more lies ahead. Just explore it and know better.
Blogist is a content oriented theme with clean and beautiful layout. Best for personal bloggers, it gives you many groovy features and is very easy to install and setup.
Xmax is a magazine WordPress theme carrying clean and modern design. It is also fully responsive and adapts easily to the viewing device on which it is being accessed. This template is a real gem and one you just cannot afford to overlook.
As is clear from the name, Write About It is a smart and solid theme that keeps all the focus on the written word. A delight for all bloggers, it offers you the best base to establish your career and you will really like the way it delivers.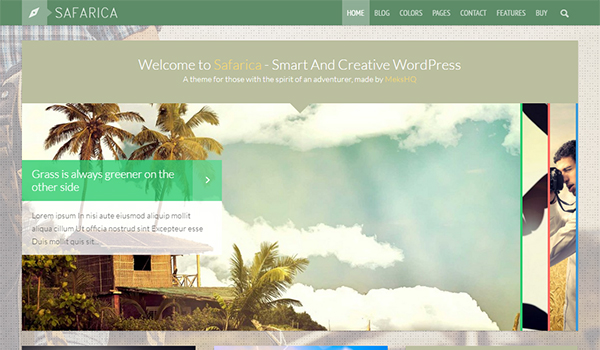 Safarica is a contemporary and creative WordPress blog theme with a professional outlook. It can go with any kind of blog and give you all the tools that will go into the making of a successful blog.
Exposition is a cool blog style WordPress theme ideal for long-form writers and photographers. It keeps your content on top but makes sure the setting is attractive. The template is a charmer that will easily give you the star status you have been envying.
Designed for personal blogs, Little Soul has been developed following a logic based on social networks. This premium template is very lovely just like its name but maintains a complete professional attitude throughout your blogging journey.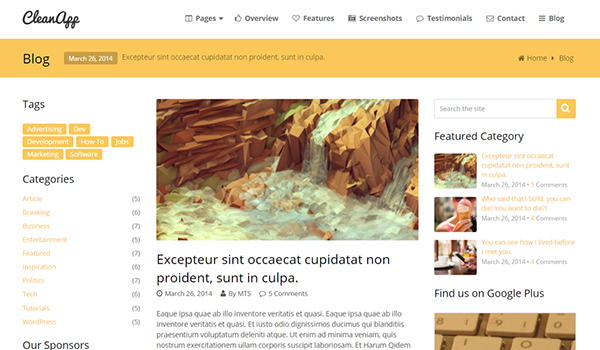 CleanApp is an app theme for developers meant to promote their work. It also comes with an integrated blog hemisphere that lets you sell with great competence and credence. The features and attitude of the template are fully content friendly and give you great support as you go about writing and blogging.