What's New in Divi 2.0
I have been waiting for Divi 2.0 since the day they announced they were working on it. I build custom themes for my clients, but I love to create my own sites with using Divi. If you've not heard of Divi, it is an amazing theme by Elegant Themes, which features a drag and drop interface. You basically set up and customize different modules and piece together your site how you want, without a bunch of coding and fuss. I've used Divi for several different sites, including my graphic Design and Web Design Business site, G Squared Studios. It was simple to set up, and I could construct each page exactly how I wanted it. There's always been modules for creating a sliding gallery, call to action buttons, and more. Now Divi 2.0 is here and there are tons on new features to talk about. I run through those in the video below.
More Layout Options
Now, you can have video backgrounds, and there are now more layout options. Instead of everything stacking vertically, and being inline, and that's it, you now have the ability to choose different mixes and matches of elements. Now longer is it thought of as just columns, but now you have different row structures added to it. You could always just create a new module with different columns, but if they were small elements, this tended to get out of hand. Not anymore. Now, if you've planned your content ahead of time, you can control the structure more precisely, with less fuss.
Vertical Navigation
I was ecstatic to find out that they added the ability to create vertical navigation. This opens up a lot of doors for even more layouts. I a also excited to see that they added a secondary navigation menu for extra options. This is great if you create a membership site, because secondary menu items, such as login, account, profile, etc., can be displayed in the secondary nav menu. There's also the new option to have a centered logo in your header, too.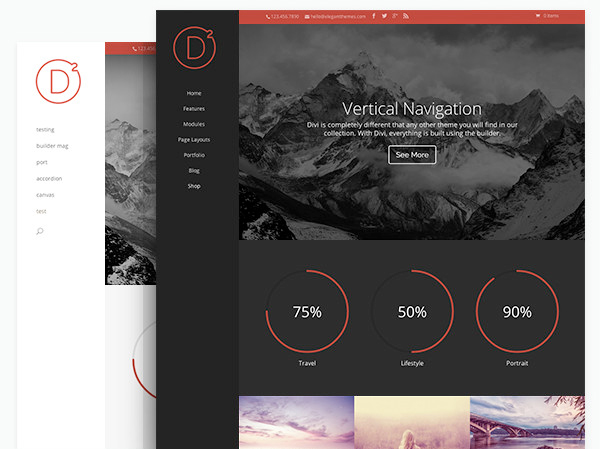 Other features that rock
Divi 2.0 has full width portfolios. They can also be sortable now, which means your visitors can filter your work by what they want to look at. If you are a designer or photographer, this feature is essential for showing off your work and landing new clients.
Divi 2.0 is WooCommerce ready, which means that you can set up your own store in no-time. Woocommerce is the number one plugin for creating your own online store with WordPress. In no time at all you build your site and upload your products. You could be selling in a few hours, not days or weeks.
Divi 2.0 now features different post formats, blog layouts, and new pre-made layouts for your site. You can customize the look of each post, depending on the type of media it is, and the overall layout of the entire site can be constructed with premade layouts. If you already know what you want, load a layout, customize it to match your vision, and hit the ground running. What a huge time saver!
There are 33 different modules for creating pages in Divi 2.0. You can choose from:
Image
Gallery
Text
Blurb
Tabs
Slider
Testimonial
Pricing Table
Call to Action
Audio Subscribe
Login
Portfolio
Filtered Portfolio
Bar Counters
Circle Counter
Number Counter
Accordion
Toggle
Contact Form
Sidebar
Divider
Team Member
Blog
Shop
Countdown
Map
Social Follow
Fullwidth
Header
Fullwidth
Menu
Fullwidth
Slider
Fullwidth
Portfolio
Fullwidth Map
Login module
If you have your own membership site, visitors don't have to be re-routed to some ugly login screen. You can actually integrated the login module wherever you'd like, making it extremely handy for your members to access their accounts.

Subscribe Module
You have full control over the subscribe module, and can literally place it anywhere. This makes it super each for visitors to connect with you, increasing return traffic greatly.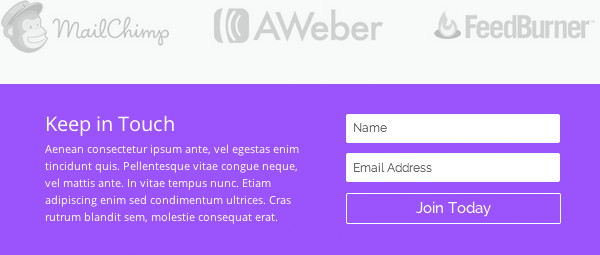 A huge collection of built in icons. The great part is, you have full control over how they look. You can control whether they are the icons themselves, they are surrounded by a circle, or if they have an outline. You can also control the color of each part!
Interested in Divi 2.0?