Acrostia: One Page Website Template Psd
It seems like everyone is wanting to create their own one page scrolling site lately. Coding your own isn't that difficult, but sometimes you may want to preview your background images before you end up coding everything. You might want to try out different layouts and structures. You also might not be sure if the one page layout structure is right for your content. The Free One Page Website Template Psd called Acrostia will help you with all of this. Created by Dimitar Tsankov on Dribbble, This free template psd will allow you to layout your content and see how it looks before you start coding. Below are screenshots of Acrostia.
With a big, bold image as the first thing your viewers will see, Acrostia knows how to make an immediate impact. Try out those images before you code, just to make sure it's exactly what you want.
The services section is nice and clean, with a bold color scheme and icons that really stand out. The text is clean and there's plenty of negative space so it won't get lost in clutter. 
The about section is similar to services, but it also has social media sections for all of your team members' accounts. This will make it easy for interested clients to get in contact with your team members.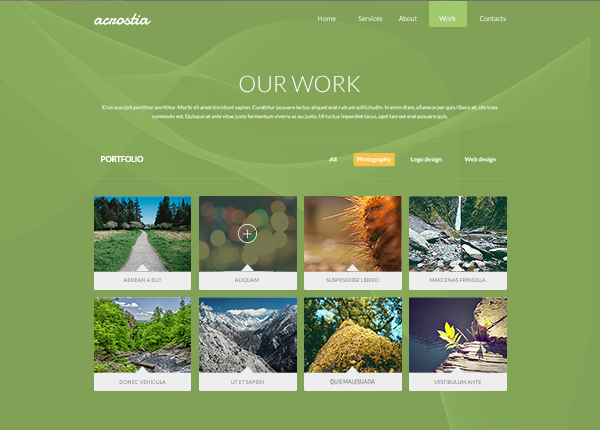 The Work section is really clean, with a section planned for a filterable portfolio of your work. It has simple images as examples, with an area for a title or a short description.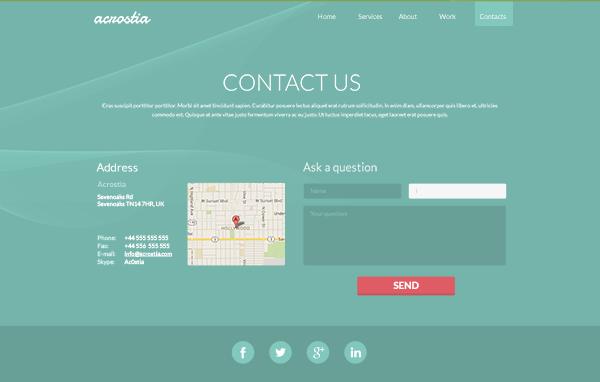 The Contact Us section looks great, with a nice map, contact information, and a lean contact form. There are main social media icons at the bottom for the main company account.
Download the One Page Website Template Called Accrostia
It is simple to download Accrostia. It is a completely free file. All you have to do is click the button below to be taken to the download page. What will you do with Accrostia?
 [button-blue url="http://outlinez.net/acrostia-free-one-page-psd-template/" target="_blank" position="center"] Download Accrostia [/button-blue]