Free Responsive Website Template: Beacon
It has been a while since I have given something away for free, so today I a giving away a free responsive website template called Beacon. Beacon is fully responsive and is built to show off your latest projects with ease. You can easily integrate your projects into this minimal website template. Style it to make it your own. Link to your social media pages, such as Twitter, Facebook, LinkedIn, Google+ and Dribbble. Use my free responsive website template to build your own custom responsive website, and be up and running in no time! Here are some of Beacon's features:
The Home Page
Beacon's Homepage features the Nivo Responsive image slider, so you can dynamically display news and announcements to your visitors. The home page features a 3-cloumn content area, where you can list your newest client, or feature your latest project or event. The featured images scale with the site, so everything stays proportional.
The About Page
You'll love this! Show a high resolution featured image of yourself to make your about page professional, yet personal. Show your contact information, your education, your experience, and your skill set in a neat, organized manner. When being viewed on a mobile device(a tablet or a smartphone), your content stacks on top of each other, but stays legible and clean-looking. Your image scales to fill the entire width at smaller browser sizes, so you'll never have a tiny image of yourself and your professional image will be prominent!
The Portfolio Page
Beacon's portfolio page is simple and understated, enabling your projects to stand out. Everywhere you see a colored rectangle is where your project image will go. You can have a sleek title with a brief description below each project, so your viewers will have an idea about the context of each project. 
At smaller screen sizes, the content stacks here as well, enabling you to show the largest images possible. Your projects will be viewed at the largest size possible, making them look their best. They will be displayed at their full width, so portrait images will be extra large. The titles and descriptions will come along with your images, making them easy to read, so your viewers don't miss a thing.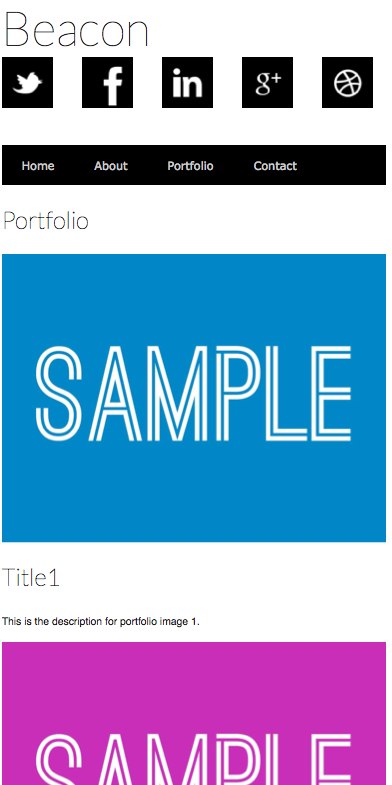 Beacon features a responsive contact form. For wide pages, there is a diagonal layout. Each input field highlights when selected so your visitors will always know where they are. Simply entire your email address in the included php file and you'll be receiving new business emails in no-time.
On Mobile devices the responsive contact form resizes to fill the smaller screen. This makes it easier for your visitors to fill out your contact form at a smaller size.
So How Do I Get My Free Responsive Website Template?
It's simple: to get your free responsive website template, all you have to do is:
What If I Am Already A Member?
Then you'll be receiving this freebie in your inbox when the next newsletter comes, or if you must have it right now(Which I can't blame you for), then you can share on Facebook or Twitter, using the button above and get it instantly.