10 Best Web Hosting Companies
Choosing the best hosting service for your website could be a big challenge. There are dozens of web hosting companies that offer almost similar features. But the key to choosing the best web hosting provider is knowing that some of them are specialized for specific types of clients and needs. Here you can find the best web hosting brands on the web and the main features that make them stand out from the crowd. Make sure to choose the one that ideally suits your professional or business needs.
BlueHost provides the best web hosting solutions for everyone – from individuals to businesses with a low budget. Some of the main features of the company's web host solutions include 24/7 support, fast servers, SSH secure shell access, SimpleScripts single-click installation and genuine resource management.
Where they take the number one spot is service and reliability. I endorse Bluehost, simply because I use it and have used it and love it. I run many sites on their servers, and rarely have any issues with them. If I do, customer service is more than equipped to solve any problems that arise. You don't get brushed aside, or left hung out to dry. If any issues arise on a widespread scale, Bluehost's entire staff comes together like a swarm of angry bees to tackle the issue quickly and effectively. I've used most of the other providers throughout the years, and none of them even hold a candle to the level of service and reliability that Bluehost provides.
WPEngine is a unique web host company that is focused only on WordPress hosting. In fact, the entire hosting system operates on a WP platform. In other words, it is a platform for you if you have your website already running on WP. Some of the main features of WPEngine include Git Version Control, Single-Click Restore Points, Single Click Staging Area, Unlimited Data Transfer and Enterprise Architecture among others.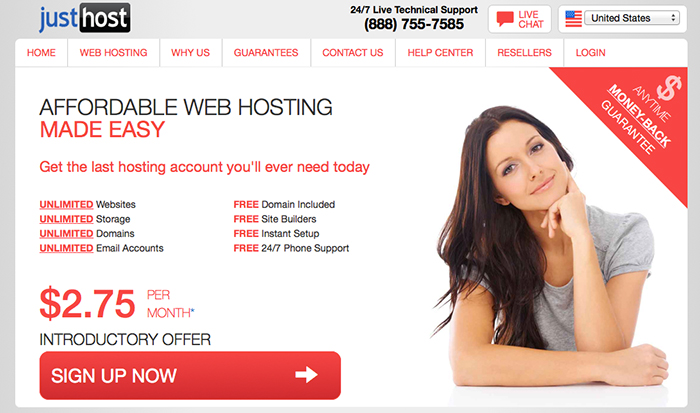 JustHost is another web hosting service provider that addresses the low-budget hosting needs of almost all types of clients. The main features of the web host company are free domain name registration, unlimited hosting space, unlimited email accounts, unlimited data transfer, 24×7 technical support, and free site builder among others.
FatCow offers you endless amount of data transfer, mailboxes and storage space. The web host company also offers ShopSite's online store, making it the perfect provider for individuals and small businesses. You will get free and unlimited domain names, domain hosting, MySQL Dbases and POP mailboxes. The free site builder, shopping cart and script library make life easier for any webmaster.
HostGator is a popular name in the list of top web hosting companies. The service offers affordable and easy to use solutions for individuals and small businesses. The provider is well known for its 24×7 Award Winning Tech Support. Some of the main features include unlimited bandwidth and storage space, starting with their Hatchling Plan.
The unique thing about WebHostingHub is that it is easy for beginners and yet scalable for advanced users. It is one of the "Best Budget Hosting" service providers on the web. Anyone seeking a low-cost and reliable hosting service, this is perhaps the perfect choice.
Similar to other low-budget hosting services, WebHostingHub focuses on a single basic hosting plan – All-in-One Shared Hosting. You can host unlimited number of sites using this plan. Other main features include unlimited data transfer, disk storage, webmail, MySQL Dbases, and FTP Accounts.
HostMonster is another affordable web host service provider with features including unlimited domain hosting, unlimited disk space, free drag-and-drop website builder, and free domain name for 1 year. Other features of HostMonster include unlimited POP/IMAP email support, 3 different web based email, unlimited email accounts, unlimited data transfer and much more. HostMonster supports cPanel and provides web file manager.
DreamHost claims that their shared web hosting plan is the most affordable and fastest way to put your website online. It has many unlimited features that make it ideal for both entry-level and advanced sites, blogs and portfolios. The web hosting brand has been here since 1997 and has helped everyone from content creators to designers to entrepreneurs fulfill their "dreams." Some of the main features of DreamHost include unlimited disk space, bandwidth, email accounts, domain hosting and an impeccable 24×7 support.
iPage may not be as popular as other big names, but it does offer powerful web hosting solutions with a number of unlimited features. Some of the main features of iPage's services include unlimited disk space, unlimited bandwidth and unlimited domains. The hosting service also supports a limited number of products for ShopSite shopping cart and offers unlimited MySQL Dbase support.
GoDaddy hosts award-winning data center. it offers access to Parallel Plesk and cPanel control panels. Other main features include 99.9% uptime, 24×7 free support, and money-back guarantee. It is a versatile web hosting solution for businesses, designers and developers that need to expand their website, and want to have access to hundreds of web apps.
These are the top 10 web hosting companies which are considered to be the largest brands in the business. Most of them offer similar features and packages, but some of them stand out in some departments. In other words a particular web host company can be great for one type and size of business and not for another. So what may be ideal for your business may not be perfect for another client.