Business Card Printing Services
On account of the increasing clamor over having your personal space on the web, you are running a barnburner of a blog dedicated to the sermon you keep pouring out around your profession and your expertise in it. While this has helped you grab the eyeballs you intended to, at the end of the day, this vulgar stress on virtual world is restricting your reach, as you close your eyes to the value conventional offline networking can bring in.
The traditional practice of handing out business card is yet to bow out to the competition it faces from its online contemporaries – blogs, Twitter, LinkedIn – and I don't see that happening for a few more decades. And how many times have you been able to register your blog's name in the minds of people you meet in-person? I wager – 1 in a 10. A business card helps you spread your network quite in a way nothing else can.
Simply handing out your business card to people you had the shortest of meetings with is a freedom you don't have with blogs. Who has time to memorize the URLs, anyways. Besides, you can have all of that information printed on your business card as well –
– Your online social networks
– Your phone numbers
– The brand logo
– The business taglines
And when it comes to nitpicking the sites that provide the business card printing services, there is a cluster of options to choose from. Let's have a look at the top 5 sites you must seek to get your business card printed:
When it comes to the quality of cards and the versatility of designs, Moo is second to none. You have an array of templates to choose from, each loaded with different patterns and colors. Moo also boasts of an incredible customization capability as it makes available webapps that can be used to tailor the cards as per your choice. If you intend to add your picture or a glossy logo on the card, you can do so seamlessly using the Moo cards. The web designers find Moo cards the perfect platform to flaunt their skills as they are given the freedom to play around with the design. The fact that their sales representatives are highly responsive and amicable, ordering the cards is hassle-free. For ordering 200 business cards from Moo, the cost starts from $79.87 for the classic cards, and it goes up to $153.66 for the Luxe cards.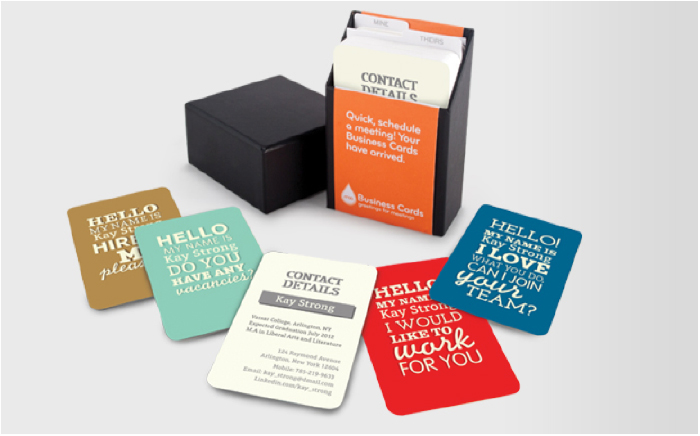 123PRINT
123PRINT is another sought-after name in the realm of business card printer services. Shopping from 123PRINT might as well leave you spoilt for choices. Offering reasonably good quality business cards, they offer over a thousand designs to choose from, thus helping you have a unique design for your business card. There are various styles of cards available, namely, horizontal cards, vertical cards, recycled cards, rounded cads, double-sided cards and much more. You can buy cards in a bunch of 250 which comes at a price of $16.95 for horizontal, $32.95 for double-sided and goes up to $34.95 for the recycled business cards. Their double-sided cards have gained immense popularity as the personalized text or image looks great on the quality card at your behest.
Vistaprint
To begin with, Vistarint.com is a great website to navigate and look for service you seek. So that makes scrolling through their offerings and ordering a pretty seamless exercise. And for the quality that comes you way, it is hard to find an equal. With the uniqueness of the designs that comes along and their offers, choosing vistaprint is a decision endorsed by logic. The customization features in vistaprint are unrivalled as well, and they pay attention to each element you would want to include in the business card and give you the freedom to tweak the card in a manner most personalized.
The batch of 250 cards can be bought from vistaprint starting at a price of $20 for cards with no finish, and goes up to $40 for cards with raised prints. You can further add more visual detail to the chosen cards.
PrintPlace
PrintPlace make a serious boast when it comes to the range of templates they offer. Apart from having an interesting collection of designs, they also offer you highly efficient design tools that are user-friendly and prove to be highly resourceful to give some exciting touches to the cards you choose. You can choose anything between glossy stock and matte stock – both incredible forms to create your car on. Their cards have received some of the most stupendous reviews from customers across the globe, singularly best reason to go for them.
PrintPlace also offers economical prices as their business cards start from the price $15.50 for 250 cards. The price goes up as you choose high gloss UV coating, or Dull UV coating and you will have to shell out somewhere around 32 dollars for the best finish, best quality cards.
GotPrint
Providing offset printing, GotPrint is also considered among the very best card printing service providers, riding on its high quality business cards. You can choose between different materials and substrate which also vary in terms of the prices. There is an array of colors to pick from. The cards from GotPrint are available for a price starting from as low as 10 dollars.
When settling with average quality is not on your radar, picking a card printing company should be a decision endorsed with contemplation and reason.
Author Bio :
Sophia Phillips has been working as a professional in a WordPress Website Development Company and loves sharing information about leveraging multiple benefits of WordPress in the best possible manner. Currently, she has an impressive count of WP development-related articles under her name.