Business WordPress theme is a must for every successful company.  A wide variety of templates on the market makes it hard to choose. You get lost in the loads of information about different features, frameworks and elements. Still if you are planning to start your website for online representation of your business you will have to know a thing or two about the most important points. Today we are going to talk about the templates built around Cherry Framework 4. Cherry WordPress Themes stand out beneficially from all the others. Let's figure out why.
About Cherry Framework 4 & WordPress
Cherry Framework 4 is a much talked-of project, which over the years has gained both avid supporters and heavy opponents. Having come through a period of certain breakdown, the team launched the most recent version: Cherry Framework 4, which seems to compensate for all the mistakes of the past. Now it is the most powerful framework providing lots of advantages to the web designer. First of all you get an advanced dashboard with 100+ handy options allowing you to adjust the overall theme appearance and to edit almost every visual element of it.
Color-picker provides you with unlimited options in choosing the palette and in giving your website a personal touch. Moreover you don't really need any deep coding knowledge, as you can use 80+ shortcodes. Then, it is simplified installation process. Also you will get regular updates with new options, features, widgets and other stuff. No need to mention that all the themes built on Cherry Framework 4 are responsive and SEO friendly. These are far from all benefits you get with Cherry Framework 4. For more features you can browse the official page. This video is just a short example of how handy Cherry templates are.

Below we have chosen 10 business Cherry WordPress themes for you to have an idea of what we were talking about. If you have already chosen your template and need a piece of advice of how to proceed, take a look at Startup Hub lessons. A lot of useful information and tips and tricks is waiting for you there.
Business Consulting WordPress Theme
This template thanks to its cross functional design is going to fit any kind of business. Minimalistic design makes it content oriented. MotoPress Editor, MotoPress Slider, TM Gallery – all these powerful tools are your trusty allies in creating your own inimitable website.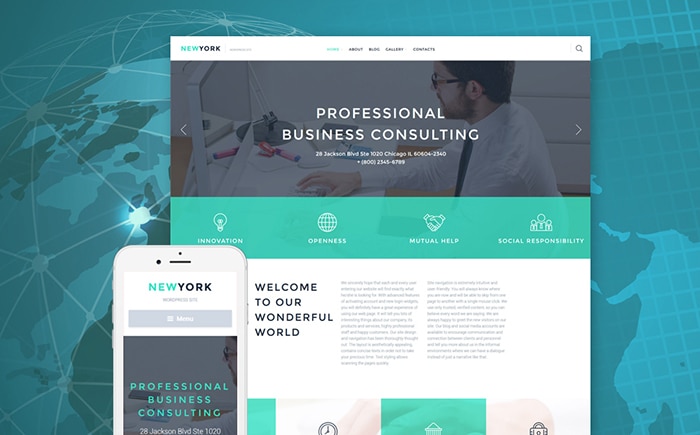 Financial Advisor WordPress Theme
Clean and clear design of this template makes it simple in management and at the same time stylish and functional. In addition, this thought-out layout uncovers information in features blocks, which make it easy to look through. Powerful back-end tools make the customization process easy as it is.
CorpoRational WordPress Theme
Clean white background makes the theme spacious and easy to skim. Original banners in masonry tiles allow you to categories information. Furthermore, parallax scrolling background enlivens the website and creates the feeling of immersion.
Management Company WordPress Theme
This powerful original template helps you to uncover the story of your company gradually, while scrolling down the page. Moreover, separate content blocks make it easy to absorb the information. Also audio and video integration allow you to diversify your website.
Jo Invest WordPress Theme
The theme features stylish and simple design along with powerful functionality enhanced with such premium tools as MotoPress Editor and Moto Press Slider. Moreover, the navigation is facilitated thanks to simple layout, sticky drop down menu, back to top button, etc.
Deltex Business WordPress Theme
The theme uses pleasant pastel colors in its layout. Smooth parallax scrolling involves the visitors into your story uncovering functional content blocks. Moreover, full-width header slider with retina ready imagery is called to draw attention to your top services.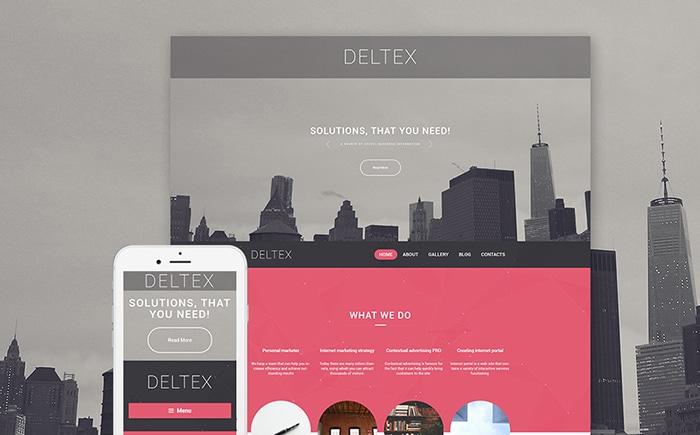 Business News WordPress Theme
This fully responsive layout with retina ready design pleases the eye with the successful combination of monochrome images with bright elements. Furthermore, the template is easy to customize with the help of 80+ ready to use shortcodes and advanced dashboard.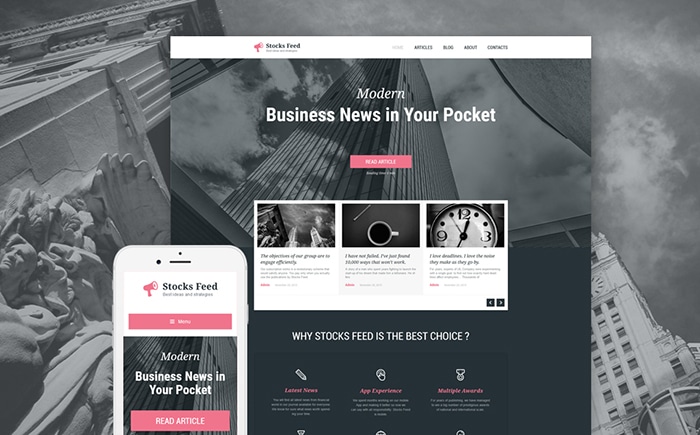 Advertising Agency Business WordPress Theme
This professional WordPress theme can be used for advertising agency or any other kind of business. Moreover, its appealing layout with blurred background image and ghost buttons looks attractive and original. MegaMenu allows you to organize categories and subcategories in a handy way.
7 Level Business WordPress Theme
You can use this theme for business blogs, portfolios or corporate websites thanks to its powerful versatile functionality and advanced customization options. In addition, clear typography, easy navigation, thought-through layout make it pleasant and easy to use.
Financial Vision Business WordPress Theme
This stylish template meets the visitors with an original full-width slider. To create a business look it uses dark and light blue colors in its color palette. The overall structure is simple and makes the navigation really user-friendly.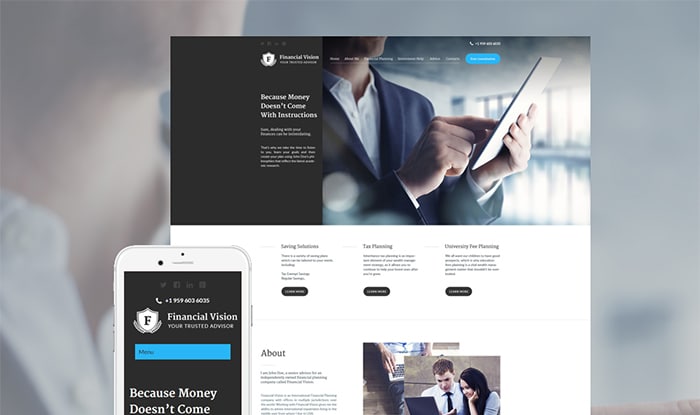 Save
Save
Save