Give It the Green Light: 20 Joomla Templates in Green
With the arrival of spring, nature is evolving in new bright colors, the dominant of which is green in all its shades and hues. Fresh, full of vigor and strength, new sprouts of green grass and new leaves enchant us with their youthful energy. It is not a secret that green color is the color of life, renewal and rebirth. It fills the heart with positive energy and gives a fresh breath among the hustle of our daily lives.
From the color psychology perspective, the green color is the balancer of emotions, bringing our heart and mind in harmony and wiping away all the destructive feelings that we have accumulated. It has an array of positive associations marking all that is safe, allowed and desired as opposed to red as a marker of prohibition.
Being a combination of yellow and blue, green comprises the juicy energy and optimism of yellow with the insight and spiritual strength of blue, and combines them creating equilibrium. The rejuvenating effect of bright shades of green is even more powerful. It is a boost of fresh energy that everyone needs and unconsciously looks for around.
Nothing can be a better idea then dressing your website in shades of green as it naturally attracts people and appeals to their positive emotions. No matter if you are just starting a new website or if you want to breathe fresh powers and life into your website, green shades will boost its effectiveness and will keep people browsing. Green designs possess the power of a magnet, attracting people with their empowering messages and waking up their hope for the best and belief in happiness.
Why Should You Choose a Ready-made Template over the Custom One?
1) First of all, you save your effort. You don't need to spend time finding a decent web-designer and working out the concept of your website. You know what the product you buy is. You know what you are paying for.
2) Secondly, it is a cost-effective option. With a ready-made template you pay up to 10 times less. At the same time you are getting a product of perfect quality that has been carefully developed by the team of professional developers.
3) The template is easy to install and customize according to your needs. There are many variable options that create an idiosyncratic look of your website. As a result it looks as unique as the one that got a custom design. Moreover, if you encounter any technical problems with the template, the support team of TemplateMonster.com is ready to help you 24/7.
4) It is worth mentioning that together with the template you automatically get a license for all the images it contains. They become your property and you can later reuse them for other design projects.
5) The last, but not the least is the fact that all the templates are responsible. They adjust to any type of the device they are viewed at and provide a great experience of browsing no matter what are the screen parameters.
Ready to give it the green light? Then take a look at these wonderful juicy-green themes and decide which ones will work best for you. Make others be green with envy!
Not a Boring University Responsive Joomla Template
Studying at the university is not a tedious duty any more. Present your university as giving up-to-date, demand-oriented education with the help of this dynamic theme.
Just from the Field Agriculture Company Joomla Design
Green has the associations of fresh, organic and healthy. This design naturally reminds of the closest connection of your product with field and assures of the quality of your product.
Outstanding Science Lab Responsive Joomla Theme
All the science lab websites are designed in blue shades, aren't they? Yellow-green is also reminiscent of chemicals and scientific environment. Be innovative!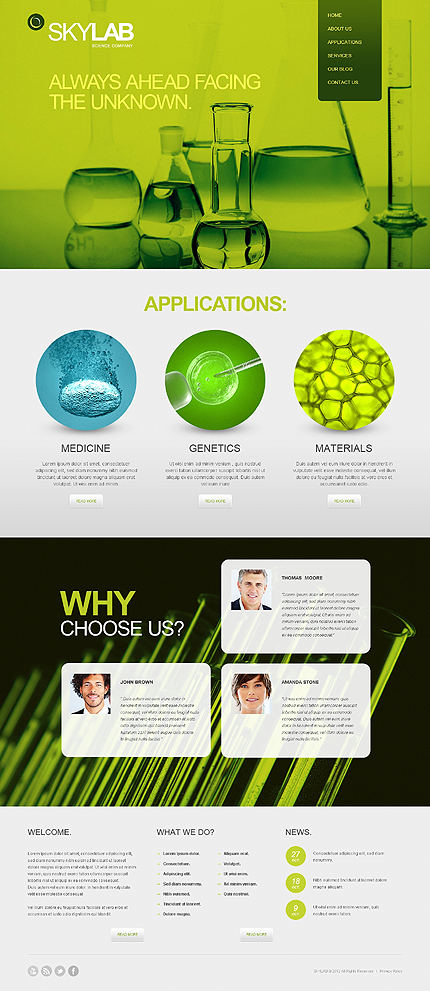 Spring Blossom Exterior Design Joomla Template
Show that your projects are always in harmony with the surrounding nature. This youthful and delicate design features awesome high-resolution images of trees in blossom.
Positive Food Store Responsive Joomla Template
Purchasing and preparation of food should be connected with positive emotions. In this case we take the best out of what we eat. Create a user-friendly positive environment of your website that will keep your customers coming.
Design Studio Joomla Theme
If you work with design, your website should in no circumstances be mundane and commonplace. Live it up with some eye-catching shapes by substituting traditional bounding rectangles with circles.
More than a Game Golf Club Joomla Template
Take your clients out to the green and invite the to get some peaceful recreation. The saturated green of your website theme will accentuate the quality of premises and the well-structured interface of it will emphasize your adherence to the best traditions of the sport.
AgroInnovation Agriculture Joomla Theme
If you are not afraid of being innovative in your enterprise, then express your concern for sustainability and latest scientific advances with this theme that suggest that your product will deliver the best of the nature to your clients.
Space Dance Night Club Joomla Design
If visiting your club is not an ordinary experience, but rather a dissolution in movement of sound and light, than this sleek theme will uncover your vision of what the real dance is.
Best Equipped Golf Joomla Theme
Such sport as golf looses its meaning if not approached professionally. Demonstrate your professionalism in arranging a perfect golf experience with this well-thought theme.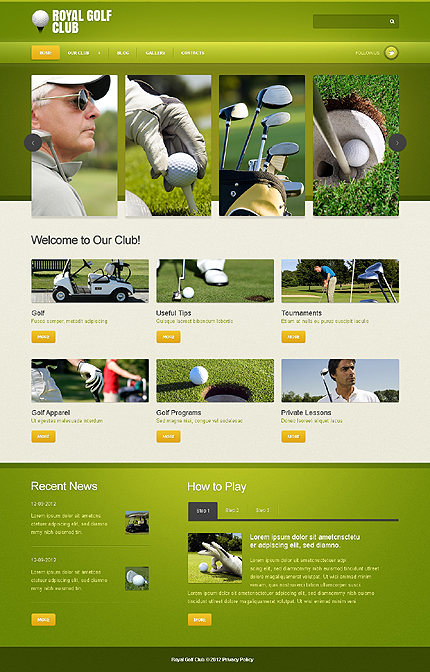 Natural Agriculture Joomla Template
This theme will support with visual elements your concern for naturalness of food. State what is the main thing to you not only in words, but in all elements of your website design.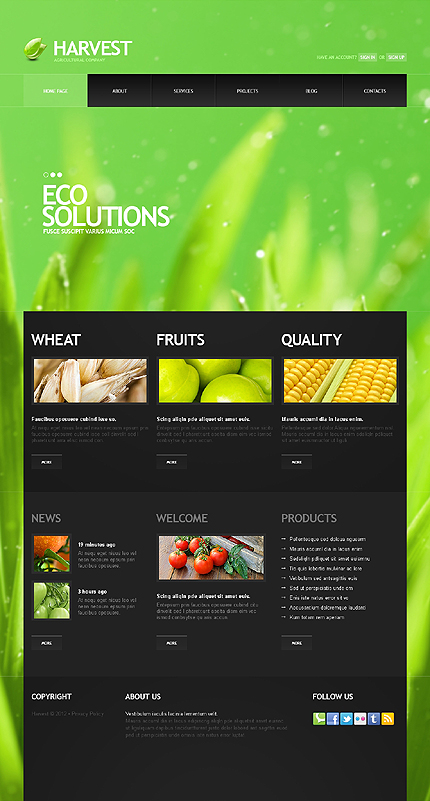 Happy Family Responsive Joomla Template
Green color suggests harmonious, peaceful relationships that are so necessary for happy family life. Great images of this theme will visualize results of your work – happy, close-knitted families.
It's your move! Golf Responsive Joomla Design
No matter what the level of your clients' training is, you are ready to provide facilities of suprime quality and required instuction. Emphasise the versatility of your service with this well-balanced theme.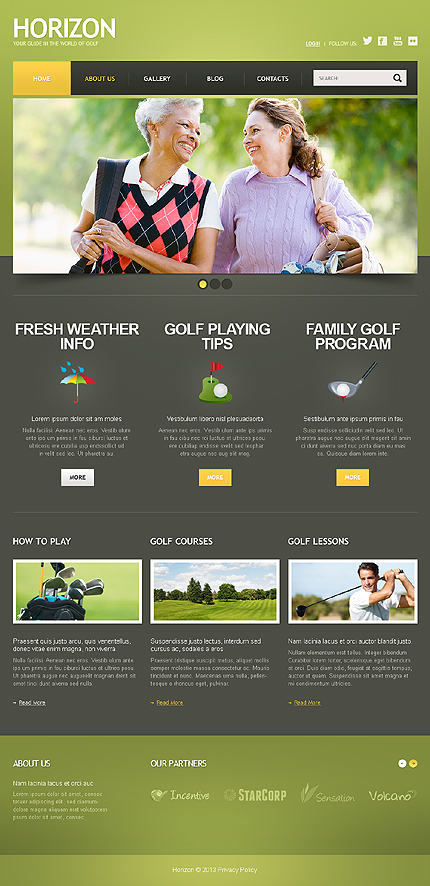 Minimalist Olive Store Joomla Theme
Do you want to emphasise the purity of your product? Then this minimalistic design will serve well for you combining simplicity and refinement.
Perfect Stoke Golf Responsive Joomla Design
This option uses the typical colors you can see on the golf course – green of the field and white of the player uniforms. This contrasting combination works great for website design.
Beauty of Movement Horse Joomla Theme
Uncover the gracious movement of elegant horses with the help of selected high-resolution photos of these outstanding animals. Taking a ride will be irresistible!
Peaceful Garden Design Joomla Theme
Turn your website into a peaceful, cordial garden and invite your visitors to walk down the alleys of garden designs you provide. With such a theme this will be a joyful journey for them.
Sense of Japan Sushi Bar Responsive Joomla Template
Let your guests touch the deep philosophy behind the art of sushi preparation with this balanced Eastern-style design. Licensed images of delicious rolls are so mouth-watering!
Eastern Tea Shop Responsive Joomla Theme
From the ancient traditions of tea ceremony to the modern tea-break. Demonstrate that you preserve the traditional quality and taste of tea with this great graphic theme.
Out in the Jungle Wild Life Joomla Design
Green areas of our planet are shrinking dramatically. It's high time to locate one online! Create this green retreat with the help of this responsive theme featuring wild animals.