It is finally the holiday season, and you know what that means! Everybody is buying presents for their families and significant others. Time to take advantage of that, right? If you wound up on this particular article deliberately, we assume you own a gift store or another business of similar nature. And if so, we want to help you! Help you maximize your profit, that is. You see, it is the Internet age, and even on Christmas people would much rather just order stuff online than actually go to a store, wait in line and search for stuff that might or might not even be there. So, it is very important to establish an online presence for your business and stand out from the crowd of other online shops. We understand that the competition is monstrous (no pun intended), so we have collected 20 premium templates for Holiday, Gift and Flower Store Websites provided by none other than TemplateMonster.
Let's talk about those guys for a second. Not only do they offer the finest, prettiest and newest website templates, but also different online courses, tutorials, and other cool thingies. Their latest accomplishment was the launch of the TemplateMonster marketplace where all developers can upload their own themes and sell them. So, if you're a developer that's looking to earn a little extra cash (or know one), why not try it out? All you need to do is upload an archive that meets the system's requirements and start selling right away! The video below explains it all much better.
But let's move on to the templates themselves. They were all crafted by professionals with functionality and user comfort in mind. If you have never used a premium theme before, we highly encourage you to give it a try. Yes, they do cost money, and yes, you can get website templates for free, but if you go premium, you will never return to using freebies ever again. The difference in quality between the two is absolutely gigantic. Also, if you purchase a premium theme, you will get 24/7 support from a team of professional coders, while if you choose to use a free one, you're on your own with all of its bugs and imperfections.
Check our list down below and be sure to leave us your thoughts on them. You can't even imagine how important your feedback is to us. But enough talk, we know that walls of text are boring, so let's get done here. One last thing- happy holidays and may your profits always keep the lights on!
Red Gifts Store Magento 2 Template
This template really stands out from the crowd with its original eye-catching layout design. It is loaded with a pack of widgets and is perfect for building an online gifts store. The theme's homepage is very informative and can hold all of your product and discount information right where everybody can see it.
Holiday Gifts Joomla Template
This template will fit absolutely any kind of online store. It comes with Our Team, Testimonials, History elements along with an extended UI kit, a social login form and even parallax section for that 3D feel. And of course it is fully responsive and optimized to work on all screen sizes.
Santa Claus Store OpenCart Template
This template makes online shopping a whole lot easier thaks to Ajax search along with shopping cart modules. Sorting options will let your customers find desired items easier and product badges will help you indicate the status and value of your stock. The theme is also multilingual and multi-currency, which will make your store available to people all around the globe.
Christmas Presents Shopify Theme
This theme will make for a great festive store website as it packs everything necessary to build one. The color switcher will be a handy tool while customizing your pages. The theme is also compatible with MegaMenu, an awesome plugin that lets you create all sorts of different menus that vary in complexity.
Xmas Gift Store Magento Theme
This template's vibrant design paired with Product Carousel and Star Rating makes for an eye-catching combination. It will also provide your customers with a pleasant shopping experience thanks to Sorting Options, Ajax Search, Ajax Cart as well as Wishlist & Compare plugins. Testimonials and team members elements will help your store recognition and display reliability.
Classy Gifts Store Responsive Shopify Theme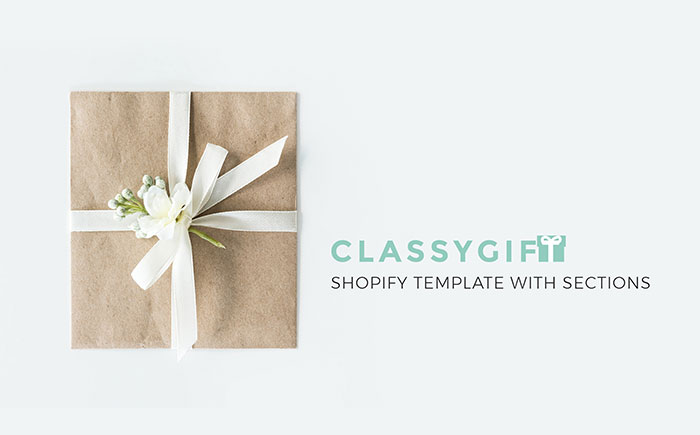 This template was designed for all kinds of ecommerce business websites. It features a modern customizable homepage along with 16 sections, some of which include : Slidershow, Featured Product, Product Carousel, Blog Articles, Collection List, Map, Testimonials and others. The theme is SEO-friendly, cross-browser compatible and fully customizable.
Various Gifts Store Responsive OpenCart Template
Giftor features a neat and trendy design that will surely appeal to your customer's eyes. It comes with Ajax Search, Ajax Cart, MegaMenu, Sorting Optins and Wishlist & Compare for the simplicity and comfort of shopping on your site. The theme is also fully responsive and uses a color switcher for quick and simple customization.
Cards Store Magento Theme
Another theme that boasts absolutely everything you need to set up a successful online store. It even features attention-grabbing elements like newsletter pop-ups, animated banners and product badges to keep your potential customers interested. The theme will also let your clients create personal accounts to ease the shopping process for them in the future.
All-Purpose Gift Card Store Prestashop Theme
This theme is special because it is supplied with tons of modules which will collectively save you as much as $645! Some of those are TM Google Map, TM Category Products, TM Newsletter Block, TM Search, TM Collections, TM Mega Menu, TM Product Zoomer, TM Infinite Scroll, TM Mega Layout and others. It also comes with three pre-made layouts which you can switch around in a matter of seconds.
Online Flower Store OpenCart Template
This theme's soft colors and cute design are perfect for online flower stores. The color palette is easily customizable though, with the help of the Theme Color Switcher. The template also features a slider, Product Badges, Sorting Options, Ajax Search, Ajax Cart, and is crossbrowser compatible and supports multiple languages and currencies.
Holiday Supplies Responsive OpenCart Template
If you wish to sell fireworks online, this is the theme just for you. Its design is fully responsive and integrated with an intuitive drag & drop layout builder for quick and painless customization. It is SEO-ready, multilingual, supports multiple currencies and is optimized for performance.
Christmas-Themed Store Responsive MotoCMS Ecommerce Template
This template is extremely easy to manage and maintain thanks to the integration with a drag & drop page builder along with a pack of shortcodes. It also allows you to set up different payment options for your customers, be it 2Checkout, Paypal, PostFinance or whatever else. You will also be able to get detailed statistics on your customer's choices, their orders and your products, which is a neat little thing to have.
Little Gifts Shop Responsive PrestaShop Theme
This theme's bold and color-rich design is perfect for an accessory, beauty or fashion online store. All of its sliders, banners and featured products are enhanced with cool animation effects, which will add a little extra immersion to your site. The template also includes MegaMenu for you to create all sorts of menus to guide your visitors through the products you have to offer.
Special Gifts OpenCart Template
This theme comes with a rich UI kit which allows you to customize each and every little aspect of the theme. It is also packed with multiple header, footer and general layout options for you to pick from. A slider will definitely help in capturing your visitor's attention and encouraging them to check out more of your stuff.
Christmas Decorations Responsive VirtueMart Template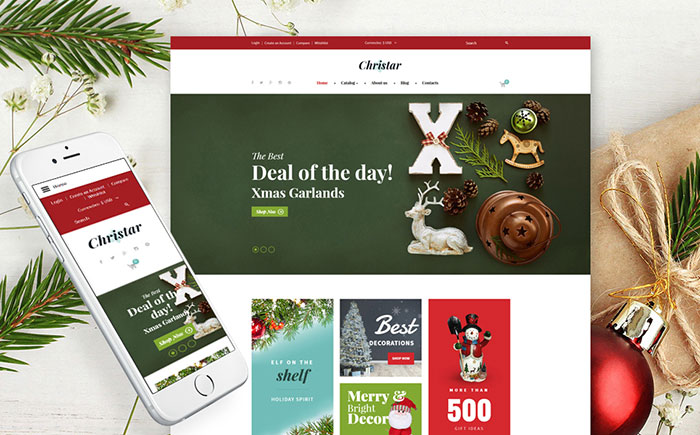 This classy template is perfect for building an online store with. Ajax Cart and Ajax Search will make your customers' shopping experience smooth and seamless. The theme is fully responsive and crossbrowser compatible, so no matter the device, your page will be accessible anyway.
Party Supplies Magento Theme
Lantiana is a vibrant theme designed for online stores that specialize in party supplies. It is packed with tons and tons of TM Modules, some of which include Newsletter Popup, MegaMenu, Parallax and Video Background, Ajax Wishlist, Ajax Search, Ajax Compare, Special Price Countdown, Featured Products, Social Login and many others. It is fully responsive and comes with a bunch of additional pages for you to showcase your services with.
Online Gifts Store Responsive MotoCMS Ecommerce Template
Another great theme that has everything you need to build a successful online store. It comes with a handy drag & drop page builder which lets you customize your page layouts without ever having to touch a line of code. It also comes with a pack of widgets, some of which are: Social Media, MailChimp widget, Contact Form, Grid Gallery, Carousel Gallery and more.
Floral Arrangement PrestaShop Theme
This theme is very professional-looking and will definitely make an impression on your customers. Product Carousel, Product Badgets, crossed prices, star rating, quick preview, Wishlish & Compare, Ajax Search, TM Home Carousel, TM Media Parallax, TM Mosaic Products – this is only the beginning of the extensive list of plugins and modules that this beauty supports. And like any other good template, it is fully responsive, multilingual and supports multiple currencies.
Florist PrestaShop Template
This template was specifically designed for fresh flower vendors. Its fullscreen slider will attract your visitors immediately and its main sticky menu will never let them get lost on your site. It is fully responsive and includes $181 worth of TM Modules in the bundle.
Surprise Gifts Shop OpenCart Template
It might be called a gift shop, but this theme's minimal design is perfect for any kind of online retailers. Its clean code will help your site run as fast and smooth as possible. It is also fully and deeply customizable, so, if needed, you can convert your project into a whole different thing in a matter of minutes.