25 Fashion WordPress Themes
It's not easy to run an online fashion blog in today's highly crowded market. Since the competition is very high, you need to be familiar with the latest trends, and design your website/blog in such a way that users like to visit repeatedly for all their shopping and reading-related needs. A good fashion WordPress theme can help you big time in achieving desired results comfortably.
Just in case you are confused as to which theme to opt for and which one to keep aside, here is a list you can refer to. We have handpicked 25 fashion WordPress themes so that you don't have to face any trouble while making a choice. Check out each of these themes and opt for the one that fits the bill adequately.
1. Feminine
There are dozens of themes claiming to provide an abundance of features for women-centric websites, but hardly any of them can come even close to Feminine, let alone outrank it. It comes packed with a minimal design and highly responsive layout. Along with the design that can get anyone's attention in a flash, Feminine offers a broad range of search engine friendly features to get you on the first page of Google.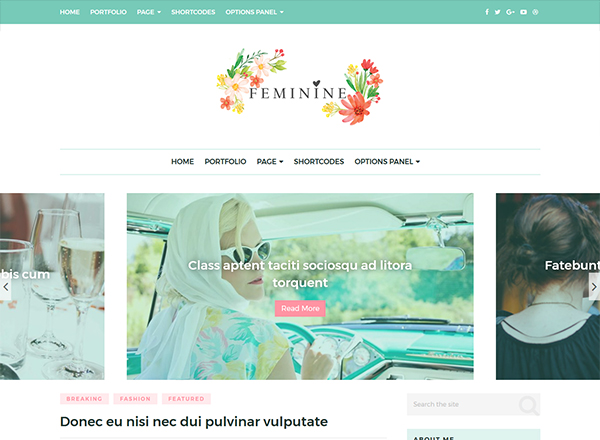 2. MyBlog
Are you looking to give your fashion blog a unique touch this year? Trying to create a nice slider homepage, flexible sidebar, eye-catching blog post layout and all other features that can increase user engagement? If yes, then here is a brilliant WordPress theme for you. MyBlog is a minimal and clean WordPress theme that loads pretty fast on smartphones and has the potential to turn your site into a profit making web property. Give it a try once, and you'll know the difference.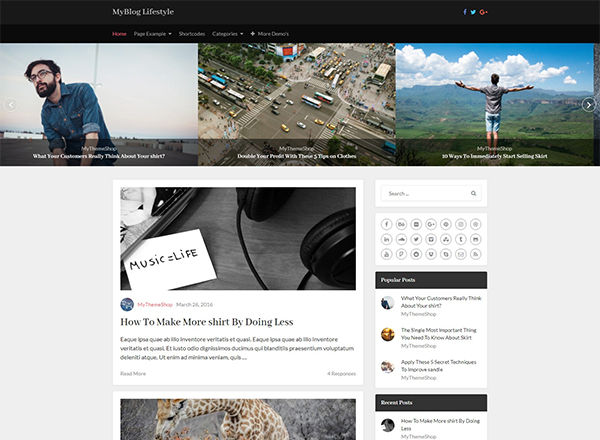 3. Featured
If you're looking forward to giving your fashion website a fresh touch using beautiful typography, large sliders and a fantastic color scheme, then Featured is an ideal option to forge ahead. This beautiful theme comes packed with dozens of features to increase on-site engagement and ROI. As soon as you install it on your site, you'll see the difference in terms of higher sales, content reach and overall profitability.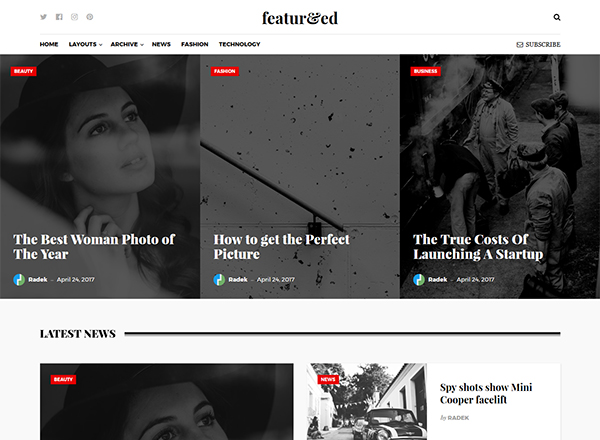 4. Assyrian
Assyrian is a responsive WordPress theme suitable for any online fashion store. It's powered by different homepage layouts, blog post designs, and color combinations to ensure you can customize your site as per your wish. Other primary features of Assyrian include a wishlist, shopping cart, zoom, compare and lastly – a fancy box to revamp your site's look.
5. Presence
Presence is a clean fashion theme that can present your content to readers in the most attractive form. Additionally, it offers a host of world-class features, such as responsive design, mobile-friendly layout, super fast loading time, search engine friendly structure, and WooCommerce support. If you wish your site to serve all the customers well and rank high on search engines, then try the Presence theme without any second thought.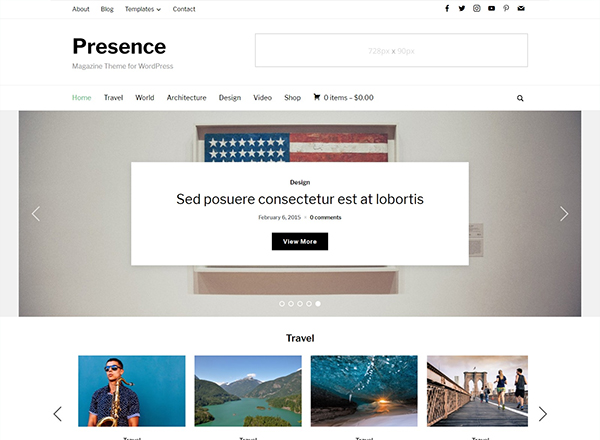 6. Lense
Lense is a brilliant fashion and photography WordPress theme that takes the layout part of your website to all new heights. All this without compromising the site speed. Some of its primary features include multiple gallery layouts, complete color control, gorgeous full-screen display, unique mobile experience, search engine friendly layout, live site customizer, and much more.
7. Newsmag Pro
Newsmag Pro is a household name among bloggers and SEOs running viral sites related to fashion and lifestyle. It's attractive, fast loading, comes with multiple custom-built features, performs well on smartphones, and gives you the power to serve all your users in the best possible manner. Have a go at it to feel the magic it can bring along.
8. SocialNow
SocialNow is a beautiful & modern magazine WordPress theme that goes well with sites getting a lot of social traffic. It's powered by an intuitive navigation bar to make the content search easy for users. Apart from this, SocialNow offers tons of features for high search engine ranking and better user engagement. Install it once and give your site a much deserving professional touch to increase the overall ROI comfortably.
9. CALI
A perfect WordPress theme to change the way your fashion blog appears to its users. CALI is attractive, fully responsive, search engine friendly, and comes packed with many useful widgets to make your blogging journey a little more beautiful and comfortable. Use CALI on your site and transform its appearance as well as performance in a hassle-free manner.
10. Fashion Chic
As the name suggests, Fashion Chic is a beautiful fashion WordPress theme that provides you the best possible features to revamp your site's look. It's minimalistic, search engine friendly and highly responsive to mobile devices. Moreover, Fashion Chic comes packed with a robust options panel and live customizer to ensure you can easily make necessary changes depending on users' requirements.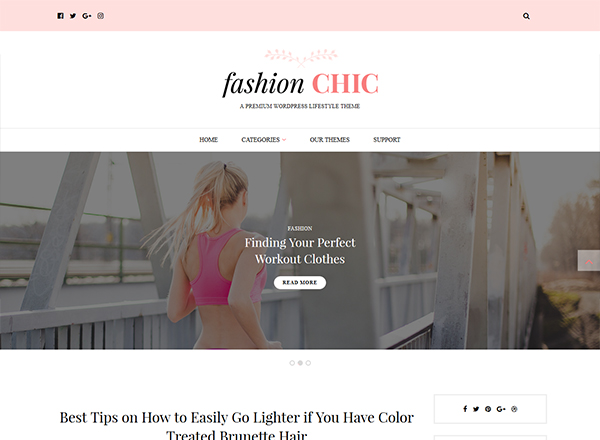 11. Black Pearl
Not many fashion WordPress themes have the potential to make your site look better than what Black Pearl can do. It's a unique and robust theme coupled with a modern look, simple layout and easy to use functions that require no technical knowledge at all. Black Pearl's design is inspired by the metro style and can give your business, personal or fashion site a stunning look in minutes.
12. Photographer Theme</h2
If you like to capture the world from your camera's eyes and put it in front of hundreds of thousands of people using your website, then Photographer Theme is an ideal option for you to forge ahead. Along with a fresh look, it's powered by SEO friendly features, clean codes and custom widgets to make your experience less hassled. Give Photographer theme a shot, and you'll never have to look for another alternative again.
13. Elegant
Elegant is a result-oriented and multi-purpose theme that drives users' attention towards the content in place of fancy graphics and animations. If you publish high-quality content on your site and want to provide your users with a distraction-free reading experience, then Elegant is an ideal theme to try out. It's fully responsive, retina ready, comes with built-in support for drag & drop builder, offers crispy typography, and many other features to help you write a unique success story.
14. Interactive
Interactive comes with all the features bloggers and webmasters might ask for in order to improve user engagement on their sites. Apart from a beautiful & custom-built homepage, it offers strategically placed social sharing buttons, attractive typography, and other essential features to perform well online. Interactive is mobile responsive and has multiple design options so that you can make changes in your site's design as and when you want without facing any trouble.
15. Pinmaister
Another beautiful and color-rich WordPress theme that can help you stand out in the market. Pinmaister is powered by various features good enough to uplift the user engagement rate on your site and at the same time increase sales revenues. Its demo content and installation videos make the installation process very easy, and the powerful options panel gives you the freedom to make necessary changes in site's layout and functionality without facing any trouble. Overall, a perfect theme to install on your fashion blog.
16. Juventas
Juventas is a premium WordPress theme with built-in support for Elementor, which means you get a enjoy a complete package of world-class widgets at no extra cost. The long list of unique features of this theme includes multi-column layout, eye-catching blog page headings, JetElements, easy to install, 100% responsive, search engine friendly, and much more. Whether you are planning to build a unique online image of your beauty salon or looking forward to setting up a fashion blog, this theme is an ideal option to try.
17. Monte
A minimalistic theme with excellent homepage design, impressive typography, and fully responsive layout. Monte supports WooCommerce, allowing you to set up your own fashion store and start selling products to people from all over the globe. It's highly flexible, customizable and easy to install. Take a shot at it if you want your fashion blog to look good and load fast on mobile devices.
18. BooShop
Now you can quickly set up your own fashion and lifestyle store and turn your dreams of becoming an entrepreneur into reality with the BooShop theme. It comes with all the features that you wish to have on your site to make it perform well online. BooShop is easy to install and requires no technical skills from your side to install it correctly.
19. Ad-Sense
If you have a fashion blog that you want to monetize using Google AdSense, then this is the best theme to opt for. It's simple to install, fully responsive, search engine friendly and comes with a unique ad management system for better CTR. Besides, its multiple ad options allow you to experiment with ad placement and increase revenues. Install Ad-Sense on your site and watch your ad earnings skyrocketing in no time.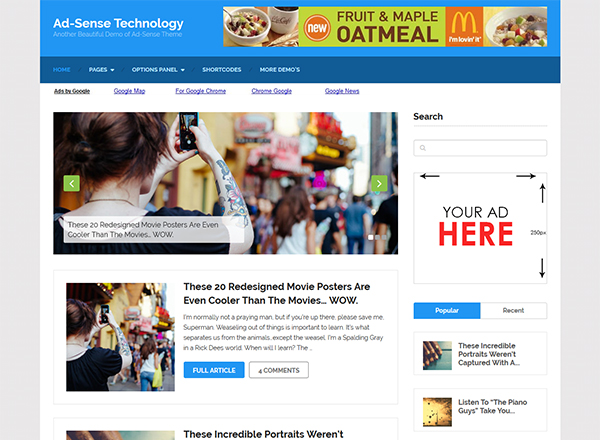 20. Designbiz
Designbiz is a highly versatile business WordPress theme to showcase your services, company information, blog, portfolio and lastly testimonials. Its world-class features give you enough options to add professionalism to your website. You can customize almost everything, design your own pages & menus, play around with different layouts and publish featured content. A classic theme for your fashion startup.
21. Doberman
Now you have the power to make sure your content reaches its true potential and serves users in the best possible manner with the Doberman theme. It comes packed with ample options to make your site read to go viral overnight. Some of the primary features include infinite styling variations, drag & drop homepage, live editing, custom widgets, search engine friendly layout, and much more.
22. De Couture
It's a fancy and modern-looking beauty & fashion theme that can transform your site's look. De Couture is powered by multiple page layouts for different occasions, supports elementor page builder, has a mobile-friendly design, comes packed with useful & custom built plugins, and can take your site to the first page of search engines in no time.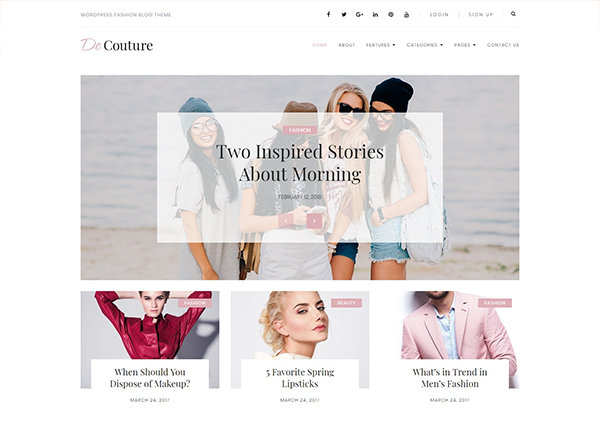 23. Velure
An eye-catching WordPress theme that's equipped with a slider homepage design and dozens of useful features to increase user engagement on the site. Regardless of whether you are running a micro-niche or a multi-niche blog, you can go for Velure and give your site a unique touch. It comes with built-in support for WooCommerce, ensuring you can sell trendy products online.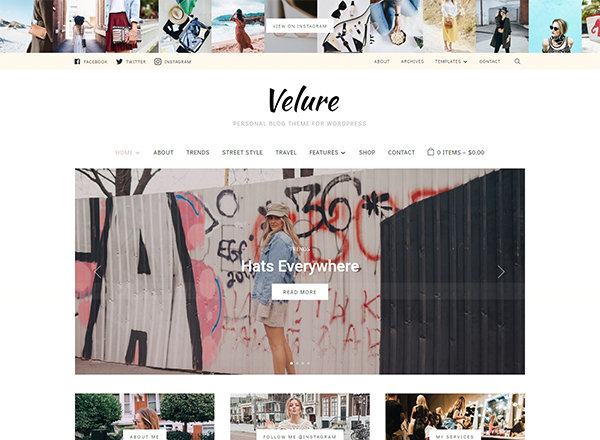 24. Clean
A minimalist WordPress theme that loads fast on smaller devices and offers you different features to rank high on search engines. If you don't want users to get distracted because of flashy animations and graphics, then opt for Clean without any further delay.
25. FashionBlog
There are not many themes which look visually appealing and load fast at the same time. Thanks to the FashionBlog theme, you don't have to struggle to locate a theme like that anymore. It's beautiful, SEO friendly and mobile responsive.
This is the best time to give your fashion blog a professional touch and increase revenues & profitability by a considerable margin. Themes mentioned above will help you proceed further in this direction. Give them a shot and witness the improvements in your website's performance right from the day one.