Enexis is a branding brainchild of the branding and design powerhouse EdenSpiekermann. EdenSpiekermann was founded b the famous and ingenious Erik Spiekermann, co-author of Stop Stealing Sheep & Learn How Type Works. This book is considered a must-have for anyone who wants to seriously understand typography. I consider it an essential read for anyone who uses typography. Erik Spiekermann is also the creator of the Meta typeface, considered to be a modern masterpiece.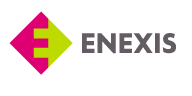 Enexis is a Dutch energy supplier, that broke away from a larger corporation to form their own identity. they needed an identity that would create a strong presence. Edenspiekermann gave them a complete branding experience that is powerful and energetic.
The Enexis logo is a great example of how a logo should be made. It is simple, and made of only two colors, green and magenta compete with each other and create a high amount of contrast. The logo works well, because it stands out on a white background as well as it does a dark one. The logo itself never loses its strength when on a dark or light color. The "E is highly visible, and the tilt of the square also creates an arrow, which suggests movement, much like the "hidden" arrow in FedEx. The green and magenta colors are repeated throughout the Enexis site, reinforcing the recognition of the brand. The images used on the site are fun, friendly and bright, giving the company a welcoming family feel. The employees are featured on the site, which puts a friendly human face on a large corporation.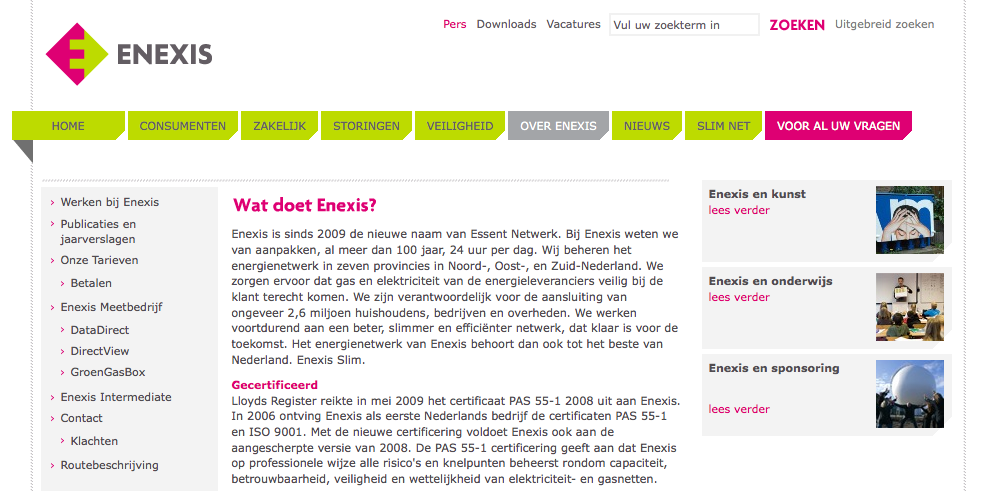 The Enexis site works well, because it is consistent throughout. It has a simple central content area, a left side bar for relative links and a right side bar for other content. This enables Enexis to feature a lot of content in an organized way.
Overall, Enexis is quite successful in its branding, and EdenSpikermann has created a strong, energetic, friendly presence that is welcoming, informative and aesthetically pleasing.