Shopify Content Marketing Integrations
When you're only just getting started and you're building an e-commerce business from scratch, Shopify is definitely a life-saver. This app offers you the perfect platform to build your online store and manage it without much of a trouble. You get to customize it according to your own preferences and make it fit your personality and brand image perfectly. However, that's not where the story ends.
Content marketing is extremely important for your business, no matter how small or big it is. In order for your online store to thrive and for your business to be a success, you need to make sure you've got your content marketing strategy covered.
Well, if you're using Shopify, setting a content marketing strategy isn't that hard at all. There are integrations and extensions which you can combine with this app, which can make your life a whole lot easier.
If you're interested in learning what are the best content marketing integrations for Shopify, just keep reading.
It's a well-known fact that email marketing is the base of your entire content marketing strategy since it helps you stay in touch with your customers and makes sure they are connecting with your brand the right way.
This is why Conversio is a highly valuable integration for Shopify which will make a difference for your content marketing strategy.
With this integration, you are stepping into the email marketing automation the right way. You can use it to send:
newsletter emails
Let your customers know about all the latest news in your e-commerce.
abandoned cart emails
When a customer fills the shopping cart but doesn't finish the purchase, give them the extra push to finalize it.
follow-up emails
Let your customers know you appreciate them being a part of your family.
personalized emails
Have every customer feel special and give them exactly what they need.
visually consistent emails
Give your emails a recognizable look and stick with it.
source: Shopify
Conversion comes with a free 30-days trial, so make sure to give it a go.
In addition, if you need a hand with writing quality, engaging email body text, check out writing tools and services such as Supreme Dissertations, Grammarly or Grab My Essay.
When we talk about SEO and content marketing, we usually link the two in terms of the written content. However, we fail to remember that a huge percentage of Google searches is conducted through Google Images.
To ensure you've got Google Images covered as well, you can use the SEO Image Optimizer and integrate it with Shopify.
This integration will help you with:
your product images ranking higher
more people learning about your e-commerce
increase traffic to your store
It's completely free and easy to install, so don't hesitate in giving it a try.
Everyone needs a bit of a push or an additional motivation to increase the size of their order on an online store.
When you're running an e-commerce business, you need to think of ways to make the best use out of every customer's activity. In other words, when someone's shopping on your online store, make sure they see all your best offers and get inspired to buy more.
Bold Upsell is an app which tracks customer activity. Once a customer adds something to their cart, this app gives them a pop-up window with an attractive offer, such as:
an upgraded version of the product they initially choose; they can replace their initial choice with one click
an additional product which goes along with the product they're buying, to make the whole purchase even better
last chance offer, with a countdown timer creating urgency
It's a great way to make the best use out of every purchase and make sure your customers get the best offers.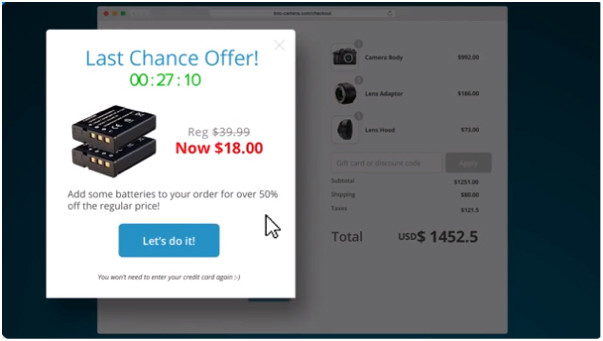 source: print screen BoldCommerce
Your customers will love it if you make things simple for them. For those customers who learn about you via Facebook, after seeing your ad or bumping into your profile, you can make things a lot easier.
The Facebook Messenger Ad-On is all about simplicity. It enables your customers to
browse your products
make the purchase
directly from their Messenger Inbox, without even having to visit your website.
All they have to do is start a conversation with you, and the automated messages will help them get to whatever they want.
It's a great way to bring your content marketing to the next level, and make your Facebook ads even more successful.
source: Shopify
"If you make it possible for people to find what they need in a couple of steps, and without having to leave their Facebook page, your one huge step closer to sealing the deal" says Ethan Dunwill, a content manager at Hot Essay Service.
People who buy online very often tend to look up other people's experiences with a business or a brand, before jumping abroad. Research shows that 91% of people trust online reviews as much as personal recommendations.
That means that you need your previous customers to help you attract new ones and show them just how great you are.
Well, the Social Photos app does exactly that. It helps you put the power of the visual into use and works with you on gaining trust from new potential customers.
Here's how it works:
collects customer photos
When a customer posts a picture using a product bought from you, this app finds it and lets you know. Then you can use it to promote your store and gain new customers' trust.
inspire customers to post
If a customer doesn't post the image showing how much they're enjoying the product, the app sends them a kind reminder to do so.
showcase
Choose the best customer photos and showcase them on your website to make your products more relatable and your store trustworthy.
source: Shopify
"When you see a professional photo of a product, it's one thing. But, when you see a real-life, customer-made photo, it's a whole other thing. People trust other customers more than they trust the official advertising" says Chelsea Ann Dowdell, a blogger, and CCO at Rewarded Essays.
Conclusion
Running an e-commerce store is definitely a handful. However, with the right tools and a little bit of patience, you can have it all.
Shopify lets you integrate multiple useful adds-on and integrations. Use them the right way to promote sales, optimize content, keep in touch with customers and show them what you've made of. In other words, you can bring your content marketing strategy to a whole new level using simple and efficient integrations.
Bridgette Hernandes is a Master in Anthropology who is interested in writing and planning to publish her own book in the nearest future. She finished her study last year but is already a true expert when it comes to presenting a text in a creative and understandable manner. The texts she writes are always informative, based on a qualitative research but nevertheless pleasant to read. She is also a writer at Is Accurate.