The Best Free Photoshop Brush Sets
When you are working in Photoshop it is important to have a library of assets to use to create different image effects. Some people use images as textures, and some people use patterns as textures. Others use brushes for textures and effects. Having a library of great Photoshop brush sets can make it easy for you to create all types of different effects. The problem is searching for different brushes that are high-quality can be really difficult. There is a lot of crap out there that is low resolution and doesn't look good at all. Some of these brushes are cropped or have hard edges in strange places. It is important for your brush sets to be high-resolution. The reason is that when you create designs for print or different applications your brushes need to be high-resolution so they are not pixelated. I have gathered a large collection of the best free Photoshop brush sets available. There's over 26 different free Photoshop brush sets here. They are all high-quality to make your designs amazing. You can preview and download these free Photoshop brush sets sets below.
40 Dirty Steel Brushes
The first set is a set of 40 steel brush sets. There are a wide variety of textures available. Some of these have a lot of grit in them making them great for background textures where you need a rough and gritty texture.
Rock Brushes
The next set of brushes is a set of rock brushes. These rock brushes will help you to create rocky backgrounds and environments for your designs. This set includes anything from small pebbles all the way up to rock walls and cliff faces.
42 Subtle Texture Brushes
I chose this collection because everyone needs subtle textures in their designs. You don't always need harsh textures in your work. Adding subtle textures adds a little something to your design work without overpowering it. With over 42 different subtle textures in this brush set your sure to find something that will work for you.
16 Realistic Eye Brushes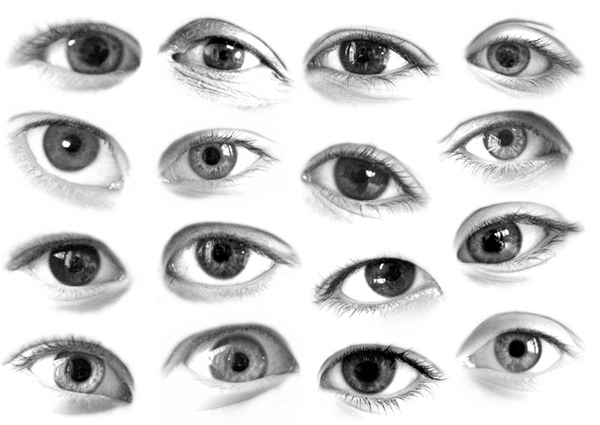 This is one of the best free Photoshop brush sets that I've seen. If you are into creating digital portraits and Photoshop paintings of people this Photoshop brush set is the right one for you. There are many different shit I shapes to choose from so you can create a portrait of any type of person that you want.
Energy Brushes
The energy brush set is a good collection of different abstract energy and light brushes. These brushes are great for light effects and getting a lot of attention to one area of your design. The lines and the sparkles really stand out and create a magical effect that will look great in many different types of designs.
15 Paint Stroke Brushes (Spoongraphics)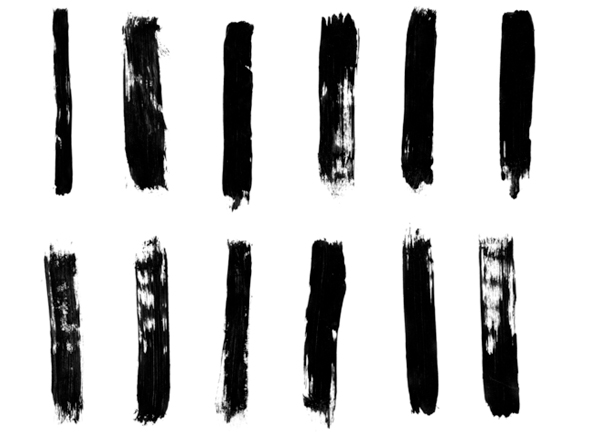 This set of Photoshop brushes are realistic pastry brushes. If you want to create a realistic paint effect this set is a good choice. The paint textures are realistic with some of the paint fading in certain places which looks realistic and only adds to the effect.
Krist's Fire Explosion Set 1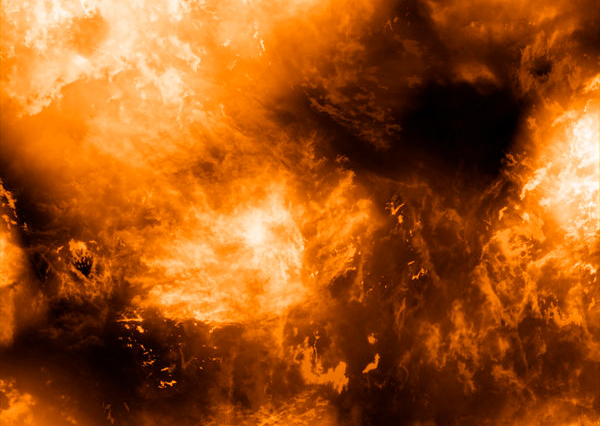 This set the fire explosion brushes is a great brush set for special effects. If you want to create a design that just screams extreme heat explosions and fire this brush set and the next brush set are great choices.
Krist's Fire Explosion Brush Set 2
The fire affects in these brushes are very realistic with areas of extreme light intensity and it areas of dark shadow.
Halftone Dots
Many people are always looking for halftone.effects. These brushes take halftone dots and create different designs and effects with them including Swirlz patterns and different shapes. This is an interesting brush set for anyone who wants to create unique halftone effects.
Watercolor Brushes
Everyone loves watercolors. These watercolor brushes are very realistic and are great for backgrounds for you want to show textured paint. The set is very realistic with areas where the paint settles and in areas where the paint is faded where it didn't make contact wasn't absorbed by the paper.
Blue Light Brushes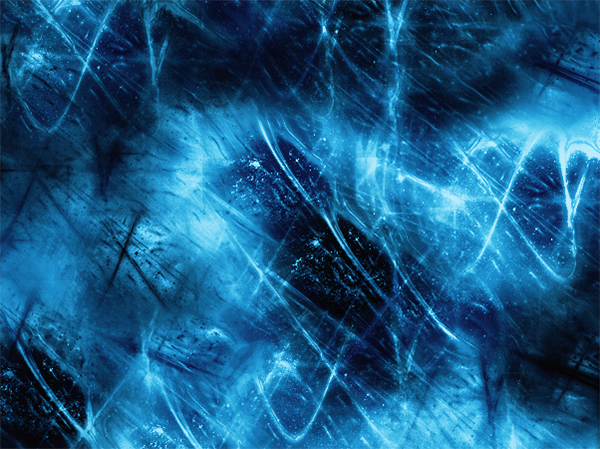 Despite the name having color you could change these white brushes to whatever color that you want. I chose this set because it has interesting textures in the lighting effects themselves. They almost have a fibrous quality to them that is great for adding texture to your work.
Fractal Brushes
Fractal brushes are great for technical designs. This set of fractal brushes has very thin lines and would be great and I am wide variety of design applications. This would be great for any background of the design where you need a technical look and feel.
Fuzzies Brush Set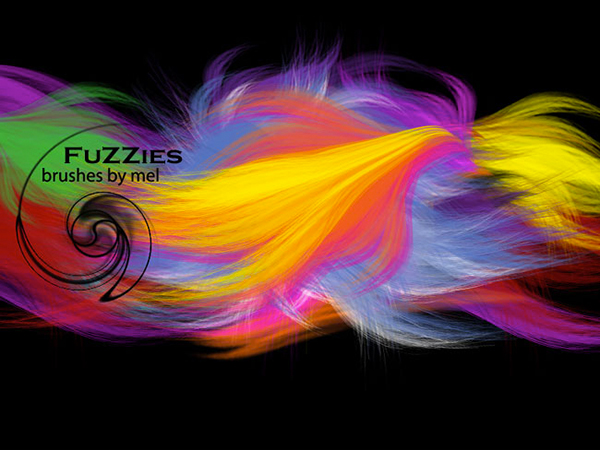 The fuzzies brush set is a great brush set for creating a feather quality brush. The brush looks very faded and feathered like fine hair which is great for creating far and other animal effects. Layering these brushes on top of each other would create very realistic for her as you can see from the example above.
Geometric Brushes
Geometric shapes and designs really standout. These brushes use geometric shapes layered on top of each other to create almost a geometric explosion effect. Mixing different colors would create a lot of contrast in your designs which is a good choice.
Complete Tree Brush Pack (40 brushes)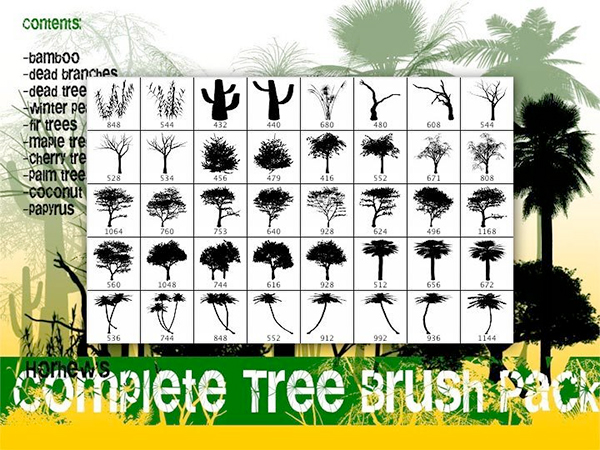 This set of tree brushes is an excellent collection of different types of trees. From Bamboo to winter trees, papyrus, coconut and palm trees, this collection has a wide range of different tree types. You could easily create a forest effect with these brushes using different colors and shades layered on top of each other.
61 Particles & Stars Brush Set
Everyone loves to create a magical effect and these particle brushes will help you do just that. With 61 different particle brushes and stars you can create a magical effect that really gets a lot of attention.
Abstract Celestica Brushes
The Celestica collection of brushes his an Excellent set for creating a space nebula or a space affect in your designs. You can see from the example that you can add light effects to them to make certain parts stand out all others fade into the background. These would be great when layered on top of each other.
7 High Resolution Watercolor Brushes
This is a set of seven high resolution watercolor brushes. These brushes are highly textured and very high resolution so that you can create very textured effects that are realistic and comparable to real-life watercolors.
42 Environment Brushes
The environment brush set is an amazing brush set for creating environmental effects such as clouds grass trees rock and any other kind of texture that you would like to create in a Photoshop not painting. With 42 different brushes you should be able to find something that Max matches the texture that you're looking for. This is probably one of my favorite brush sets that I've found so far.
12 Artistic Texture Brushes

These 12 artistic brushes is an interesting set because of the different textures that it contains. From fibers to dots and rough texture this brush set is an interesting brush set for creating effects and textures.
16 Fiber & Texture Brushes
This collection of 16 different fiber and texture brushes are great for creating effects for hair and fair. With different thicknesses and texture qualities this is a great set.
10 High Quality Bokeh Brushes
Everyone loves the bokeh effect. This collection of 10 high quality bokeh brushes is an excellent set for creating bokeh affects. If you want to create a bokeh background you could use this set to create one in seconds.
31 SteamPunk Photoshop brushes
Steam punk is a colt classic style that is unique and visually interesting. These brushes attempt to capture that feel with their industrial qualities. There are a lot of hand-drawn and sketched elements in this pack that will give your design a steam punk flair.
15 Hi-Res Nebula Brushes
Space nebulae are a popular background affect. These brushes can create those different types of effects instantly. With the right color combinations you can create dazzling nebula effects and a matter of minutes.
12 High Resolution Space Brushes
This is close to the nebula set except for the effect is much different. This effect is more fibrous and gives you more of a close up feel than the other brush set. The purple and pink color combination from the example is a good color choice for these brushes. If you use these brushes it would probably be a good idea to use contrasting colors.
19 Wood Brushes
The last set of brushes is a set of 19 would brush textures. With different Grain styles and textures this set of wood brushes is excellent for creating wood effects and wooden backgrounds for your designs.
So what do you think of my collection of free Photoshop brush sets? I Comed the web for what I thought was the best free Photoshop brush sets that you can find on the web. With these amazing brush sets there is nothing that you couldn't create right from within Photoshop itself. Which of these free Photoshop brush sets are your favorite? As I told you before my favorite is the environment set. Enjoy this awesome brush collection and if you have any thoughts or questions leave them in the comments section below.