Blue Agency Website Template
Each week i share a new free responsive website template. This week, Blue Agency by W3Layouts wins the showcase. If you own, or you are thinking about starting a design agency, the Blue Agency website template is definitely what you're looking for. The Blue Agency website template looks great and has a seamless appearance. It is a one page site, which places all of the content on the front page. The mix of blues look great, and you can preview the free template below.
The sliding gallery looks great, and the rounded bars at the bottom are a nice touch. The blurb and the call to action could stand to have a text-shadow behind them, for better legibility.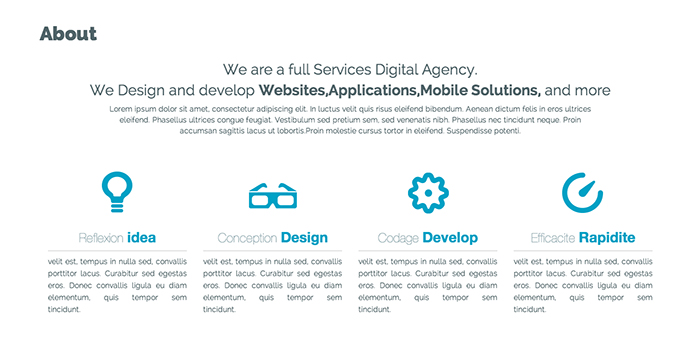 The about section uses a mix of icons and highlighted text for a great experience. Highlighting key points is a great way to make sure visitors retain the key points that are essential for marketing.
The section above is a nice touch. Adding a client testimonial and facial images will make your site more friendly and welcoming. A warmer, more inviting design will get visitors to let their guard down, because the experience is more personal.
The blog section is clean, and it's a great place to organize a handful of articles that you want new visitors to pick up on. The simplicity makes it easy to understand and follow. Also, the featured article has its own image, which makes it stand out more than the others.
The services and portfolio sections are excellent. Again, simplicity rules here, with the icons being inline, with the services listed, without explanation or complication. The portfolio section features a hovering magnifying glass that follows your mouse and enables you to view an enlarged project.
The contact section is pretty standard. i like that the same header image is repeated in the footer. This adds a sense of unity that is essential for the web.
Download the Blue Agency Website Template
This template is free to download and use in your own projects. However, you do have the option to donate. If you end up using this for a client project, you should definitely donate to W3Layouts for saving you time and making you money. To download, click the link below, and you'll be taken to the download page.