In Photoshop CS5, the new Repousse Panel is fantastic, in that you can create 3D from almost anything. You can create a 3D object from a selection, a path, text, a mask, etc. What is really cool is that you can create your own textures, or you can use images as textures to make your objects look more realistic. You aren't just stuck with the presets given to you. In This tutorial, I am going to show you how to create custom 3D text shaded with textures from images.
First, create a new document. Mine is 1024 x 768 at 72ppi. Then, select your text tool and chose a nice typeface. I tend to choose thicker ones for 3D effects, but the choice is yours. I chose MetaPlus Black.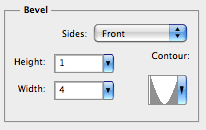 Then, chose 3D> Repousse> Text Layer. This brings up the Repousse Panel, where you can make all of your adjustments. I set the extrusion size to .3, because the default size of one, is way too deep. One really important area that can make your type look more interesting is the area that controls the bevel on your 3D object. You can control the size, and more importantly, the contour of the bevel. This makes your text look much better than the default flat 3D shape. Once you are done, hit OK.
Now, open the 3D panel. If it is not already visible, go to Window>3D. This will bring up your 3D panel. Go into the mesh section, which is your 3rd option from the left, and it has a breakdown of the textures and sides of your 3D objects. Select the front and go down to the bottom where it says Diffuse. Click the flyout menu and choose Load Texture. With this method, if you have a texture image that you would like to use, you can select it here. I have a folder of textures available, and I can go and choose them for my different side textures. Chose a rough, gritty texture and click ok.
You can chose the same or different textures for all sides, and even your bevels. That means that you could have a roughened, rocky texture, where the bevels could be metallic, or any color or texture of your choice. You can really create some nice effects with this panel.
To create your own custom textures, simply go back to the flyout menu where you chose "load texture…" but this time chose New Texture. You will see this the texture for this area change to a default white/gray. Then, go back to the menu and chose Open Texture, and a new Photoshop Window/Tab will open and the document will be blank. This is where you can create your own custom texture from anything. I created a brown background, and used a few texture brushes to create the rough texture. You can find all types of textures on places such as Brusheezy.com, or you can create your texture from shapes, colors, gradients, filters, patterns, etc. When you are done, save this document and close it, and the texture will automatically update. You can do this for the sides, the front and back and the bevels of your objects.
This works the same for 3D Postcard layers as well, giving you the ability to create an environment for your creations.