Where to Find Design Inspiration
If your job involves creating something, whether it is art, music, writing, or graphics, chances are you spend more time thinking about what to create than you do actually creating it. Blank screens and papers are all too familiar to designers and other creative people. But just like writers need to read in order to write, and musicians must hear music to make more music, designers need to look at other designs for inspiration. We are visual people, and need to see beautiful things in order to wake up our aesthetic senses. Here are some of the best places to get your daily design fix:
Designspiration was created in 2010, and is a platform where you can share your own work, and look for other people's in order to better visualize your own project. The simple layout means that you can easily move from one image to another, and search for anything that makes you tick. The site lets you search by keywords, users, and even colors to help you find just the just the right design and get your imagination up and running. You can create an account, and follow users whose work you like to customize your feed; you can also save designs you wish to see later, organizing a neat little collection for you to go through when needed.
Inspiration Grid was launched in early 2011, and is dedicated to showcasing the creative works of talented designers, photographers, illustrators, and artists, from all over the world. The interface is neat and beautifully simple. The pictures are displayed in a minimalistic layout, and when hovered over, the name of the work and artist are displayed boldly. The works are tagged, and a drop down menu at the top of the site lets you navigate easily to what you're searching for, whether it be typography, architecture, or logo design etc. Inspiration Grid never disappoints, and always helps you come up with something while looking at other brilliant designs to fuel your imagination.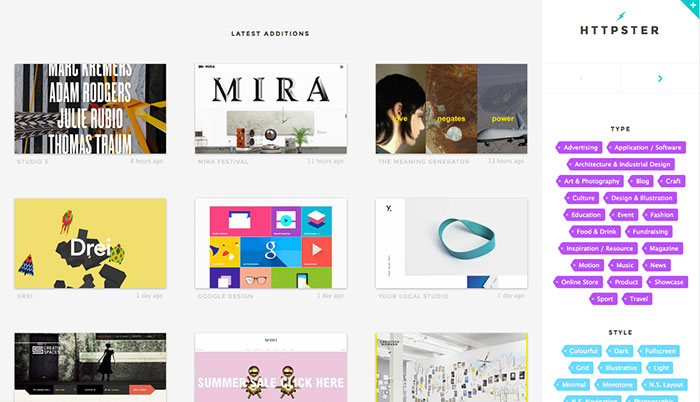 Httpster takes a casual and laid back approach to design. The interface is well designed and excessively simple, in a very hipster way. The idea behind the site is to create a museum of sorts, where you can look at web designs from other creative minds, and also submit your own site. The layout allows for easy access to images and smooth navigation across the site. You can search both by type as well as style, allowing you to easily find just what you need to get your creativity flowing. You will never come out of the site empty-handed, and will surely find at least a semblance of an idea when scrolling through just a few pages of the site.
Even the best of us sometimes draw a blank and need an extra kick to start up our creative process. Going through these sites will benefit you in two ways: first, you will see what other people do and it will help you come up with something on your own; and second, you will see how truly brilliant and inspired other people's designs are, and it will motivate you to push yourself harder to come up with something as visually stunning as these designs.