Add A Vignette to Your Images in Photoshop
Adding dramatic effects to your images is a good way to take an otherwise bland image and give it some impact. Everyone has added a vignette to their photos before. That really isn't anything new. However, there is always more than one way to do something in Photoshop. There are always hidden menus in Photoshop where you can accomplish something easier or in a completely different way. Today, I'll show you a different way to add a vignette to your images in Photoshop. You may or may not know that this even exists, because it is under a menu that you might not expect.
Adding a Vignette in Photoshop
Normally, to add a vignette in Photoshop, you might add a new layer and fill it with black. Then, you would create a mask on the black layer and then mask out the middle, blending it so there is a soft transition between the image and the dark edges. This is fine if you want to create a custom vignette, but if you just want to apply a basic vignette, you can do it via the Lens Correction menu.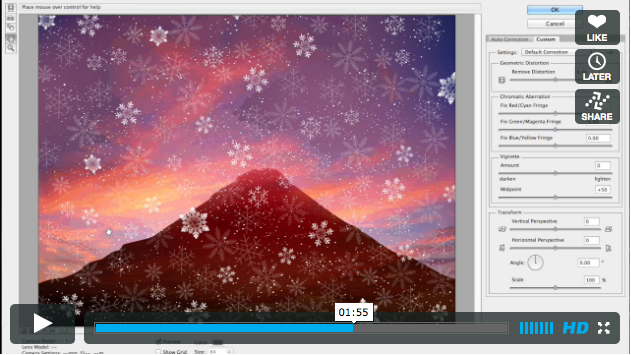 This is also a good menu for removing adverse effects, such as fisheye or some other distortion. You can also manually straighten a crooked photo as well, making it easy to manually adjust your images to be straight. You could also go in the opposite direction and transform your image in perspective. This makes the Lens Correction menu a good menu to know in Photoshop for removing image distortions.
How did your Vignette turn out?
Did you have any trouble creating the vignette that you wanted? You can adjust how strong your vignette effect is with just a couple of sliding controls, so it should be fairly easy to do.
Save