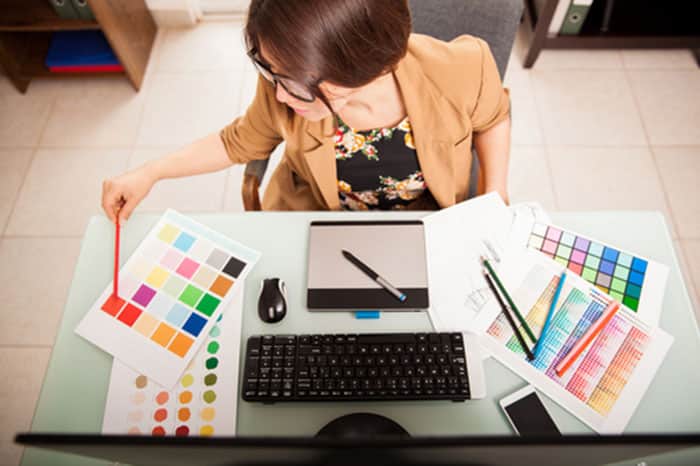 Color Scheme Tools For Professionals
Graphics must continue evolving to include mobile technology, interactive elements and still tell their story to be effective, according to content marketing agency Brafton. Specifically, color continues to be a driving force behind brand messaging and design. Colors are ingrained in our brains, from stopping at a red light to proceeding with caution when we see yellow. People see color first, and brands are now relying on creating a blend of signature colors so
audiences instantly recognize their logo and messaging
. Fortunately, the rapid increase of free graphic tools makes it simple to create modern graphics that impact branding and marketing. Modern tools enable us to snap a quick selfie and select a speck of color in a sign behind us to build a colorful graphic from scratch. Blend images and color to
create your latest project
with one of these essential
color scheme tools
for graphic designers.
Pantone CapSure
Stop dragging out your Pantone book every time you need to match up a color to your latest design.
Pantone CapSure
offers instant color matching to create original graphics with the exact color you're eyeing. This phone-sized gadget comes with more than 10,000 Pantone colors pre-loaded directly into your device. Use Capsure to match up colors from a surface, fabric or multi-patterned textile you're working from for an accurate match. It comes with a fashion and home coloring system for designers working primarily on paper with paper and cotton. For designers who need a paint or interior match, the Paint + Interiors feature also works with paper and cotton.
Adobe Color CC
Instead of zooming in on photos and videos from your smartphone to figure out what color to use in your latest design, use the
Adobe Color CC
to instantly capture color schemes. Create a color theme from your iPhone, iPad or Android device and access the interactive color wheel to make adjustments as needed. Bonus
if you're using an iPhone 6 or 6s
and leveraging the True Tone flash. A pre-flash on the iPhone detects your surrounding lighting, and then the True Tone flash matches the ambient light for a more true-to-life color. The end result is natural-looking tones, especially when you're snapping photos of friends, family and models. When you're done creating your color masterpieces, save your new themes directly into the Creative Cloud Library for later access when you're working on a project that needs some color brainstorming.
TinEye
Tap into
TinEye's MulticolorEngine
for e-commerce projects that need quick color search capability to enhance search results. Instead of manually tagging colors in images, MultiColor Engine supports full metadata search capabilities. In essence, it works as a color search engine optimized to work with product photography. One of its best features is the ability to completely ignore solid and transparent backgrounds in images to focus on what you really need. TinEye can also add extra color palettes for both individual or sets of images.
Designspiration
Get inspired by
Designspiration's color search feature
. Select up to five colors from its color grid to find images and designs that match your chosen colors. Use the results to help inspire your projects, or curate your own collection. And, if you want to search by website tags, Designspiration can also search just by typing in a few keywords.