Essential WordPress Plugins For Your Website
WordPress is the platform of choice for bloggers and business website owners alike. It is fast, flexible, and you can create any website imaginable. There are hundreds of thousands of plugins available, with new plugins being developed everyday. How do you know which ones to use and which ones to skip over? Are you missing an important element to your WordPress website, such as caching or security? I've put together a comprehensive list of all of the essential plugins you'll need for your website.
Yoast SEO is a must have plugin for search engine optimization. You have total control over everything you need for a well optimized website. You can craft everything from your page title, to your meta descriptions. Yoast will analyze your page and tell you critical information, such as if your article is tough to read, if you're missing alt tags on your images, or if you've not used your keyword enough (or in the right places). You can also generate your sitemap, which you can submit to Google, Yahoo and Bing. If you are serious about your website's search engine optimization, you'll want to download and set up Yoast SEO for every website you own. Alternatives are SEO Ultimate and All-in-One SEO.
Wordfence is another WordPress plugin I install on all of my websites. it is regularly updated, and helps to keep your website more secure. It limits login attempts, and allows you to control who can login to your website.  It creates a firewall to protect your website from attacks. I have several client websites that are protected by Wordfence. Also, they keep out hackers and people trying to login from specific locations. You can block IP addresses, and Wordfence will also send you a report showing you who and what they blocked. You can download Wordfence for free, but you can also pay for premium features and more robust security. Here are some highlights of Wordfence's features:
Enforce strong passwords among your administrators, publishers and users. Improve login security.
Checks the strength of all user and admin passwords to enhance login security.
Includes login security to lock out brute force hacks and to stop WordPress from revealing info that will compromise WordPress security.
Scans core files, themes and plugins against WordPress.org repository versions to check their integrity. Verify security of your source.
See how files have changed. Optionally repair changed files that are security threats.
Scans for signatures of over 44,000 known malware variants that are known WordPress security threats.
Continuously scans for malware and phishing URL's including all URLs on the Google Safe Browsing List in all your comments, posts and files that are security threats.
See all your traffic in real-time, including robots, humans, 404 errors, logins and logouts. Enhances your situational awareness of which security threats your site is facing.
Real-time blocking of known attackers. If another site using Wordfence is attacked and blocks the attacker, your site is automatically protected.
Block entire malicious networks. Includes advanced IP and Domain WHOIS to report malicious IP's or networks and block entire networks using the firewall. Report WordPress security threats to network owner.
Rate limit or block WordPress security threats like aggressive crawlers, scrapers and bots doing security scans for vulnerabilities in your site.
Akismet is a life saver. If you hate receiving spam and having it blasted all over your site, Akismet is a must-have for your WordPress site. The total number of spam that Akismet has thwarted on Creative Beacon since its beginning is 74,190! Think about having to do that manually. It would literally be an around-the-clock job to monitor the site. Akismet is one of the most essential WordPress plugins for keeping your comments clean and spam-free.
ManageWp
ManageWp is a service more than a plugin. It uses a plugin called the Worker plugin to work its magic. You can do so much with the service, though. if you run more than one WordPress site, you can log into all of them from ManageWp's admin area. Then, you can update all of your plugins, WordPress versions, and you can even run physical backups and backups to your Google Drive and Dropbox account. Need to migrate a WordPress website? I use ManageWP to clone my WordPress sites from one WordPress install to another. This is great for building your website in secret on a subdomain, and then cloning it over to the main domain and making it live. Update: ManageWP is transitioning to Orion, which still does everything it did before, but better and with a better interface. To check out ManageWp, click here.

Contact Form 7 is one of the best contact form plugins I know. You can create highly customized forms without a lot of knowledge. You can create as many fields as you'd like and they will all be generated into an email that you received upon submission. It goes great with an additional plugin, which I will mention next in the list.
This may be a more specific WordPress plugin, but it does a heck of a job. If you want to store submissions in your database, this plugin is the tool for the job. For example, a client of mine hosts international events. When someone registers, their submissions are stored in the database. Attendee lists can be exported as CSV files, which are really handy.
I know, it is another forms plugin, but I like it for certain websites. I've used Ninja forms for client websites, and it works great for creating longer, more drawn out forms. By default, it saves every submission to the database, so you'll never lose a form submission again. You can create just about any type of online form imaginable, all with a drag-and-drop interface. Another reason I love Ninja Forms is because of their 40+ premium add-ons, which adds a tremendous amount of functionality, depending on your needs. Just to name a few add-ons:
Conditional Logic – Hide and show fields, or change field values based on user input.
Front End Submission – Allow WordPress users to create posts, pages or custom post type submissions from the front end.
Multi-part forms – Break up long forms into multiple pages to reduce intimidation and increase fulfillment rate.
File uploads – Allow website visitors to upload files in their form submission, such as resumes, images, videos, etc.
Paypal Express Payments – Accept payments via paypal when submitting web forms.
SalesForce – Integrate Salesforce in your form submissions, to enter them in your CRM.
Save Progress – No one likes having to fill out a form all over again, due to lost connection, or technical glitch. Allow visitors to save their form progress as they go.
This plugin is great for getting additional pageviews. The way it works is that it displays related content, based on what they are viewing. This is great for getting your posts seen by people who are actually interested in the content. They come for 1 article and end up reading 3. Chances are, that when someone comes to your website interested in a particular content, if you recommend related content, they will stay and read those articles, too.
If you want to sell anything, from digital downloads to physical goods, WooCommerce is the plugin for you. Set up an online store and accept payments within a day. Using a few add-on plugins, you could easily upload a spreadsheet of products and hit the ground running in no time. It's easy to use, and integrates well with most themes. Many themes have support built in as a standard feature.
This is another plugin I install on every single website I own and build. It is fast, stable, and is regularly updated. It increases the speed of my website by up to 50% by reducing load times overall. Here is a comparison of the features found in WP Rocket, compared to the other caching plugins you'll find for WordPress.
| | WP Rocket | Hyper Cache | Super Cache | W3 Total Cache |
| --- | --- | --- | --- | --- |
| Quick Setup | Enabled | Enabled | Not available | Not available |
| Page Caching | Enabled | Enabled | Enabled | Enabled |
| Cache Preloading | Enabled | Not available | Partially | Partially |
| Sitemap Preloading | Enabled | Not available | Not available | Enabled |
| GZIP Compression | Enabled | Not available | Not available | Enabled |
| Browser Caching | Enabled | Not available | Not available | Enabled |
| Database Optimization | Enabled | Not available | Not available | Not available |
| Google Fonts Optimization | Enabled | Not available | Not available | Not available |
| Remove Query Strings from Static Resources | Enabled | Not available | Not available | Not available |
| LazyLoad | Enabled | Not available | Not available | Not available |
| Minification/Concatenation | Enabled | Not available | Not available | Enabled |
| Defer JS Loading | Enabled | Not available | Not available | Not available |
| CloudFlare Compatibility | Enabled | Not available | Not available | Enabled |
| CDN | Enabled | Not available | Enabled | Enabled |
| DNS Prefetching | Enabled | Not available | Not available | Not available |
| Mobile Detection | Enabled | Not available | Enabled | Enabled |
| Multisite Compatibility | Enabled | Not available | Partially | Partially |
| Ecommerce Friendly | Enabled | Not available | Not available | Not available |
| Multilingual Compatibility | Enabled | Not available | Partially | Partially |
| Connected Users | Enabled | Not available | Enabled | Enabled |
| Import/Export | Enabled | Not available | Not available | Enabled |
| Developer Friendly | Enabled | Not available | Not available | Not available |
| White Label | Enabled | Not available | Not available | Not available |
Great alternatives are WP Super Cache and W3 Total Cache.
Making your site run fast and reduce file sizes, Gzip compression is something everyone should do. This plugin helps to reduce bandwidth usage. It is recommended in the YSlow test for websites, and should be implemented in order to increase page speed.
I use this plugin to send me a daily backup of my database. This is a handy tool to optimize your WordPress database and keep things neat and tidy. You can set the plugin to do everything automatically as well. WP-DBManager can worry about your database so you don't have to.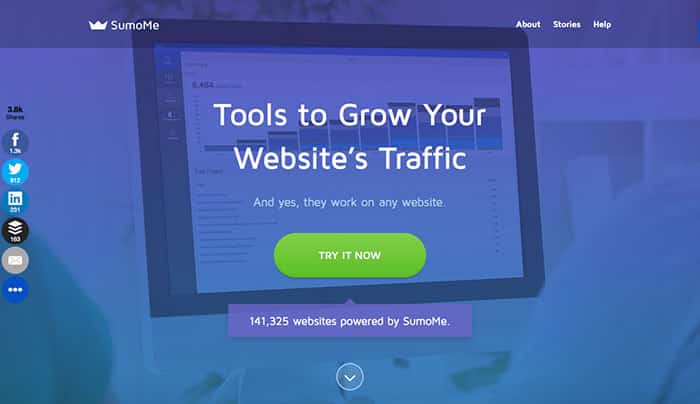 SumoMe is the most amazing plugin suite for WordPress I have ever seen. There is so much included in this plugin suite, that it is one of my most essential WordPress plugins and tools for every new WordPress install. I have grown several sites of my own much faster than ever before with this plugin suite. Here is a quick rundown of what comes in the collection:
List Builder – It creates an optimized popup on the pages you specify.
Smart Bar – It creates a bar at the top of the site where you can promote something special.
Scroll Box – An opt-in box slides up once a specified area has been reached on the page.
Welcome Mat – This creates a welcome section to collect email addresses.
Content Analytics – See how much of your content is actually being read.
Heat Maps – See where people are actually clicking on your website.
Google Analytics – Integrate Google analytics right on your live site.
Share – The easiest way to implement share buttons on your site to promote your content.
Image Sharer – Make your images go viral with this sharing tool.
Highlighter – This works similar to Click to Tweet, making it easy to share portions of your content.
Contact Form – Place a live contact form tab on all pages with this module.
Alternative Sharing Plugins
There are many different alternatives, such as Sharebar, Sexy Bookmarks, Shareaholic, Sociable, and ShareThis, but none of them are as inclusive as Sumome. Social sharing encourages your visitors to promote your content and really helps your site to grow. I would consider any great social sharing plugin to be one of my most essential WordPress plugins.
Compressing the images on your site will help reduce load times drastically. Imagify is an awesome plugin that will optimize and compress images as you upload them. You can compress them aggressively, which doesn't alter the appearance of the image to the naked eye. Ultra does degrade them image a little, so I would stick with Aggressive. It is a paid plugin, but I install it on all of my sites, and it optimizes every image on all of my websites for a small monthly fee ($8). Also, you can have it go through all of your existing images and optimize those, too. You can reduce most images by up to 50% – which is huge!
Oh man is this ever a must have. This plugin alone has not only saved me months of time (yes, months!), but it has saved my websites. Take Create Beacon as an example. There are nearly 1300 posts here. When I switched to SSL, my images disappeared on most of my articles. Some list posts have 20-50 images! It fixed the URLS of 7000+ internal links and 9000+ attachments.
The way it works is that you put in the old url that is currently on the website. In my case it was https://creativebeacon.com, and then you put the new url you want to change it to across the entire website, which was https://creativebeacon.com. You choose what to update, like urls in page content (pages, posts, custom post types, or attachments (images, documents, general media) as well as excepts, links, and custom fields & meta boxes. Hit update URLs now, and let Velvet Blues work its magic!
Conclusion
If you are looking to create a wonderful site with the best plugins that you can find, this list should help you to manage and promote your site easily. These essential WordPress plugins are meant to make your life easier by optimizing tough tasks or making time consuming tasks much quicker. This will enable you to focus more on content and less on management.
What plugins do you use on your WordPress site? Do you use any essential WordPress plugins that I haven't listed here? If so, be sure to list them in the comments. What are your most essential WordPress plugins?
Save
Save