Essential WordPress Plugins For Your Site
WordPress is the blogging software of choice for many bloggers. If you use WordPress, it is essential to use the right plugins to make your site run at its best. Most of these plugin choices really depend on what you are trying to accomplish. Below is a list of essential WordPress plugins to use in your site.
I love this plugin for SEO. It almost makes it too easy. When you are working on a new post, you can compare it against Yoast's checklist. It will tell you what is missing, what could be better, and gives you an overall synopsis of how good your article is. The plugin makes suggestions and is a good way to make sure that you have done all you can to make your post as SEO-friendly as possible. Alternatives are SEO Ultimate and All-in-One SEO
Akismet is a life saver. If you hate receiving spam and having it blasted all over your site, Akismet is a must-have for your WordPress site. The total number of spam that Akismet has thwarted on Creative Beacon since its beginning is 74,190! Think about having to do that manually. It would literally be an around-the-clock job to monitor the site. Akismet is one of the most essential WordPress plugins.
ManageWp
ManageWp is a service more than a plugin. It uses a plugin called the Worker plugin to work its magic. You can do so much with the service, though. if you run more than one WordPress site, you can log into all of them from ManageWp's admin area. Then, you can update all of your plugins, WordPress versions, and you can even run physical backups and backups to your Google Drive and Dropbox account. To check out ManageWp, click here.

Contact Form 7 is one of the best contact form plugins I know. You can create highly customized forms without a lot of knowledge. You can create as many fields as you'd like and they will all be generated into an email that you received upon submission. It goes great with an additional plugin, which I will mention next in the list.
This may be a more specific WordPress plugin, but it does a heck of a job. If you want to store submissions in your database, this plugin is the tool for the job. For example, a client of mine hosts international events. When someone registers, their submissions are stored in the database. Attendee lists can be exported as CSV files, which are really handy.
This plugin is great for getting additional pageviews. The way it works is that it displays related content, based on what they are viewing. This is great for getting your posts seen by people who are actually interested in the content. They come for 1 article and end up reading 3.
If you want to sell anything, from digital downloads to physical goods, WooCommerce is the plugin for you. Set up an online store and accept payments within a day. Using a few add-on plugins, you could easily upload a spreadsheet of products and hit the ground running in no time. It's easy to use, and integrates well with most themes. Many themes have support built in as a standard feature.
You have to manage your site and optimize it, period. There is no getting around it. You have to do a good job of reducing load times and W3 Total Cache does this very well. Cache pages whenever possible and Minify CSS and Javascript. Learn how to use this plugin and it will be a great asset to you and making your WordPress site lightning fast. I would consider this as one of the most essential WordPress plugins. A great alternative is WP Super Cache.
If you want to succeed with seo without a lot of extra work, this plugin will save you a lot of time and frustration. Using this plugin, you can generate the sitemap for your site automatically, which you can submit to Google. This makes it easy for Google to index your site. It also makes generating a sitemap as easy as clicking a few buttons.
Making your site run fast and reduce file sizes, Gzip compression is something everyone should do. This plugin helps to reduce bandwidth usage. It is recommended in the YSlow test for websites, and should be implemented in order to increase page speed.
I use this plugin to send me a daily backup of my database. This is a handy tool to optimize your WordPress database and keep things neat and tidy. You can set the plugin to do everything automatically as well. WP-DBManager can worry about your database so you don't have to.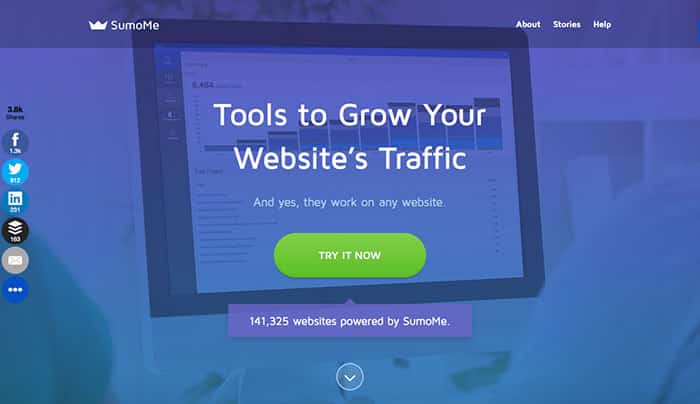 SumoMe is the most amazing plugin suite for WordPress I have ever seen. There is so much included in this plugin suite, that it is one of my most essential WordPress plugins and tools for every new WordPress install. I have grown several sites of my own much faster than ever before with this plugin suite. Here is a quick rundown of what comes in the collection:
List Builder – It creates an optimized popup on the pages you specify.
Smart Bar – It creates a bar at the top of the site where you can promote something special.
Scroll Box – An opt-in box slides up once a specified area has been reached on the page.
Welcome Mat – This creates a welcome section to collect email addresses.
Content Analytics – See how much of your content is actually being read.
Heat Maps – See where people are actually clicking on your website.
Google Analytics – Integrate Google analytics right on your live site.
Share – The easiest way to implement share buttons on your site to promote your content.
Image Sharer – Make your images go viral with this sharing tool.
Highlighter – This works similar to Click to Tweet, making it easy to share portions of your content.
Contact Form – Place a live contact form tab on all pages with this module.
Alternative Sharing Plugins
There are many different alternatives, such as Sharebar, Sexy Bookmarks, Shareaholic, Sociable, and ShareThis, but none of them are as inclusive as Sumome. Social sharing encourages your visitors to promote your content and really helps your site to grow. I would consider any great social sharing plugin to be one of my most essential WordPress plugins.
Compressing the images on your site will help reduce load times drastically. You can go into the media library and bulk smush all of the images on your site at once. You can also manually smush the ones that you need to. This is an excellent tool, and your images don't experience a loss in quality. It has recently been taken over by WPMUDEV, aWordPress powerhouse. It offers a premium version with even more compression, which has an added bonus of their membership, where you get access to hundreds of plugins.
Conclusion
If you are looking to create a wonderful site with the best plugins that you can find, this list should help you to manage and promote your site easily. These essential WordPress plugins are meant to make your life easier by optimizing tough tasks or making time consuming tasks much quicker. This will enable you to focus more on content and less on management.
What plugins do you use on your WordPress site? Do you use any essential WordPress plugins that I haven't listed here? If so, be sure to list them in the comments. What are your most essential WordPress plugins?