Christmas Insignias
It definitely is the season to be jolly! Christmas has already taken over, before Thanksgiving is even here. That's the way it's been for the past couple of years. This is the biggest season of the year for driving sales. You'll want to create eye-catching holiday promotions to attract customers. To celebrate the holiday that's just around the corner, Freepik has put together some awesome free Christmas insignias. This collection of free Christmas insignias are useful for all sorts of elegant holiday promotions. You can see a preview below.
This would be a great poster for a department store. The elegant snowflakes faded into the background add depth. The stacked type stands out against the bold red background.
It's typical to wish others a Merry Christmas. You can wish them well for the new year, too, all at once. The bokeh background and sparkles epitomize the Christmas season. This type of background looks good in any color. You'll see this a lot in typical Christmas promotions.
The mix of hand-drawn type and crisp, clean typography gives this graphic a great sense of balance and charm. I like the fact that orange has been added into the background. This adds a splash of color to something that might otherwise be bland.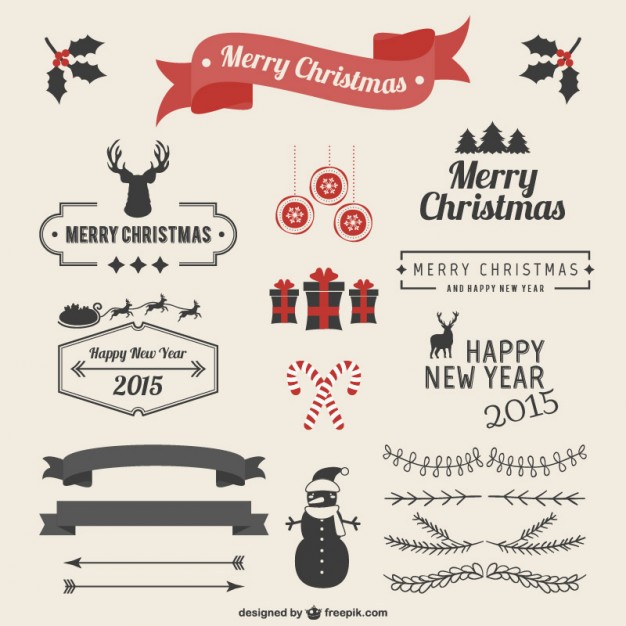 This is a great collection of Christmas and holiday vector elements. You can use them as supporting graphics for your holiday promotions. Ribbons will be highly useful right now, because of all of the gift giving that happens during the season.
Exclusive Download
Freepik is also offering an exclusive download for Creative Beacon subscribers only! It features some beautiful custom Christmas insignias. These Christmas Insignias are all gorgeous. They will look great on anything from greeting cards to holiday promotions. You can use them in department store ads, sales ads, website ads, and anything else you can think of. They are exclusively made for Creative Beacon, so you can only get them here. Take a look at the preview, shown below.
I just love the simple elegance of these free Christmas insignias. They add a touch of elegance and class to any design. Being one color, they make it easy to place them over any image as an overlay. Using traditional holiday imagery is the best choice. Doing this will give you the best look, while spreading the joy of Christmas.