Free Responsive HTML5 Template Megacorp
Every week I have been sharing responsive html5 website templates. The last couple of weeks you have seen OnePager and Strongly Typed. This week I have a great responsive html5 template for you called Megacorp. As the name suggests, it is made with business in mind, and its a great website template that makes a lot of impact from the first second that you lay your eyes on it. This template in highly adaptable to any type of business. The mix of a clean layout, nice typography, and friendly imagery make this an extremely robust responsive html5 template.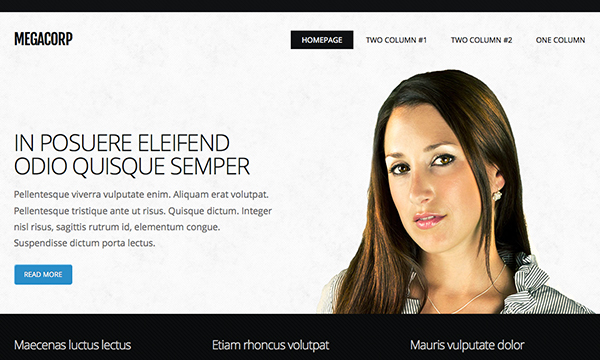 Megacorp uses a good amount of negative space to really make the photograph on the right stand out a lot. The up-close image really makes the template feel more personal, even though it is mainly for business use.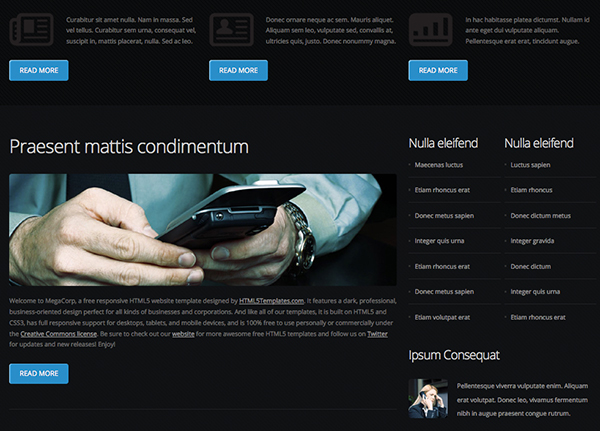 Megacorp has a clean layout that utilizes plenty of negative space to make your content stand out. The blue sample buttons really stand out from the black background. I also like how the page is divided, with the image and caption on the left, and the 2 columns of links on the right. As you can see on the bottom right side, you can also have one column if text and a thumbnail as well. 
The image above shows Megacorp with 3 columns of text. You can have text with or without a thumbnail. Other layout options are to have the large content area with the 2 columns on the left side, or you can have a full width content area. The Megacorp responsive html5 template offers a lot of layout flexibility, which is essential for any website.
With a highly professional appearance and a clean layout, Megacorp is an awesome responsive html5 template that you could use for a wide range of projects. being responsive, It will look great on all types of devices. What will you use Megacorp for? If you want Megacorp, click the button below to be taken to the download page.