Vector Shopping Labels
If you do a lot of design work for local stores, chances are you design signs and labels on a daily basis. When promoting sales, whether it is in a physical store or on a website, getting visitors attention is your number one goal. Anything that you can do to stand out is going to make your sale more successful. That's where this week's free vector files come in. Exclusively from Freepik, we have a huge collection of free vector shopping labels. These shopping labels are colorful and are sure to grab people's attention. You can preview this massive collection of free vector shopping labels below. Also, you'll find four other collections that you can download from freepik.com.
There are a lot of retro style labels here. A lot of them use big bold type, or script type for that vintage look. Some of them are in all shapes, which make them stand out. This is definitely what you want when you want to grab people's attention. You have to show them something unexpected. There are different badges, emblems, and even price tags. You can use these cohesively throughout your store to increase sales.
Download these free vector shopping labels for free. You can download these vector shopping labels for free and use them in your design projects. However, you cannot sell these or redistribute them on other sites. Click the link below to download these free vector shopping labels.
This set of badges is designed in a simplistic, two toned style. You'll see a lot of ribbon elements in this collection. I especially like the angled ribbon with script type. Badges like these give viewers the sense of quality.
The second set of badges are retro badges for restaurants or small diners. It's amazing how simple little elements can make or break the entire look of the design. My favorite one out of this collection is the one where the ribbons and the fork and knife flow together. I also like the script menu font in the small ornaments in the corners.
This collection of vintage badges and ribbons will be useful for sales and promoting the quality of products. I like the subtle gradient that is applied to the blue color. I like the angled flat ribbon, as well as the circular sticker with a straight and rounded ribbon.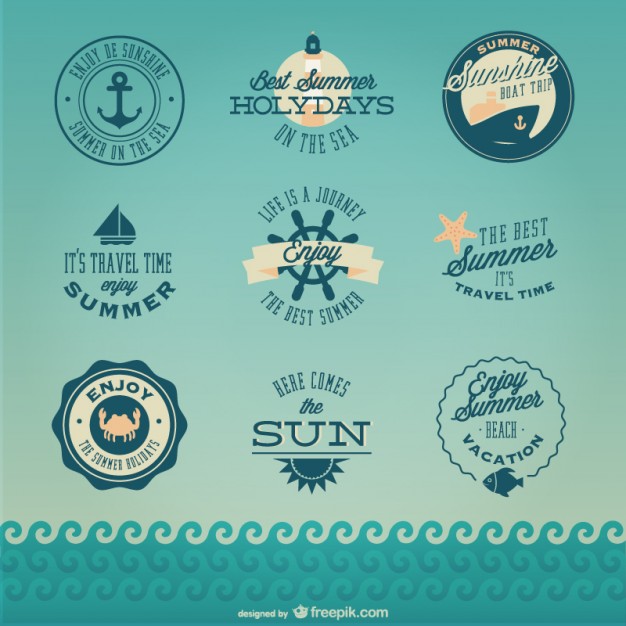 The final set of badges are nautical badges, which are fun and interesting to look at. I love the simple emblem with the anchor in the center. The badge with the crab in the center is a fun badge that you might use for a mascot for your business, especially if you own a restaurant. The steering wheel for the boat is in iconic image for anything nautical.