Fun Vector Patterns
Everybody loves background patterns. Whether you use these patterns in print design or web design projects, a great pattern can make a project stand out. You can take a project from mediocre eye-catching with the right pattern choice. This week's free set of vector files is a collection of fun vector patterns that you can download and use in your projects. There are a lot of fun and interesting patterns so be sure to check out the previews below.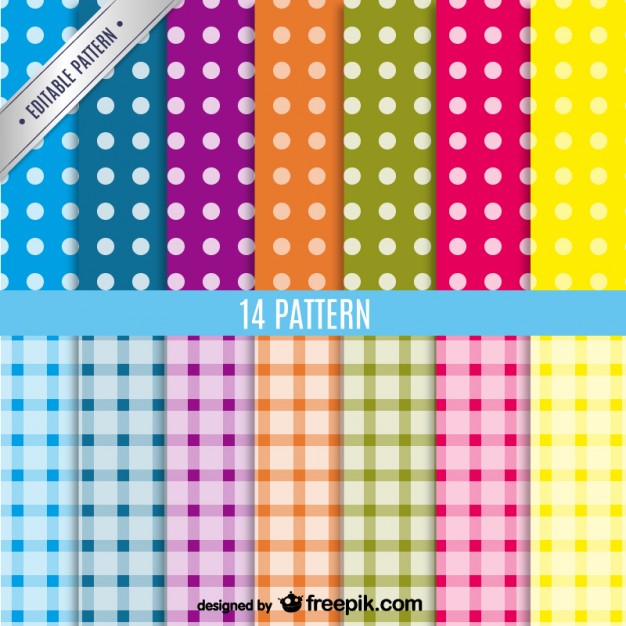 This first set of fun vector patterns includes polka dot patterns, as well as plaid patterns. There are several bright and bold colors in this free pack. There are 14 choices in all. They are completely editable, so you could mix and match colors as needed.
This next set of patterns is a mixed bag of fun vector patterns. There are a couple of floral patterns, as well as abstract repeating patterns. These would be great backgrounds for blogs, because they add a personal touch to any design. The colors are feminine, that you can always edit these patterns and change the colors to whatever you need.
This set of patterns is a collection of hand-drawn vector patterns. From hand-drawn stars, to clouds and doodles, these patterns would look great in anything to do with children. If your project aimed at children, these patterns would be a great choice. I like the pattern with purple and blue stars of different sizes and directions. It almost adds a dimensional quality to the pattern.
Which set of fun vector patterns is your favorite? These patterns are completely editable, so you can bring them into Adobe Illustrator and alter them to meet the needs of your project. There are 26 patterns in all, so there's plenty available to get you started. Add an element of fun and whimsy to your design projects using these awesome free patterns.