The new Ghost blogging platform is truly outstanding. Created by John O'Nolan, former WordPress developer, through a Kickstarter project, it retains at its core a lot of the WordPress features. But from our own experience it has proven itself superior in a few vital aspects, although it looks really great.  You can see a glimpse of the beautiful and simplistic standard installation below: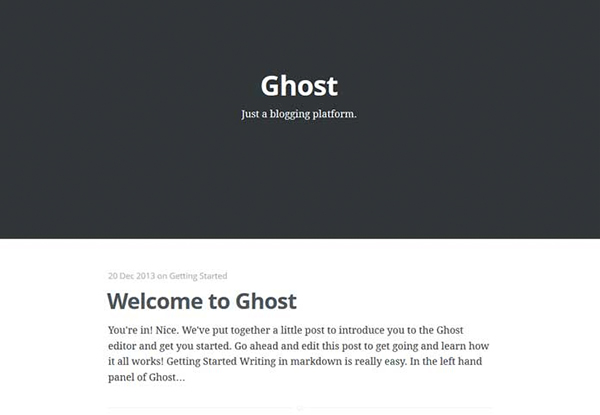 The Ghost Blogging Platform
There is no doubt that WordPress leads the field as a blogging platform, but it has also taken over the field as a content management system, challenging several of the leading CMSs such as Drupal and Joomla. With the recent 3.5 "Elvin" WordPress update there have been some radical improvements to the layout, security, style and post management.
But therein lies the major problem that Ghost was designed to solve: WordPress is getting increasingly complex as it is keeping up with the demands of a CMS. And as a blogger, who has the time to deal with complex settings if there isn't even any time to read the morning paper.
Thus the answer was in getting back to basics and creating a blogging platform that did just that and only that: blogging.
That's why O'Nolan decided to create a Kickstarter to fund a basic blogging platform that would be open source, completely free and easy to use: Ghost was born. Designed with simplicity in mind, Ghost tries to put the fun back into blogging while still giving a beautiful look to the final product.
Hosting Platform
The company has also begun a Ghost-only hosting platform for a minimal fee. All the money is to be used to further the development of this powerful tool.  You can actually get a 30 day free trial too, just to try it out.  Plus, using their own hosted service is probably the easiest way at the present time to run your Ghost Blog.
Innovative Interface
Ghost sets itself apart from other platforms by offering an unexpectedly innovative write-and-edit interface: the screen is split into two segments: the left side to write the article and the right to see a preview . The platform is powered by an open source markup addon that works as a direct text to HTML conversion tool and the markups become instantly visible in the preview area.
Minimal But Powerful: The Dashboard
The dashboard as well is unexpectedly attractive and easy to use. At a single glance it gives you a complete overview of the information relating to the status of your posts, social network connections, subscriptions and visitors stats.
Adding to that, all the widgets are highly customizable and can be configured using a simple drag-and-drop system.
Node.JS
Ghost is built on a node.js JavaScript. The marketing speak is that this makes it easy to run it on any computer platform and device.  However, in practice, at least at the current time we would tend to disagree.  Most hosting providers only support Node.JS on their more expensive VPS or Dedicated hosting plans, although there are some exceptions.
Design, Customization and Enhancements
As with most other CMSs you can get both free and premium themes in order to change and customize your own personal look and feel of your blog.  However, unlike WordPress with its inbuilt theme editor it is quite a bit more complicated to make those alterations, especially if you are not a developer.
Final Thoughts
Whilst the blogging platform looks pretty awesome, especially with some of the premium themes that you can now purchase, the functionality is pretty basic.  We don't think people will suddenly all abandon WordPress, but in time as development continues it stands a great chance of occuping its own niche in the blogging platform market.
If you have any questions (we run have tested the platform on Ghost's own hosting, and on A Small Orange's shared hosting) we will be happy to answer any questions in the comments below.
Jonathan Griffin is the editor of Best Host News, a site dedicated to reporting on web hosting related consumer news.  He addition he loves to keen up to date with WordPress, Ghost and other internet related topics.