Simpler Html5 Responsive Template
Having a great portfolio site is essential to landing new clients. How many times have you come to a website that took too long to load, or it just didn't look good on your device? This can kill your new business potential. With a quality website that shows off your work and makes it look great, you are bound to get new business and new clients. This week's free website template is the Simpler HTML5 Responsive Website Template from Luis Zuno. He has a lot of great free files, but this one caught my eye this week. It has a great mix of portfolio pages, blog pages, and a well structured home page. You can preview the Simpler Html5 Responsive Template below.
I like the simple sliding gallery in the top area of the home page of the Simpler Html5 Responsive Template. There is even a nice area on the right to place a personalized message, which is a great way to reach out to visitors.
I like the bottom of the home page design. You have a nice list of recent posts from the blog section. The dark gray with yellow lettering provides a lot of contrast. The right side is great for a designer's portfolio, because you can place plenty of logos from your most reputable clients, and their testimonials below.
The blog section is great if you want to convert this template into a WordPress theme. There is a lot of contrast between the text, images, and the background, so everything stands out.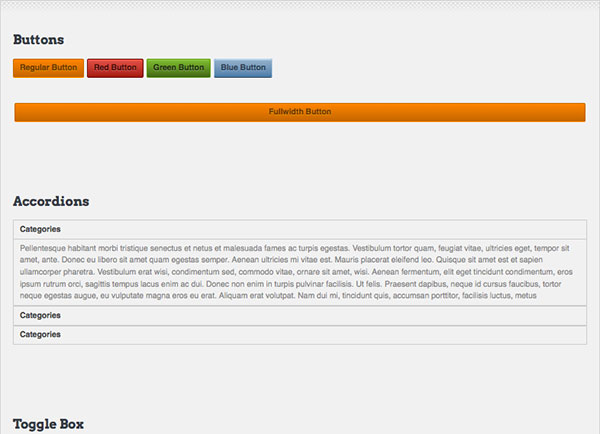 The Simpler Html5 Responsive Template comes with a lot of extras, such as shortcodes that you can use to create functionality. Create accordions, Toggle boxes, buttons and more.
The portfolio pages of the Simpler Html5 Responsive Template really shines with a masonry layout, so no matter how your work is formatted, it will all fit together. Combine that with the responsive design and you will look great on any device, and in any browser.
Simpler also comes with a nice contact page where visitors can get in touch with you about possible work. There is also a section at the top for google maps, which is nice for clients to use to help locate your studio.
Download the Simpler Html5 Responsive Template
This template is a really nice portfolio template that you can use to create a website that really showcases your work. Your work will look great on any device, and the site overall is well designed with plenty of negative space. To download, click the button below to be taken to the download page. There, you can pick up this template for a simple Tweet. Why not? Luis deserves it for such good work!