Are 17 years a long or a short period? Perhaps, someone will say that a decade is just a little drop in the ocean of human history. However, it's definitely a serious date if it concerns someone's strong presence in the digital market. Very soon TemplateMonster will reach its 17th anniversary.
So, on the 17th of June this monstrous teenager will celebrate his significant holiday together with you, respected and valued clients. That's why TemplateMonster announces a great Birthday party.
17 years ago a passionate team of developers and web designers launched a functional and convenient website with templates. It got the name of TemplateMonster and almost immediately won the hearts of the customers.
Working this hard for the past 17 years, TemplateMonster can only continue to gather momentum. And we all want to share these feelings of happiness and prosperity with you, dear readers. Therefore, be prepared for an awesome TemplateMonster birthday party.
Everything is going to start with a pre-party. To become a guest it is important to subscribe to the Monstrous Birthday Party launch notification. Without it, you are going to miss the best part of the pre-party. And then, you will have the opportunity to grab a bundle that has the following surprises:
a premium landing page;
one PowerPoint template and two illustrations packs;
a social media templates pack;
a pack of animated banners.
The next step on the 17th of June is a party itself. Just one day. Celebrate, enjoy the cake, sing your favorite songs, and do not forget to buy some first-class digital items with up to 50% discount
.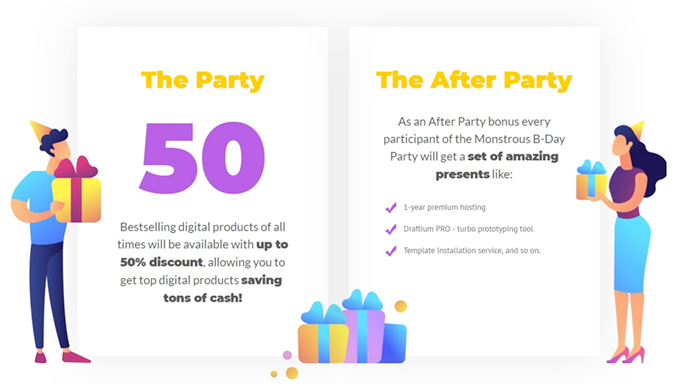 If you want to celebrate everyday like it does TemplateMonster, you will have such a chance. The after-party is going to be full of presents that you cannot even imagine. Just have a look what you can receive:
1-year premium hosting;
Draftium PRO (a turbo prototyping tool);
template installation service;
and others.
So, don't forget this invitation to the TemplateMonster's party that lasts for several days only! Hurry up to get your 50% discount on the preferred template and other design freebies.