What makes life beautiful and active? – Sport, indeed. What makes sports effective? – Regular training and self-work. What makes training accessible? – Gyms, sports organizations, and training clubs. What makes all these popular? – A good web promotion. What makes a good web promotion possible? – Yeah, a ready-made template for a website!Choosing a fitness and gym theme you will hardly like just a multipurpose template. A website in this area should be special. Here are a bit of the useful features that a sports site should contain:
– Necessary plugins and extensions. It is really important for the customers of gyms, sports organizations, yoga clubs etc. not only to preview what they could do at the gym but also to plan their visits there. So, the timetable plugin is very much necessary. Moreover, you may need pricing tables and special offers implementation in order your clients can see how beneficial and advantageous the regular training at yours' are! Projects and Team members make a better overview of your company. And, of course, Testimonials will represent your customers' feedback.
– Responsive design. Surely, if you are a sports club owner you customers are up-to-date and have various types of devices. It would be convenient for them to have a look at the favorite gym website anywhere and anytime. Take care that your site will look perfect on any screen. If you have a theme with a responsive design you should worry, your site will be handy and look functional anyway.
– Advanced gallery options. If you make a nice showcase of people training and demonstrating their figures it may stimulate your clients to train better as well. Your pages will be looked through often if they are gorgeous and attractive. Well, such options as parallax, sliders, portfolio etc. will help you to achieve the goal.
– Blog functionality will allow you not only to share the open hours and contact information of your gym. Publish as many ideas, useful materials, advise and so on your website to make it interesting and smart.
What can TemplateMonster offer to sports projects developers?
Considering this, TemplateMonster has developed a pretty collection of sports WordPress themes which can be applied for different sports purposes. Also, a range of yoga themes are available in TemplateMonster's template base. These premade website templates provide a good functionality and beautiful design considering the sphere needs. When you are a fitness center owner, a perfect web promotion is guaranteed by the collection of fitness themes as well.
It is important to create a special atmosphere of a particular kind of sports on the website. So, choosing a template, consider, which implementations do you need and how would you like your site to look like. Consider also fonts, color schemes and images that are sometimes included in the pack for free.
WordPress platform for sports and gym themes
Why WordPress for sport clubs websites? Well, this group of themes are easy-to-use for both professionals and beginners, they provide a high functionality level and include many useful plugins, Powerful Cherry Framework and Bootstrap options provided, crossbrowswer compatibility and a great many other advantages will be at your fingertips if you upload a WordPress template.
If you are developing a website for a sports organization these features will become a real help for you and allow you to create a maximally functional product and make a very successful promotion of your project.
Below you can find top 20 fitness and gym WordPress themes. Maybe there is a perfect one right for your project among them?
Fitpress – User-friendly Fitness & Gym WordPress Theme
Here comes a functional but really easy-to-use WordPress template for a successful gym promotion. Thanks to drag-and-drop Power Page Builder and a wide range of Cherry Plugins (Team Members, Testimonials, Projects, Sidebar, Search and others) the customization process is as simple as ABC, but the result is promising indeed! Moreover, the semantic code is clean and well-structured so you will surely enjoy creating a website.
Train Hard – Gorgeous WordPress Theme for Fitness Centers
This is a stylish WordPress template developed for fitness centers which can be also a good solution for other kinds of gyms. It has got a well-structured drop-down menu, blog functionality and the plugins and extensions needed right to make a good promotion for your sporting organization: timetable, team members, projects, etc. Furthermore, you get a set of proper images for free so you can easily create a nice sports atmosphere on your website!
Fastlek – Perfect Running Club & Coaching WordPress Theme
Fastlek WordPress Theme is suitable for jogging club and coaching websites. It is fully editable, SEO-friendly, mobile ready and also has got a great set of extensions and implementations to create a nice showcase and add to your sports project. Admin Panel, Cherry framework 5, Cherry plugins and GPL license and not only are the features you will get having uploaded the theme.
Flex Up – Amazing CrossFit WordPress Theme
There is one more beautiful and greatly functional WordPress theme for fitness centers. The variety of useful options and plugins allow you to make a pretty gym schedule, testimonials, coaches and sports programs overview etc. You can also create different blog content.
IronMass – Handy Gym Fitness & Bodybuilding WordPress Theme
IronMass template is most suitable for bodybuilding sports projects and cross-fit studios and is also successfully used for all kinds of fitness organizations. Sample content, commenting system, blog functionality, slider gallery script and many other useful options are included to arrange an attractive presentation of your gym.
Sportex – Easy-to-use Sports News Responsive Template
This is a beautiful and handy WordPress theme perfect for a sports news portal. It allows you to create a professional-looking website with the help of Live Customizer, a wide choice of both header and footer styles, multiple blog layouts, media library and many other useful options and extensions of the pack.
Termifighter – Martial Arts Club Responsive WordPress Theme
Enjoy the functionality of a fully editable martial arts club using Termifighter WordPress theme. A wide range of advanced implementations as well as clean and well-structured semantic code provide a nice showcase of your sports programs and demands no advanced skills from you indeed.
Bhanti – Clear WordPress Theme for Yoga Clubs
This is a creative template for yoga, meditation studio or another Oriental culture and sports organization websites. It is very easy-to-use due to valid and optimized code and well-equipped in terms of useful features. Media library, Live Customizer, dropdown menu, commenting system, web forms and many other implementations are in the pack.
BodyFuel – Delightful Fitness & Yoga WordPress Theme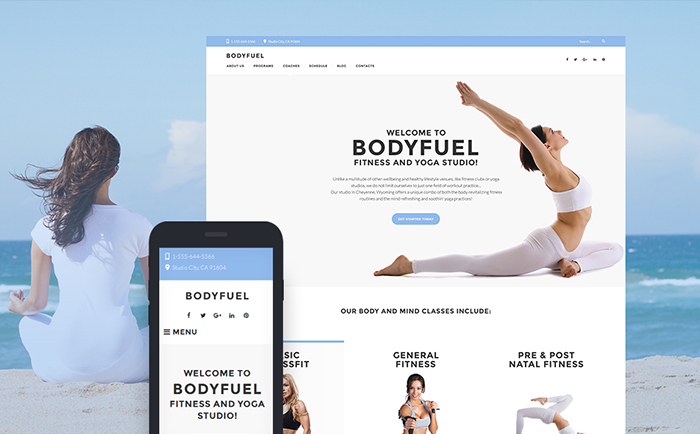 Need to create a light and active atmosphere of fitness or yoga studio? BodyFuel template is right what you need. The functionality of Power Page Builder and Live Customizer, as well as multiple layout options, different content modules, Appointment management, timetable plugin, beautiful fonts and nice color schemes, will arrange a perfect showcase for your sports project!
Fitnesys – Responsive Fitness & Gym Blog WordPress Theme
Here comes a WordPress theme for a fitness blog, well-designed and convenient to navigate, developed with the consideration of the latest blog updates and fitness sports area needs investigation. This responsive, retina ready, search engine friendly, WPML ready, and ecwid ready template is implemented with the dropdown menu, calendar, commenting system, advanced theme options, back to top button, sample content, social options etc. to make your blog maximally informative and attractive.
Shanti – Elegant Yoga Studio WordPress Theme
One more functional and beautiful WordPress theme for a yoga studio with a calm and light outlook is Shanti. This is a really good solution for a yoga sports and culture website due to its nice color schemes, attractive layouts, well-balanced spice and fonts and a great many of useful extensions and plugins included. Moreover, you don't need any specific coding skills to make a nice customization!
Travel – Beautiful and Responsive WordPress Theme
This is an easy-to-use and handy for customization template with clear, light and beautiful outlook. Gallery and blog functionality, buttons, sliders and other options allow creating a nice showcase of your project creating the atmosphere of harmony, balance, and calmness. Moreover, nice color schemes and well-balanced content make a good kind of help for this purpose.
Fitness – Fully-functional Responsive WordPress Theme for Fitness
This theme is powered by 4.4.x WordPress Engine, 2.3.1 Bootstrap Version and provides a good set of useful features like advanced theme options, custom page templates, dropdown menu, sliced PSD, crossbrowser compatibility, social options, back to top button, calendar, favicon, google map and google web fonts, tabs and so on. Fitness WordPress Theme is perfect for a fitness or body-building center, and will also be acceptable for a gym or another sporting organization where the successful training is practiced and should be well-promoted.
Yoga – Eye-catching Responsive WordPress Theme
Yoga WordPress Theme is one more creative solution for a yoga studio website. The template is well-structured, provides a beautiful color scheme, is implemented with blog and portfolio, comes responsive, WPML ready, Ecwid ready. These features easily help you to create an attractive website and clear Oriental culture atmosphere.
Bodybuilding – Stylish and Responsive WordPress Theme for Bodybuilding Sports Clubs
This is a highly functional, very beautiful and stylish due to the advanced gallery options template for a bodybuilding sports studio. Accordion, Carousel, Isotope, and Slider allow you to make a good showcase for your sports projects, achievements and ideas. Such extensions as Our Team, Portfolio, Services, Testimonials etc. allow a successful promotion since you can share much of the useful information with your visitors.
WordPress Theme for Sports Purposes
Travel WordPress theme is a multipurpose premade website layout which will perfectly suit the needs of a private sports club, gym, training group or another purpose connected with sports. The pack provides advanced theme options and a high gallery functionality (with stock images included). Media extensions, different web forms, and WordPress custom post types as well as the additional features wide-set make this theme really functional and handy.
Travel – Responsive WordPress Theme for a Fitness Club Site
This is a theme convenient for usage, customization, and updates for a fitness club website. Blog functionality, Cherry Framework, HTML plus JS animation make it so handy. Placing your information on the blog, and representing it with the help of nice buttons and lovely fonts, inserting the images into the slider you get a nice showcase of your fitness club.
Fitness – Pretty Responsive WordPress Theme
Fitness template is one more attractive and well-featured WordPress theme for a fitness center or club. Cherry framework provides a great many customization options and effects. Besides, blog functionality lets you share much of useful and interesting information. And, what's really important, the installation and customization process has never been easier!
OpenAir – Light and Pretty Yoga Classes WordPress Theme
If you need a template for a yoga studio website and want it to have a clean look as well as you (and your website visitors) to have a light and pleasant feel OpenAir WordPress Theme is right what you need. Well-balanced space and texts, nice fonts, perfect gallery setup, blog and lots of handy implementations do the job with flying colors!
Sensei – Sophisticated Martial Arts WordPress Theme
Built with Power drag-and-drop Page Builder and including the Live Customizer this template makes the process of uploading photos and page customization really easy. Appointment manager, timetable plugin and lots of other useful extensions make a perfect premade layout for a martial arts website.
Welcome to ask any question or request for anything needed if still any as well as for any kind of support. Visit TemplateMoster official website to get all the necessary support. A wide collection of themes for fitness, gyms, sports and not only is waiting for you there.