Twish Free Website Mockup Psd
A lot of people still create website mockups in Photoshop. There are several reasons why they do this. Some like the ability to move things around in layers and apply effects in seconds, just to see how it will look. Others have worked for years using Photoshop as a part of their workflow for designing websites. Whatever the reason may be, having pixel-perfect website mockups can be a huge asset if you use Photoshop in your workflow. Maybe you want to see how something looks without having to code it first. That alone will save you tons of time. This week, I came across an awesome one page website mockup called Twish. It is an excellent Photoshop mockup of a one page website, and it's Themeforest WordPress theme can be found here for purchase. You can preview the free Psd below.
Twish is a one page website template, with a nice grid gallery section at the top. With a clean, minimal look, Twish will work for any type of business.
With sections for icons or images and some descriptive text, this is a great place for talking about the services that you provide. You could also showcase your 4 best products.  
The Twish Free Website Mockup Psd has a minimal pricing table for organizing tiered pricing for your products or services. This is great for organizing a lot of information into a compact area.
A section to showcase the members of your team can really personalize the look of your site. This gives your company a face or faces, instead of giving off the vibe of being a cold, faceless company of robots.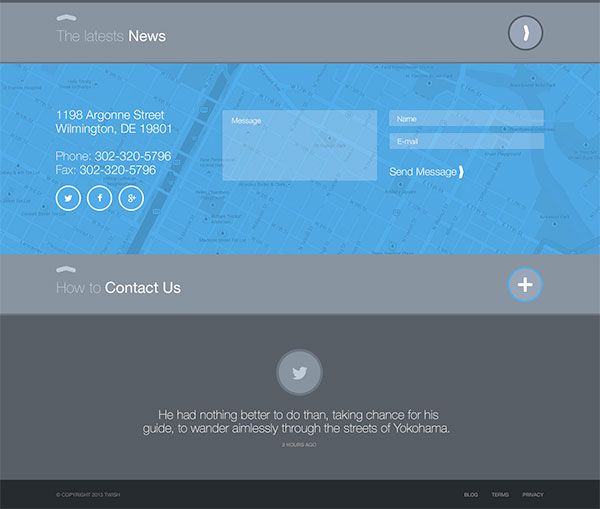 The end of the Twish Free Website Mockup Psd is a simple contact form where visitors can get in touch and ask questions or send inquiries regarding your products or services. This is important for leads, and it is a good idea to leave it at the bottom of your page, so it is the last thing that they do, after reading all about your company.
Download the Twish Free Website Mockup Psd
The Twish Free Website Mockup Psd is free to download. All you have to do is click the button below to go to the download page. The download link can be found at the bottom of the page. Slice it up and code the html and css into a great one page responsive website.
[button-blue url="http://shiftlab.deviantart.com/art/Freebie-PSD-Twish-Single-Page-Website-Layout-416413875″ target="_blank" position="center"] Download Twish [/button-blue]