A Rundown of 12 Useful Photoshop Plugins
When it comes to processing images, Photoshop is one of the best programs for creating beautiful end results. In addition to the tools and controls it comes equipped with, it's also compatible with third-party plugins (which work to expand these features). From organizing your layers, to working with icons, to creating vintage photography effects. Here are 12 of the most useful Photoshop plugins you can use to enhance your images.
Working with Icons
Pixel Dropr from UI Store allows you to create, use and share your own pixel collections. From buttons to photos to icons — it lets you construct your own unique 100-piece collections of the pixels you need. Then, drop them instantly into any PS document as you work. With ready-to-use refills, you can enjoy a premium set of refills with royalty free user interface elements and icons.
Designed by: Pixel Dropr
Cost: You can buy the plugin for $19, a personal bundle for $29 and the team bundle for $99.
Another useful app is Flaticon. It's a project created for and by designers and developers — and is the largest search engine of free icons in the world. It offers its users high-quality graphic designs, editable vectors that have been selected to provide content for both personal and commercial projects. It's used by companies like Adobe and Google and thrives off its freemium business model.
Designed by: Flaticon
Cost: For $7.50 a month for 12 months you can get access to Premium icons and exclusive content.
2. Working with PNG images
SuperPNG is an open source, free Adobe Photoshop plug-in from fnord for working with PNG files. PNG is an open file source format that can be read on various platforms of graphic applications. SuperPNG has more support for the format than the plug-in included in Photoshop and offers control over alpha channel handling.
It includes various options for saving PNGs — like Alpha channel control, Variable Compression, Smart Quantization, ICC profile embedding and Meta Data saving.
Designed by: Fnord
Cost: Free
3. Convert Your Photoshop Layers into CSS3 layers
CSS3PS is a free cloud based Photoshop plugin that converts your layers to CSS3. Simply select the layers and click the button. It features supports like text layers, vendor prefixes, size, stroke, inner shadow, outer glow and more.
The requirements are Windows or Mac OS X and Photoshop CS3 and later — and as we said, the price is free. All calculations are made in their cloud, so most updates and bug-fixes are transparent to the user and there isn't a need to update the plugin to use the new features.
Designed by: CSS3PS
Cost: Free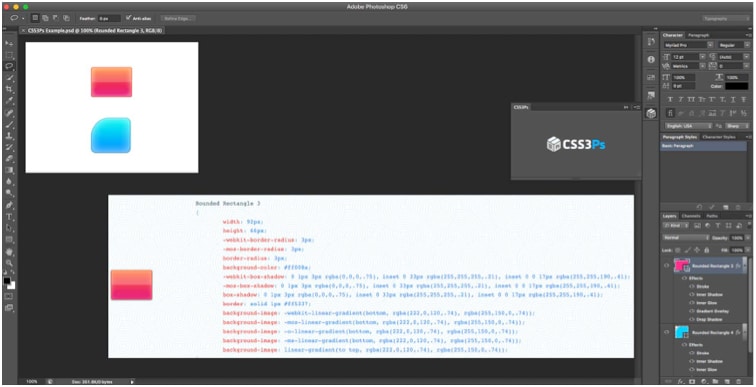 4. Organizing Your Layers
Keeping PSDs clean is now easy thanks to PSD Cleaner Photoshop plugin made by Source. PSD cleaner automatically scans through your PSD structure to find the layers that are messy — it helps you to avoid the manual work of keeping your designs organized. It can also fix these layers right from the panel — to ensure that your PSD is always clean.
Designed by: Source
Cost: Buy the cleaner for $19.99
Design a Website Prototype
Velositey by D&K allows users to prototype the design of their website in seconds in Photoshop with the Velositey Photoshop extension. It's been designed to be simple and clear, easy-to-use for teams with a pre-generated 1170 grid system.
Designed by: D&K
Cost: Free
Tutorial video from the official website
Google Fonts Plugin
Fontea made by Source brings 800 Google fonts to your Photoshop. It's simple to preview and compare fonts and allows users to get the design they desire. Create your favorite font collection — and keep it forever.
The best part? The plugin is completely free and allows your creativity to take flight.
Designed by: Source
Cost: Free
How-to video from the official website
Resizing
ON1 Resize is a fast photo organizer combined with the industry standard photo enlargement technology Genuine Fractals. It allows users to view, cull, and edit photos with ON1 Browse and offers the starting point for an efficient and quick editing and resizing workflow. It offers an open system that allows you to connect with cloud storage systems.
Designed by: ON1
Cost: You can purchase it for $59.99
Black and White
Tonality by Macphun brings black and white photography to modern day image processing technologies to present 100 professional tools and presets that will help you to create beautiful black and white images.
Designed by: Macphun
Cost: Buy for $49.00 or try free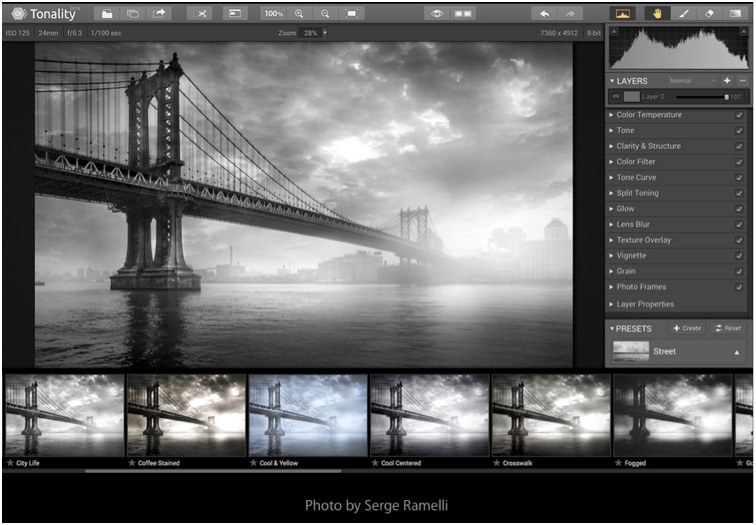 Vintage photography effects
Retrographer from designer Mister Retro allows users to create vintage photography effects — from Light Leaks to Lens Focus Effects to Tonal Film Stocks. With this plugin for Photoshop, users can explore over 1,100 preset camera setting and a large variety of possible combinations. It uses processing lab and finishing studio work to give users the most authentic looks possible.
Designed by: Mister Retro
Cost: Purchase it for $99 and experiment with a variety of effects
How-to video from the official website
Retouching plugin
Portraiture takes away the need to manually select masking and pixel-by-pixel treatments — giving you excellent end results in portraits. It removes imperfections, smooths skin, and takes into account other details such as eyebrows, hair and eyelashes.
It features selective smoothing and allows you to manually fine tune for optimal results.
Designed by: Imagenomic
Cost: Purchase it for $199.95.
Working with 3D
If you're looking to create page curling and folding effects, go with Page Curl Pro 2.2. With this plugin, you'll be able to turn pages into folded flyers and more. The all new engine lets you bend the image, texturize it, orient it in 3D space and gain total control over the process.
Designed by: AV Bros
Cost: Find it online for $29.95 for 1 unit or $24.95 to 2-5 units.
From retouching, to noise removal and beyond — we hope these 12 useful Photoshop plugins have given you everything you need to further enhance your Photoshop experience and your images.
Happy editing!
Max Therry is fond of photography and wants to become a professional photographer one day. He is also working on his photography blog about photo editing, modern photo trends, and inspiration. Feel free to contact him by email. 
Save
Save
Save
Save