Wee Responsive Html5 Theme
If you love HTML5 like I do, then you'll love today's free HTML5 website template. It is called Wee, and it will cause you to exclaim "wee!" in excitement when you see how nice it is. The Wee Responsive Html5 Theme is a great website template to use as a foundation for any site. It is completely responsive, which is essential these days. The Wee Responsive Html5 Theme also includes a little animation, to make the main image slider more interesting. You can even place a promotional video in the slider! This is great if you have a promotional video that you want to use to promote your product or service. Below is a screenshot of the Wee Responsive Html5 Theme.
The Wee Responsive Html5 Theme has a great layout for a design company or a freelancer. There is a built-in contact form on the home page, which makes it easy for new clients to get in touch with you. Also, you'll find social media buttons at the bottom, along with links to the main pages. This gives visitors one last chance to click on a link to a page that they might have missed.
The Wee Responsive Html5 Theme has a nice services page as well. this is extremely important for a web designer, graphic designer, or a design firm. I really like the personal comment at the top of the page, followed by the skills down below. Then, you have a speech bubble that cycles through various testimonials, which is creative and unique. Who wouldn't love this feature?
Having a section where you explain your process and feature some of your best work will build trust with your visitors. This is essential when doing design work for any business, from small or large.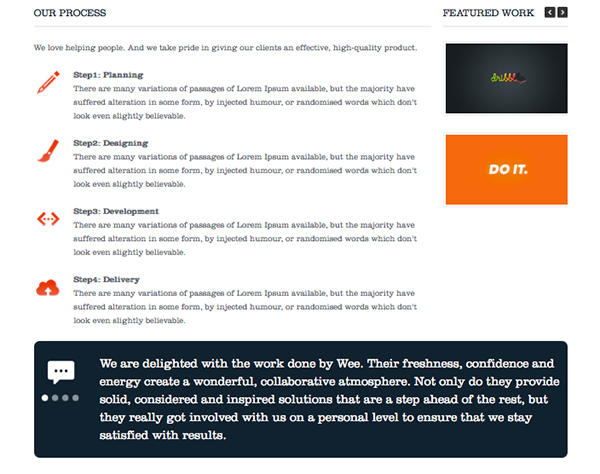 I like how you can filter your projects into categories, like in the screenshot below. This is great, because clients can focus on what they are interested in seeing.
The Wee Responsive Html5 Theme also has a nice details page for each project, so you can go more in-depth about each process, and how your contribution made the project what it is. Many employers like to gain insight into the types of employees that they are hiring.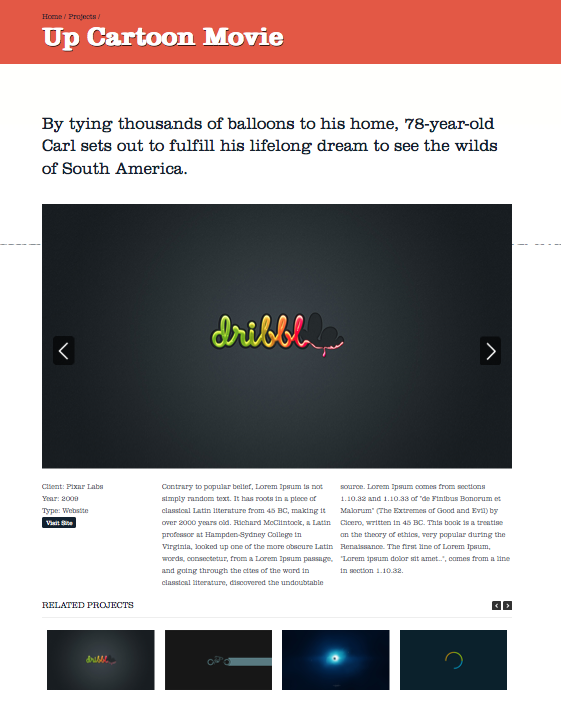 So What Do you Think About the Wee Responsive Html5 Theme?
In a nutshell, I think it's one of the best I have seen. On top of everything I mentioned above, they also included a bunch of components, such as buttons and loaders, a blog layout if you want to make Wee into a blog, and a great contact page with Google Maps integrated right in! What will you use the Wee Responsive Html5 Theme for? To Preview a live demo or download, click the link below.