Does a Wide Monitor Help You Work Faster?
It seems like lately that many companies are in the race to make the widest monitor that they can. I remember from the past that large displays have always been considered eye candy be for high-end offices. Does anybody remember the 30 inch Apple displays? Large displays like that used to be considered ridiculous. However, recently they have experienced a second coming in the form of widescreen monitors. Depending on what industry you're in, a wide monitor could greatly increase your productivity. Let's take a look at why.
Designers
I am a graphic designer and a website designer, and I can tell you that you can literally never have enough screen real estate. It seems like every time Adobe makes an update, they add about 15 more panels to one other programs. (I'm looking at you in Adobe Photoshop and Adobe Illustrator.) I am constantly finding myself moving panels around the screen just to be able to work on a design project. It just plain gets annoying after a while. Also, if your screen isn't large enough, some panels will overlap others. Then, you have to spend time trying to find where that panel went. Don't get me wrong, I have different workspaces save and send up on my computers. However, there are some panels I don't use that often. When I enable them, they tend to end up wherever I can fit them at the time.
Having a wide format monitor, or two monitors, can greatly increase your productivity with your design programs. You can place all of your panels on one monitor, while your design is on the other. I tend to keep the tools panel next to the design that I'm working on, but all other panels are on the other side of the monitor, or on my second monitor.
SEO or Data Related Work
I do a lot of SEO and data analysis in my day-to-day operations. I end up using a lot of spreadsheets for keeping track of different pieces of data. I keep track of things like website rankings, and regular progress of search results for my different clients. I also keep a lot of spreadsheets of different back links and anchor text that I've used for specific websites. The problem is, when you end up with a lot of columns of different types of data, you'll find yourself scrolling and clicking and repositioning different columns of data. It gets really annoying having to resize columns so that you can fit a common data in your view.
If you can find a wide format monitor large enough, you'll never have to worry about moving columns in your spreadsheets ever again. You'll build the work much faster, because you can look at all of the data as a whole, without having to shift, resize or move things around. All those little minor adjustments that you do not only take up your time, but they also build up your frustration and stress levels. Maybe I'm just easily annoyed, but after an hour or two of fiddling with spreadsheets, I am ready to check my computer in the middle of the street.
Website design or any other production work
When I build websites, I typically get the information needed for each page from the client. Either I have to print out the pages, or I have to flip back and forth between a PDF and the backend of the website that I'm working on. I'm one of those people that constantly second-guess myself. Not only do I have to flip back and forth once to get the information, but I flip back and forth a couple of extra times to double check it. You can imagine after working on a 15, 20, 30 or even a 50 page website, that all of this double and triple checking eats into my productivity.
With a wide format monitor, you'll have enough room to place your PDF or Word document, and the backend of your website side-by-side. It is easier to double and triple check what you're doing when everything is within your view. If you're constantly flipping back and forth between applications, it leaves room for too many errors. You're not concentrating as much on the design and layout of the website, but simply on transferring the correct information over to the site.
A couple of examples of wide format monitors
The 49-inch CHG90 Ultrawide Monitor From Samsung
Normal monitors have a 16:9 aspect ratio, but this one has a whopping 32:9 aspect ratio. You can easily fit Photoshop or Adobe Illustrator, and all of their panels on one monitor. You could probably have your design, as well as every panel in existence available all at once. If you set up and save your workspaces like I do, after a week or two of working like this you'll know where every panel is. It'll be like second nature, and you'll drastically cut down on loss of productivity from having to search for those stray panels each time. Its resolution is 3840 x 1080, which is like 2 full size HD monitors put side by side, which is mind blowing. It's also curved, which gives you a sense of being immersed in what you're doing. With a monitor this wide, you'll only have 1 power cord, and one connection cable going to your computer, which is an advantage over having dual monitors.
Price: $1500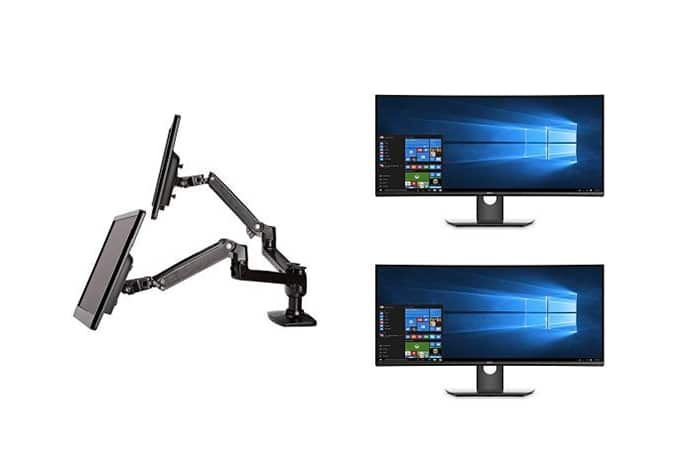 Two Dell 34" LED monitors with a side by side Mounting Arm
Wow! If you want dual monitors, and you want large ones, and a mounting arm in one package, this is definitely the bundle for you. The added bonus of a setup like this is the ability to position your monitors just the way you want or need them to sit. You can move, tilt, or adjust them to the perfect position, for maximum productivity.
Price: $1739.89 + Free Shipping
Acer Curved 34-inch UltraWide QHD (3440 x 1440) Display with 21:9 Aspect Ratio (XR341CK bmijpphz)
Acer makes a good quality product. As a matter of fact, I am working on an Acer monitor right now, hooked up to my Mac Pro. If 41 inches is a little too big for you, this might just be your monitor of choice. If you don't quite have the space, but you still want a wider monitor for higher productivity, you might want to check this one out.
Price: $1788.20
Conclusion
So what do you think? Do you think having a super wide monitor will help you work faster? How about 2 monitors? I know it helps me to work faster, and to not get so frustrated having to move things around. Chime in below with your thoughts. Also, if you have a cool desk setup, with multiple monitors, or a couple of luxuriously large ones, share a photo of them!