The hotter it gets, the more people are eager to put away worries and go on a trip or voyage. First of all, they hit for travel blogs in search of inspiration to choose the destination and some useful tips on how to survive abroad. Their second step is usually to find a trustful hotel website to book online and then they are ready to launch out on voyage of discovery.
If you are a travel blogger or a website owner, that is the matter that had to be tackled long before: is your site competitive and eye-catching enough? Is it still fresh and inviting? Or, even a more distressing question: do you have a website at all?
It is difficult to imagine any thriving business without a decent presentation online. Since creating a website has become extremely cheap and easy thanks to WordPress templates, having a website is a must for any business owner. Moreover, timely renovation of a website may also be beneficial for running a business. In any case, we hope our review of hotel and traveling WordPress themes might be of a great use.
What are benefits of choosing WordPress themes?
WordPress themes might be a great option for a novice because WordPress content managing system was created especially for such demand. You don't have to acquire any programming skills and be into coding to launch a website. Ready-made templates have a detailed documentation and the installation doesn't take more than 5 minutes.
WP themes have an intuitive easy-to-use admin board and you add any content effortlessly. Moreover, ready-made themes are packed with prebuilt components, plugins, and widgets which you can apply where it is necessary.
WordPress is a great solution for multiple hotel and travel businesses as it provides website owners with advanced tools for running a site. It is really easy taking into the account intuitive interface and tools working in a drag-and-drop manner.
All the WordPress themes are crafted with care and a style and combine a modern design and with an amazing functionality. The themes are flexible and you can change color schemes, headers, and footers, layouts until the result fits your vision and purpose.
Thanks to a responsive design, all the websites based on these WP themes will look adequately on any mobile device. Moreover, there is an access via all modern browsers.
Today we have a splendid opportunity to get acquainted with Awesome Travel & Hotel WP themes with a niche fitted functionality. Certainly, you will be convinced that they are really powerful and have a great potential for attracting new clients.
Travellino – Travel Company Elementor WordPress Theme
You can create an irresistible image of your travel agency on the web using this eye-catching theme with beautiful Parallax and multitude of handy tools. In addition, using its Elementor Page Builder you just drag and drop various widgets to spice up your site: galleries, heading, Google maps etc. elements to find the best designing solution. Make the navigation of your site easy using Mega Menu module to organize the categories and subcategories in the neatest and professional way. To point out, you can easily translate the theme to make people from many countries want to travel with you.
Gal Walking – Woman Travel Blog WordPress Theme
If you want to run a flourishing traveling blog, choose this creative theme. It goes with a state-of-the-art mobile-friendly design and wide options for adding audio and video files, and various post types. What is more pleasing, the theme is search engines friendly and your site will earn top search rankings. Overall, you can re-arrange the widgets, layouts, headings and website elements with the help of Elementor page tool. The theme contains necessary social media widgets and it is compatible with major browsers because the developers have taken care of it.
On The Road – Travel Blog WordPress Theme
Allow your readers fully enjoy your travel blog posts on the website created using this professional clean-looking theme. In detail, it goes with 4 blog layouts and you are free to refresh the existing design using pre-made headers, footers, and flawless elegant pages. You can customize the look of your theme with a designing tool Live Customizer. The drag-and-drop manner of creating new page will facilitate your work with the site. The theme is well-documented, and you will install it easily following step-by-step instruction.
Ramsay – Multi-Conceptual Blog & Portfolio WordPress Theme
Try out this unique multi-conceptual theme to create an over-the-top site to fit your needs. You can easily run a blog on its platform and adorn it with various pre-designed elements. The impressive revolution slider on the landing page grabs the attention of visitors to the site and make them retain for long. In fact, the theme is very flexible and goes with several types of display blog and 4 types of posts. Using its interactive editor, you will create a website standing out of a crowd.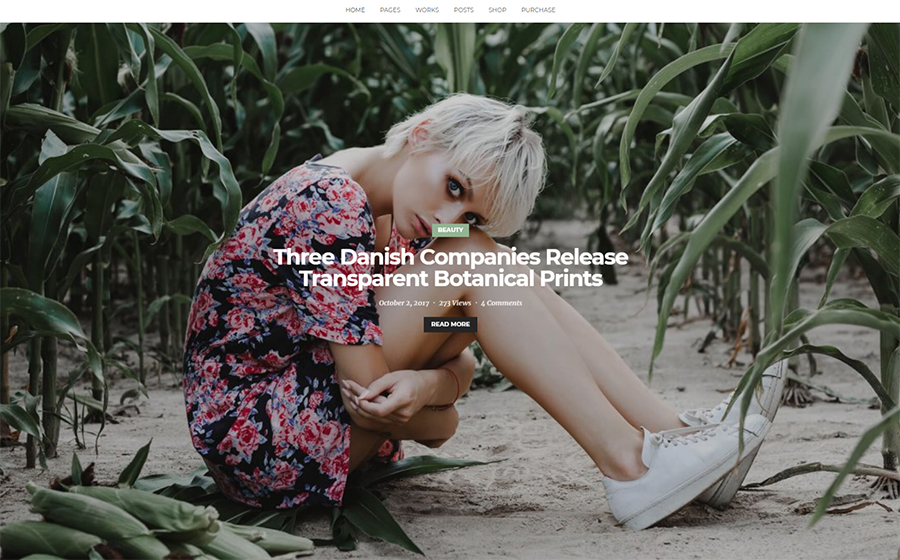 TripTastic – Travel Blog WordPress Theme
Meet another cool theme for advanced blogging with a dazzling design and handy navigation. You can effortlessly create versatile layouts, apply any changes to the design and create new pages with user-friendly tools. You also have a choice of 8 post formats, and a set of Google fonts let you diversify the look of your pages. Moreover, this theme is mobile friendly and it can be accessed via all modern devices and browsers.
Private Airline WordPress Theme
Tell the world about your flight services with this stylish professional template with responsive design. You can be sure of the perfect view of your site on any screens and it is compatible with majority browsers. Obviously, you'll appreciate the features of this well-documented theme and find it pleasant to deal with 24/7 support. The theme comes with a pack of pre-designed Cherry pages that will contain information about the company, team, services, prices. You can also take advantage of free topical images that will suit the site perfectly.
Hayes – Travel Blog WordPress Theme
This fully responsive theme with rich visual appeal can become the most thriving travel blog. The template is easy and flexible in customization and you choose the look of image galleries, add social media widgets, change footers and headers. You can also work effectively with Google fonts integrated into the theme and choose the best typography for your posts. The theme goes with a slider that works for attention-grabbing and presenting your vision and best works.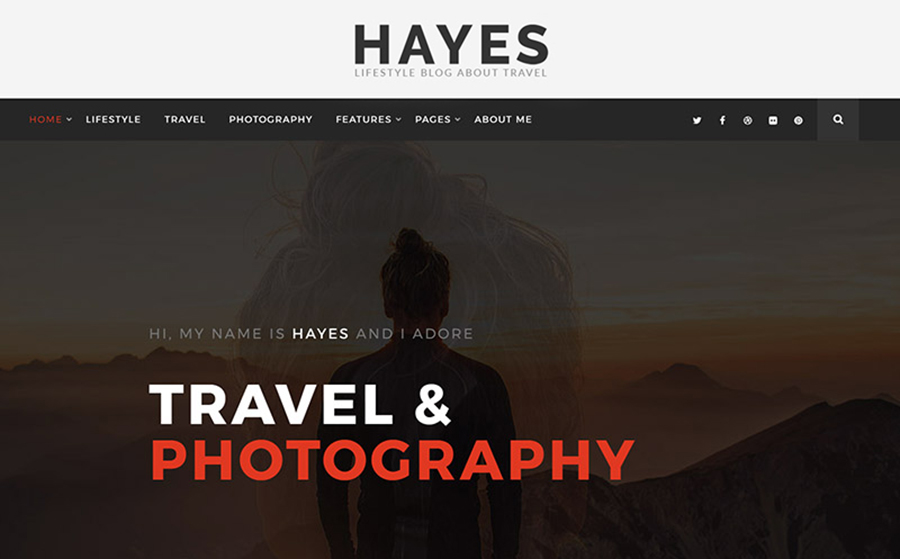 Traveling WordPress Theme
Acquaint your visitors with your travel business in detail and showcase most popular destinations with this robust theme with great functionality. You will raise your site credibility by pacing your clients' testimonials on a special ready-made page. Other professionally crafted pages will display the information on your team, portfolio, and services. The MotoPress editor allows hustle free customization and you don't need to have a degree in IT to change the design of the theme. Translation into other languages is also allowed and it works for the benefit of your travel business.
Hiking Trips & Camping WordPress Theme
Being crafted with care and packed with multiple options, this theme will boost your website traffic. Use its professionally designed pages to tell about your hiking tours, camping grounds, and outdoor activities in details. The theme has a fully responsive design and it is well-documented so you won't have any troubles using it. WP Customizer allows editing the theme until it suits your taste and the process of customization is very easy. Moreover, a set of handy plugins helps in extending the site's functionality by adding galleries, timetables etc.
Oceanica – Hotel Booking WordPress Theme
Promote your hotel services with style using this responsive theme with a niche fitted functionality. Among its advantages are a cutting-edge design, a big variety of pre-made pages and a great flexibility. A room booking plugin ensures a seamless online reservation for your guests. Of course, you can display all types of rooms and services to their advantage, confirm manually and automatically booking confirmations, and accept different types of payments. The automated email notification will be helpful for your guests.
Hotel WP Theme
You'll appreciate the features and style of this responsive template which serves perfectly well to run a hotel site. Its thrilling widgets and terrific ready modules will make it easy and enjoyable to display the information about the services and accommodation. Also, the theme is fully customizable, and you adjust it in an advanced drag-and-drop admin panel. The theme goes with a powerful booking plugin, restaurant menu plugin, immense multiple language supports and SEO-optimization.
Hotel Booking WordPress Theme
This inviting template with flexible layout has terrific opportunities for building a strong hotel website with a modern design. At the same time, it's extremely convenient for installation and customization. The theme is well documented, mobile-friendly and goes with a quality of cross-browser compatibility. You can use the great slider to engage your visitors and present your best rooms and suites on the homepage. Your customers will find booking on your site very comfortable.
Sanohimi Exotic Hotel WordPress Template
Promote your amenities and hospitality on the web, creating a beautiful website for your hotel with this responsive theme. It is well-documented, SEO-friendly and optimized for fast performance. Being enhanced with Parallax effect and background video, the site will be attractive for visitors. The Power Page Builder and Live Customizer will give you the joy of customization and a codeless layouts creation. In addition, you get topical images to decorate your pages for free.
Hotel Booking WP Theme
This nice neat WP theme will deliver all the necessary information about your B&B. It offers a choice of headings, flexible layouts and above that, you can create new page effortlessly with a Page Builder. The theme goes with a rich number of plugins that enhance the website functionality. A simple installation, free images, and friendly technical support will be a welcome surprise. As for your clients, they will be happy to have such convenience of the online booking provided on the site.
Resort Hotel Responsive WordPress Theme
This responsive theme with a sleek design is a perfect way to present your hotel on the web with style. It is fully editable and equipped with a Power Page Builder to create new pages without touching a single line of a code. With the help of a Live Customizer, you adapt the look and feel of your site up to your vision. The plugins provide you with a handy way to post your guests' testimonials and information on your services. A special hotel booking plugin allows managing rooms and accepting any kinds of payments.
Modern Hotel WordPress Theme
Choose this modern, flexible, and functional WordPress theme to present your hotel services on the web. A wide range of content modules will help you to spice up all the details about your hotel. You also will enjoy intuitive tools to create new pages. Thanks to the booking plugin you will display the details of your rooms, manage reservations and accept online payments from all over the world. The theme is easily accessed via mobile devices and works perfectly well across all browsers.
Monstroid2 – Multipurpose WordPress Theme
This awesome multipurpose WordPress theme was specially crafted for many kinds of businesses and it can easily be adapted to the needs of a hotel business. It is fully responsive, well-documented and boasts easy to navigate interface, breathtaking background videos and a plenty of dynamic Parallax elements. Additionally, the theme has a pack of useful plugins like Hotel Booking, Restaurant menu, Appointment booking etc. The theme supports many languages, which is convenient for clients from other countries. A big number of static and dynamic elements allow you to spice up your website with multiple types of content.
Booking WordPress Theme
You will love this engaging Responsive theme with impeccable design, Parallax animation, and background video. Created with user's convenience in mind, it offers an easy navigation, retina-ready images, and social options. Fitted with multiple sidebars and content modules it will bestow you with an opportunity to play around with the look of your online presence. You can display your rooms in beautiful TM galleries, and offer your guests handy online booking. You can also make your hotel website look more reliable by presenting customers' feedback.
Yachting & Voyage Charter WordPress Theme
Provide your target audience with all the necessary information about your yachting business using this lightweight responsive theme. You will enjoy the codeless website building and a live customization process and will be able to create new pages to present your services effortlessly. In addition, it is cross-browser compatible and goes with a wide range of content modules. You can install the theme quickly and without any troubles, and if any arises, the effective support will be ready to help you 24/7.
Rafting and Paddling WordPress Theme
This terrific theme for outdoor activities and extreme water sports will attract many visitors who look for adrenaline and new sensations. You can represent sports instructors, your team and clients' feedback using the convenient content blocks. The Parallax animation effects make your website more dynamic and engaging. The Visual editor allows taking full control over page creation and editing the design without any coding skills. Above all, it is fully responsive and will look and perform equally great on a desktop, mobile and tablet.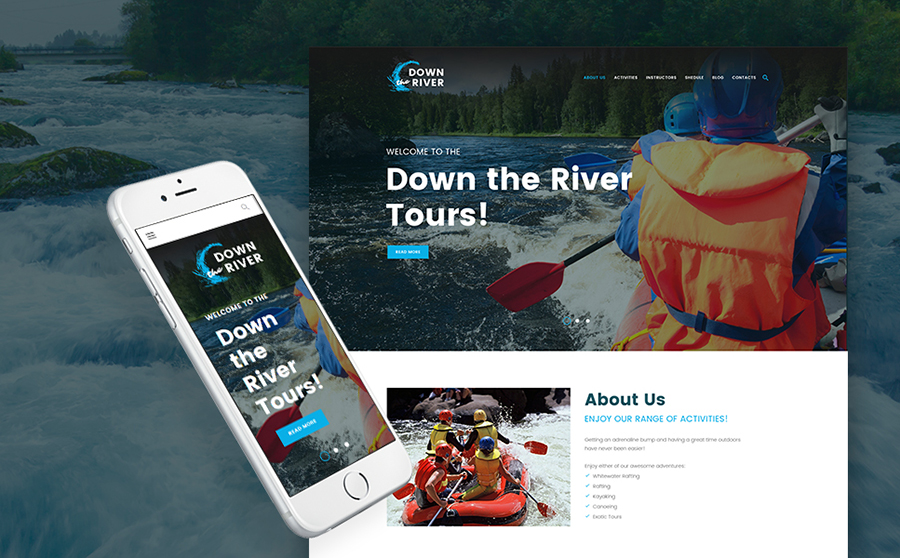 As you can see, any hotel owner travel services provider can benefit from such marvelous WP themes. They are bound to make any business thriving. So come along to be ahead of rivals and provide your clients with the best online experience using these ready-made solutions!