Is farming a new trend? Nowadays farmer markets are growing more and more popular, and young people long for working on organic farms. However, for these market sales not to go down, farming business needs to get in the ring. That means it's necessary to create a modern attractive website for a business, even a tiny one, using the newest agriculture website templates. Growing healthy crops and cattle is critical to our future, so we cannot but make it work.
Well, if you are a proficient farmer or a newcomer in this sphere, and you deeply understand the need for a perfect, flexible, and user-friendly site representing your business, let me make you acquainted with agriculture website templates for business one of which will fit your purpose perfectly.
Stylish Organic Farm Template
So, do you need a professional-looking organic farm template? Then have a look at this ultra mobile-friendly crop cultivation organic farm template. This website design looks really natural and harmonious, and suits crop farming business. Moreover, it is pre-loaded with galleries, audio and video widgets, social integration, and a plenty of other cool elements. You may apply this template in order to boost your agriculture profits and expand your business due to online opportunities.
Splendid Template for Crop Farming
Here is one more perfect responsive website template for crop farming. It has a fully responsive design. Your future agriculture website will have an amazing look on all modern devices due to the fully responsive design of one of these agriculture website templates. In this template you can easily start the blog about your innovative company and put freshest photos of production in a gallery. So, this agriculture theme can give you an opportunity to promote your business effectively.
Fresh Farm Design for Crop Cultivation
Do you want to share news about the crops with your readers at the modern and fashionably structured site? The answer is in this farm website design for crop cultivation. It stands out in the row of agriculture website templates due to multi-categories you can see at once on the home page and Articles tab where you can post useful materials for those who read you.
Natural Crop Farm Theme
Wheattico is also a responsive theme with a trendy look and fully loaded functionality. Due to the design it looks natural and fits an environmentally friendly company, which distinguishes it from some other agriculture website templates.
Classy Agriculture Template
Agriculture website template is one of agriculture website templates and a nice choice as it combines the effective layout with the high-grade execution and good functionality. Its stylish design will also draw the attention of your clients.
Admirable Green Life Web Template
If you want to create a catchy website for your agriculture farm, then Green Life agriculture web template is a great match out of the list of agriculture website templates. With the help of it you can share your company's story, provide your products details, introduce your farmer's team, show a photo gallery of your farming, provide contact information, and a newsletter subscription form, which give a modern look to your website.
Up-to-date Organic Food Design
If in your business you concentrate more on producing organic and clean food, this Organic Food Website design for farmers market is certainly for you. It is oriented towards visual representation of goods and services with complete information about them. There is also a tool for blogging, and a perfect opportunity to attract your customers with a huge clear starting picture from the moment they open your site. This elegantly designed template is also 100% responsive.
Harmonious Warsaw Organic Store Template
Warsaw Organic Store HTML Template was also developed specifically for all types of organic products related to farms and organic food companies. It is a professional responsive site template with a creative homepage design layouts. The style of this agriculture website template is very elegant and modern, and it is also really easy to customize.
Exquisite Winery Website Template
Growing grapes and creating wine is not only a part of agriculture, but also a kind of true art. Therefore, such business needs an extraordinary item out of the list of agriculture website templates, which is Jorden Wine and Winery website template with an exquisite set of colors. Your site will begin from a huge photo of the vineyard for your customers to feel as if they were there. There is also a place for reviews and testimonials, because there is nothing better than a word of mouth in the wine-lovers community.
Modern Tractor Website Template
Are you an agricultural machinery manufacturer? Let us assume that you produce and maintain tractors, machinery, or agricultural implements. If you have a small or medium business, or even a multinational company, this bright and functional representative of agriculture website templates is made for you. QUAD Machinery website template goes with, even if you are focused on machinery for planting, seeding, fertilizing, irrigation, and harvesting. The design will also make a lasting impression on your customers.
Unusual Irrigation Website Template
Most of the living being consist mostly of water. How can an agricultural business progress without it then? If you are keen on irrigation or water systems, Sprinkler website template for lawn watering is a great choice. If you pick this one out of all agriculture website templates, you will have an opportunity to present best irrigation solutions and products for any industry. Moreover, there are pre-designed tools for including information on your pricing and vacancies.
Amazing Sheep Farm Template
Are you a crop or a cattle person? As soon as you answer, 'Surely, cattle', there is a SheepLand farm website template for you. Chosen from the wide range of agriculture website templates this one will be fine for people who have a sheep farm or breed sheep, and also want to sell the products made of their wool and milk. One of the tools included is the working contact form in the product tab. So, if you want to create an appealing website for your cattle farm, it is your best match.
Bright Farm Responsive Website Template
This farm responsive website template will assist you in telling customers everything about your farm. It is very convenient, as it is equipped with a stick-to-top menu so that a navigation menu can always be right before the eyes of a customer. Moreover, there is a huge slider, where you can put a photo of your estate. We all know that it's better to see once, than to hear for a couple of times!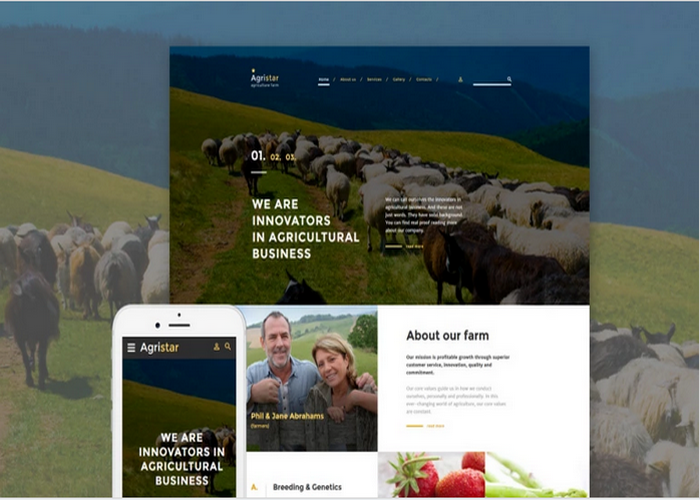 Attractive Poultry Farm Template
If you are fond of rearing of poultry and need to make your business more understandable and profitable, have a look at this Poultry Farm premium template. It contains all the important categories (Product Range, Pricing, Latest News, Review) and there is a bunch of opportunities to include colorful photos of your birds.
Elegant Farming Template for Agribusiness
Farmland website template for agribusiness is more suitable for the fans of structure and texts without too many pictures or photos which draw away all the attention. Still this agriculture template has a captivating design that will help you to show all the content stylishly. So your visitors will stay focused on your company services and advantages. This agriculture website template certainly helps to build a profitable agriculture website.
Eye-catching Agriculture Exhibition Template
Agriplus is an impressive agriculture exhibition landing page template with a built-in novi builder. It was created for all types of agricultural companies, but it especially corresponds exhibitions and presentations. The fully responsive design and different types of animation meet all the requirements for a modern website.
Marvelous Lawn And Gardening Template
Let's go to the other side and assume you are not a farmer, although you are in love with greenery and can't imagine your life without gardening and taking care of your perfect lawn. If you want to boast it or to make a business site to promote your work with a website portfolio, use Beautiful Lawn gardening website template.
Exciting Planter Website Template
There is one more template in the line of agriculture website templates suitable for gardening. The Planter website template is perfect for working on organic gardening, landscaping, and lawn service. It is easily editable and user-friendly both in personal or company business.
As for the more general and wider topics for agricultural templates, there are also some.
Special Agriculture And Organic Food Theme
If you want to combine presenting a brand of organic food and features of an agriculture site, Agricom provides one page and multipages responsive agriculture and organic food theme. It has minimalistic flat though still multicolored design. Moreover, its code is highly customizable.
Fashionable Husbandry Template
Husbandry agriculture website template has an eye-catching design for agriculture business. It is suitable for agro tourism, farming, agriculture, and trees plantation. Husbandry template has beautiful design and awesome features like banner text slider, search bar, a blog section, and a contact form.
No matter what sub-sphere of agriculture business you choose, you should start with creating a perfect and attractive website to draw the attention of your customers, provide them with information on your company, products, and services, and visualize your words with pictures and videos. There is a wide range of agriculture website templates with modern design, which suit organic food production, landscape design, cattle and poultry breeding, growing crops, irrigation, and gardening. So go online and don't be afraid!