30 Best AdSense Optimized WordPress Themes
Despite all the developments in search engine algorithms and internet marketing industry as a whole, AdSense continues to be the most favorite ad network in 2018. If you have an AdSense enabled site or wish to create one, make sure you optimize it correctly to maximize your ad earnings.
In case you have little or no idea of how to go about it, install an AdSense friendly WordPress theme having all the required features to boost your earnings and experience an immediate change.
To make your job comfortable and hassle-free, we have shortlisted 30 best AdSense optimized WordPress themes that all the leading AdSense publishers use on their sites. You can also give them a shot and take your AdSense earnings to newer heights.
1. Crypto
The way market responded to cryptocurrencies like Bitcoin, Ether, Ripple, etc., during the last 18-20 months made hundreds of thousands of bloggers start new sites revolving around these currencies. Even though the earning potential in this niche was enormous, there was not even a single theme to give a professional touch to such sites. This led to the foundation of Crypto — a Bitcoin and cryptocurrency based WordPress theme.
As of now, it's the best and most trusted theme among all the crypto bloggers and site owners. Lest you happen to be one such professional, go ahead and give it a shot without any second thought. The Crypto theme is fully responsive, SEO ready, lightweight and AdSense friendly. Its unique price ticker feature just below the category field and advanced typography will leave all your site visitors speechless.
2. Ad-Sense
There is hardly any better WordPress theme for sites monetizing through AdSense. Along with all the necessary SEO features, it offers ad blocker detection to improve the CTR. The Ad-sense theme will lock the content itself the moment it detects an ad blocker active on any browser. So, if you've been facing a tough time improving your AdSense earnings even after getting a lot of organic traffic, install this theme on your blog and witness an immediate boost in the revenues.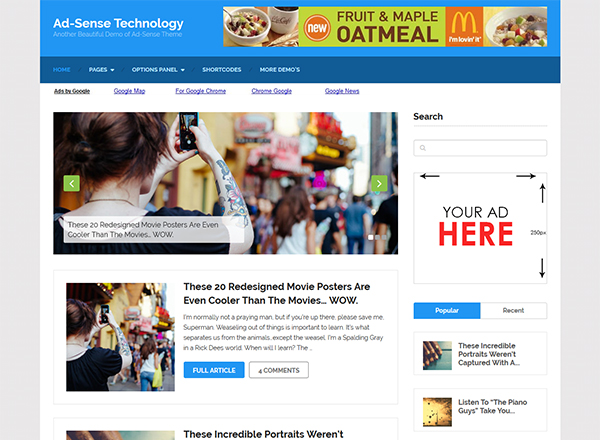 3. Mega
Mega is a premium theme having a responsive background, custom Google fonts, unlimited colors, a powerful theme options panel, SEO friendly design, multi-browser compatibility, and much more. If you tend to design a compelling site from scratch without facing any technical glitch, then Mega WordPress theme is the best option to forge ahead with.
4. Styled Mag Pro
It is a clean magazine-style theme powered by unique editorial and highly configurable homepage sections. With its drag and drop widgets, you can post content easily and give it an eye-catching look. Moreover, its customized interface allows you to offer a better user experience and accessibility. Styled Mag Pro's inbuilt support for AdSense units is something you cannot resist. It has multiple features and customization options to increase your ad CTR. Use it and create a site with dashing appearance and massive ad earnings.
5. NewsPress
As the name suggests, NewsPress is one of the leading themes designed exclusively for news and newspaper sites. With its above-the-fold and multiple in-post and sidebar ad spaces, you can easily multiply your ad earnings within a short span of time. NewsPress is fully SEO ready and works excellent on both large and small screens. It is lightweight, attractive and comes with pre-enabled support for different third-party ad networks.
6. Viral
Creating a viral site is as much about the design as about writing popular content. To get desired outcomes, you need to find a balance between both of these factors. The Viral theme can help you do this job in a hassle-free manner. It is an ideal option for all those sites which publish viral content on a regular basis and rely heavily on social traffic. Viral's eye-catching carousel, fantastic layout, second to none typography, customizable galleries and powerful options panel make this theme a must-have web asset.
7. Truemag
Regardless of whether you're a seller or a publisher, Truemag has got enough features to make your business grow in a short period. It is designed in such a way that you can easily monetize your blog across different income streams. Truemag's Google AdSense responsiveness enables you to give personalized ad-experience to all the readers across different screen sizes and devices. It loads pretty fast and comes with a live customizer option to make real-time changes in your site's layout.
8. Verb Pro
Verb Pro is a clean, modern and responsive theme, and can be used for digital magazines, review sites, newspapers and personal blogs. It has a Featured Post and unique homepage layout. The sidebar is customizable and can be edited easily. Verb Pro comes with multiple category options and different customizations for pages as well as posts. With its SEO friendly design and clean code that supports both big screen devices and small ones, you can create fantastic sites on-the-go and increase your earnings by a significant margin.
9. Motina
Do you have a lifestyle, business, tech or auto blog and want to give it a charming touch this year or you are looking for a theme that can be easily customized according to your needs and has the potential to perform well on different devices? If so, then go for Motina theme right away. It is beautiful, lightweight, has flexible sidebars, dedicated space for ad units, different post layouts and a robust options panel among many other irresistible features.
10. Clean
There are many niches that have the potential to make you a lot of money in the long run. However, to explore them efficiently, you need to highlight your content as compared to flashy graphics or animations on your site. Just in case you are working on one such niche and looking to create a clutter-free website without compromising its uniqueness, then try the Clean theme. It is not niche specific, which means that you can use it on different sites as long as the goal is to have a clean and beautiful WordPress site.
11. Arbitrage
If you had been looking for the best native ad-supporting WordPress theme all these months, this is where your search ends. Arbitrage is a clean and SEO friendly theme powered by many world-class features. Besides, it claimed to increase the number of views on any site by up to 30 per user and CTR by 8%. With such high figures, you can easily give a sharp boost to your advertisement revenue.
12. Featured
Featured is a beautiful magazine theme loaded with some incredible features for creating a highly customizable and feature rich digital publication. It works well on multiple devices and follows all the search engine parameters for higher rankings. The Featured theme is ideal for those sites that are revolving around tech, business, healthcare, lifestyle, sports and even multi-niche blogs.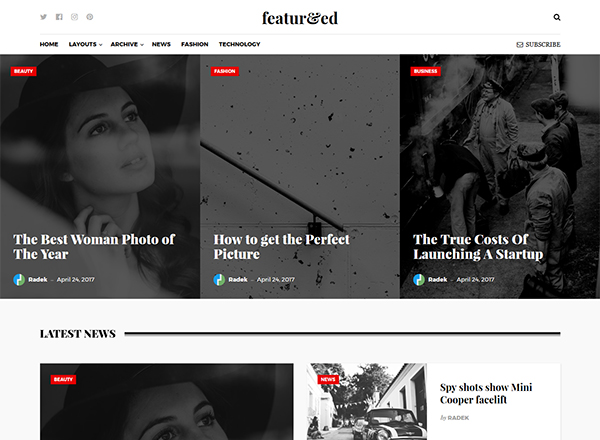 13. Osnic
Osnic is a lightweight yet one of the most effective themes you can ever come across. Regardless of whether you monetize your site through AdSense or affiliate marketing, this theme will work fine in both the cases. It is powered by three different ads types — image link ads, HTML code, slider ads. With these choices, you can offer a customized ad experience to your audience. Moreover, it has over 25 ad placements for affiliate and AdSense to give you the freedom to uplift your revenues. If it wasn't enough, Osnic also has 100% support for GIF ads images. Install it on your site once, and you'll know how valuable it can be.
14. Noozbeat
Running a magazine-like news website can sometimes be a hassled task, especially when you don't know different ways and means through which it can be monetized and showcased attractively to users. In case you were ever hit by such doubt, then consider Noozbeat as your answer to all the problems. It is a beautifully designed theme with a customized homepage layout, unique featured post area, strategically allocated third-party ad space for higher CTR and a robust options panel.
15. SociallyViral
If you have or want to create a viral niche site getting lots of social traffic and organic hits at the same time and design it in such a way that more and more users keep visiting it on a regular basis, then start working towards giving it a unique touch without any further delay. This is where the SociallyViral theme can do wonders. It is loaded with a fantastic homepage design, powerful social sharing buttons, unique sidebars and a robust theme panel. Moreover, it is super fast, clean and has unlimited color combinations to get users' attention.
16. MH Joystick
It is one of the very few themes entirely dedicated to gaming niche sites. If you have a web portal where regular updates about the game you are playing or other games that are creating a buzz across the globe are published, then fine tune it with MH Joystick. It is clean, fully responsive, and lightweight and powered by many useful widgets to enhance the overall user behavior. As soon as you install it on your site, you'll see a significant improvement in the user engagement and ad CTR.
17. Grimag
Being an editor or SEO expert, sometimes it can get tough for you to live up to users' expectations. They have been trusting you for a long time, and now it's your turn to justify all that. The Grimag theme can help you do that comfortably. It comes with an ultimate monetization funnel, dedicated space for third-party advertisements, and unique ad formats to blend advertisements with your content. So, turn your fortunes around and let the ad revenue touch newer heights with Grimag this year.
18. Admania
As the name suggests, Admania is an optimized theme for affiliate marketers and AdSense publishers. It has unique widgets and dedicated space to increase CTR without any extraordinary effort. Admania comes with over six beautiful layouts which make users click on your ads organically. Even after all these arrangements for higher advertisement earnings, Admania loads pretty fast, works equally fine or smartphones and desktops, and follows all SEO parameters.
19. Adsos
Adsos theme is powered by a clean, lightweight and minimalistic design fully optimized for higher rankings in search engines. It is AdSense friendly and has many widgets enabled to increase your ad CTR. You can easily modify it using options panel and make necessary changes according to your niche and user preferences. Adsos has a clean code, retina ready design, and lifetime updates as well as support.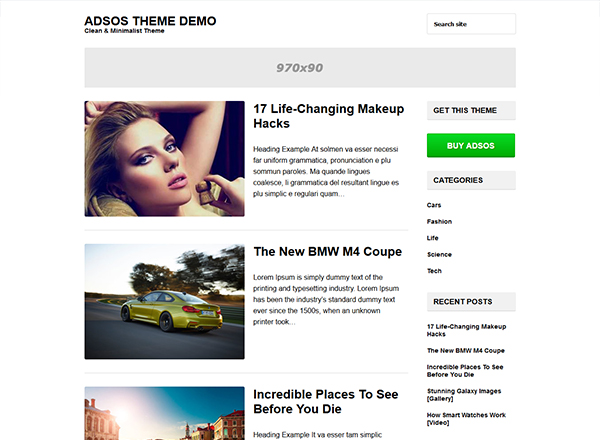 20. Magazine
Magazine is the best theme to give your site a magazine alike visual appearance in no time. It is ideal for those portals that keep on publishing a significant amount of content regularly and wish to offer a top-notch experience to their users. With different post and page layouts, elegant homepage design, inbuilt support for social sharing and follow buttons and super fast loading speed, the Magazine theme can turn your site into a content powerhouse in no time. Install it on your site once and put an end to all the doubts that crossed your mind ever.
21. GoMedia
GoMedia is one of the fastest and most flexible themes with unlimited editing and customization options for sites running in different niches. Along with essential search engine friendly features, GoMedia is powered by flexible sidebars, targeted ad placement, featured post layout and live customizer. If you are planning to give your site an eye-catching look coupled with high CTR, then install the GoMedia immediately.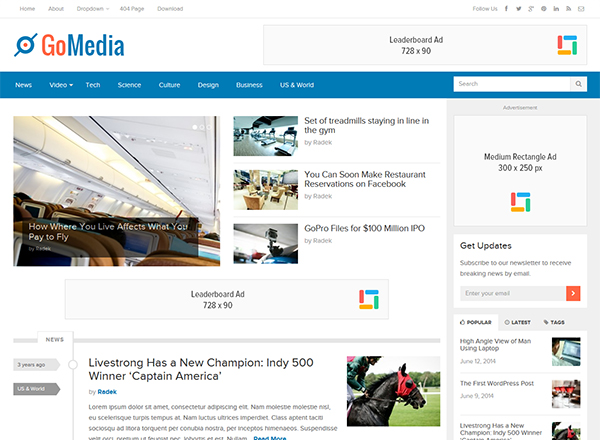 22. Novapress
Representation of content matters as much as its creation when it comes to starting a viral niche site. While you can handle the content part yourself, Novapress will ensure that your site's design and visual appearance live up to everyone's expectations. It is one of the recommended themes for sites getting a lot of organic and social traffic. Novapress' infinite scroll, grid layout, unique social sharing options and lightweight design work like a charm for viral sites.
23. MH Squared
If vibrant colors, strategic ad placement, slider homepage, unique post layouts and multiple designing options are on top of your list while selecting a WordPress theme, then opt for MH Squared without any second thought. This magazine theme comes with a broad range of world-class features, such as powerful widgets, customizable sidebar, multi-category option, solid theme customization panel, and much more. Give it a shot and increase your ad revenue by a significant margin.
24. Fashion Chic
Fashion Chic is a modern-looking WordPress theme exclusively designed for fashion bloggers who want to showcase high-quality content to their users in an attractive way. This theme is lightweight, equipped with different widgets and doesn't require you to have any technical knowledge of customizations and editing. The installation process doesn't take more than a few minutes. Hence, if you're starting as a fashion or lifestyle blogger, install Fashion Chic on your site without any doubt.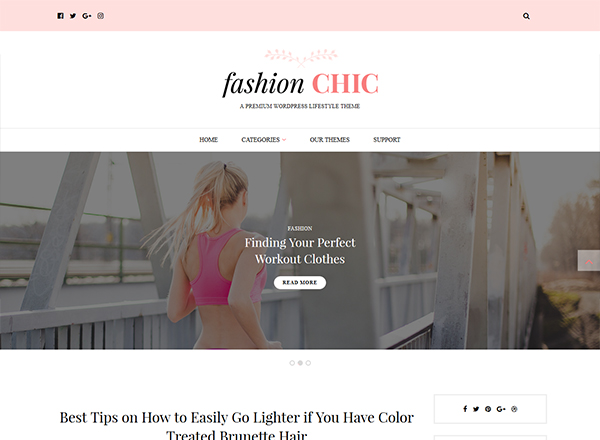 25. Bridge
Striking background, unlimited color combinations, dedicated third-party ad space, multi-category option and a robust theme customization panel are some of the basic features you get with Bridge. It is one of the fastest growing themes and can be installed on sites publishing updates about different topics. Bridge theme is lightweight, mobile optimized and SEO friendly, so you can expect a boost in your search engine rankings after installing it. Give it a try and secure first page rankings as well as higher than usual ad revenue on your site.
26. Simple Sense
Just in case content matters to you more than flashy animations and graphics, and you want to showcase high-quality content to users without any distraction, go for the Simple Sense theme. It comes with strategic ad spaces to make users click your ads more often, thereby boosting your earnings. Use it if your goal is to build a simple, visually attractive and clutter-free site with massive earning potential.
27. BlogSpring
With BlogSpring's highly customizable homepage and flexible sidebars, you can leave users speechless every time they visit your site. This theme is powered by a lightweight design, attractive color combinations, eye-catching post layouts, useful widgets, and dozens of other features to create a fantastic WordPress site.
28. Newspaper Mag
There cannot be a better theme for newspaper and breaking news sites. From multiple ad placement options to a highly customizable sidebar and a unique slider page layout on the homepage, Newspaper Mag has got everything to retain hundreds of thousands of users visiting news sites every day. It is minimalistic, lightweight and has ample features in store to drive readers' attention towards the high-quality content that you publish on a daily basis. Not to mention, its social share and follow buttons are located at crucial destinations to get you a lot of social signals without any extraordinary effort.
29. Feminine
Publishing girly gossips, feminine talks and industry updates aren't enough to thrive as a fashion & lifestyle blogger. You need to make necessary arrangements to showcase your content attractively in front the audience. That's where a classy theme like Feminine can make a complete difference and turn your site into an ultimate traffic powerhouse.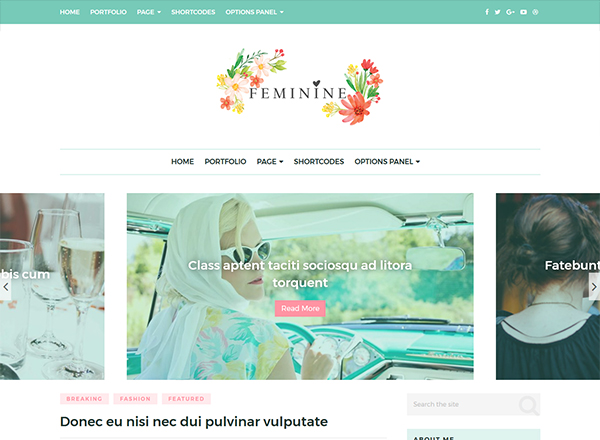 30. SocialNow
The SocialNow theme hardly needs any introduction. It is undoubtedly one of the most graceful themes you'll ever come across. From intuitive navigation to advanced pagination; inbuilt community tools to quick loading time, and unlimited color combinations to multiple layouts, there is hardly anything that you need to create a viral theme, and SocialNow doesn't provide. Try it this year and give your site a professional appearance.
Eventually, earning high AdSense revenue is all about how efficiently you can put your content in front of the readers and make them engage with it organically. If you don't want to waste a lot of time doing things manually, then install any of these themes on your site and see immediate results. They'll increase not only the user engagement rate but also your overall earnings from the site. So, have a go at them and ride a new success wave this year.