To build a website that will actually be successful online, there are several different elements you have to get right. Knowing what all of those elements are, creating them, and assembling them into a successful website might seem like an insurmountable task, but it doesn't have to be. Enter Wix: with the ability to create your own business logo, and many different website templates and tools to help you along the way, the job isn't as tough as it would be if you were doing this all from scratch.
Your Business and your Brand
It's more important than ever to create a brand that your ideal customers can identify with. With Wix, not only can you design a logo, but you can select from a variety of different website templates to cut down on the work. It would be a good idea to start with a logo, and the Wix logo creation interface makes it quick and easy to design a logo.
In fact, it takes only 4 easy steps to build the basis for your logo. It starts by asking you what your business name and tagline is. Then, it asks you questions, based on your preferences and taste. Wix asks you what your logo is for, and you choose your industry.
Then, Wix asks you to describe yourself, which is more a question about taste. It would be best to choose something that matches your business and what it is about.
Next, it asks you about your design preferences specifically, and you can tell Wix that you like or dislike certain designs. It uses these answers to calculate and design a logo for you.
Once it is done, you'll have a decent selection of different logos and designs to choose from. If you click the "change icon" button at the top, you can swap out the icon for the designs that use icons.
Once you've decided on a basic design, you can edit it, and change everything about it. You can edit the font, the wording, colors, opacity, word and letter spacing, alignment, and everything else. Even if you aren't good with color choices, they provide different color palettes to choose from. The result I ended up with is good.
Website Templates
You don't just benefit from logo templates, to help you along the way. Wix also has some great website templates to help you look professional, without having to hire an expensive website design or learn how to code one yourself. There are several templates for all types of industries, from musicians to barbershops, hair salons, and even window cleaners.
What is impressive is that they have a high end look and feel, and you get to start with them and customize them to match your business and your brand.
What is great about all of these templates is that they have the features you'd expect from a high quality website. There are background videos, high quality images, mobile menus, and every template is mobile friendly. The type looks great, and every website template is different and unique with custom type that matches the look and feel of the industry or subject matter. Below is a list of some of the great templates and demos, so you can see for yourself.
Barbershop

The barbershop template features parallax scrolling, a menu of services, and a gallery for your work. It also features a full width map and contact info section.
Bookseller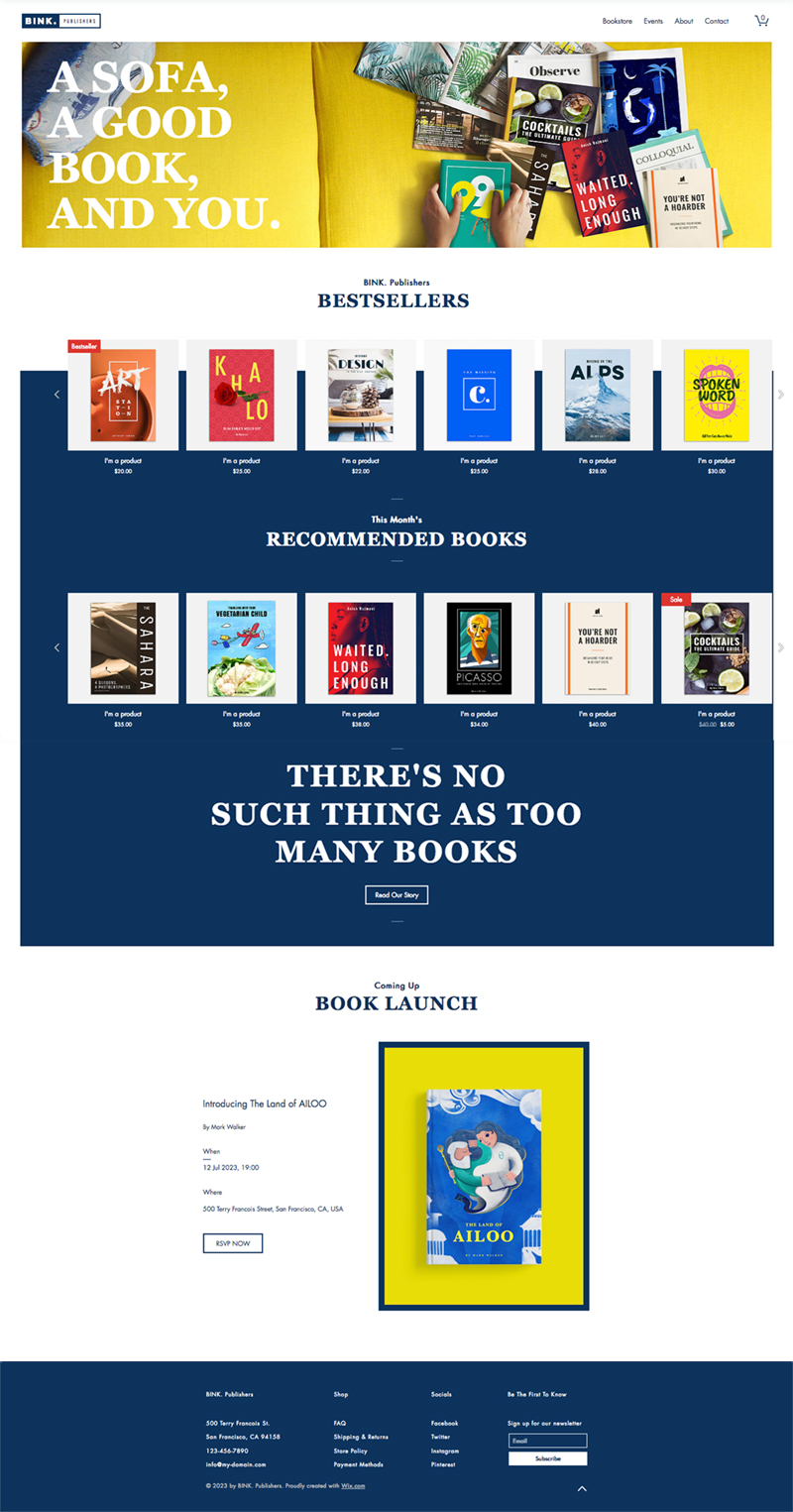 The online bookstore is a great e-commerce template with bold imagery and a scrolling section of books for sale. It also has an upcoming book launch section to promote upcoming releases.
Carpenter
The carpentry template has bold imagery and type. It also has a great gallery to show your work, with titles on hover.
Coming Soon
The coming soon template is sleek, with a video background and an animated clock icon overlaid on top. It also has an email subscription form, so interested parties can be notified once the site is live.
Community Run
The community run template has nice hover effects over the upcoming events section and a place for people to sign up on the site.
Concert
The concert template has a couple of video background sections and uses big, bold typography to make a bold statement. The is also a contact form and an email collection form.
HVAC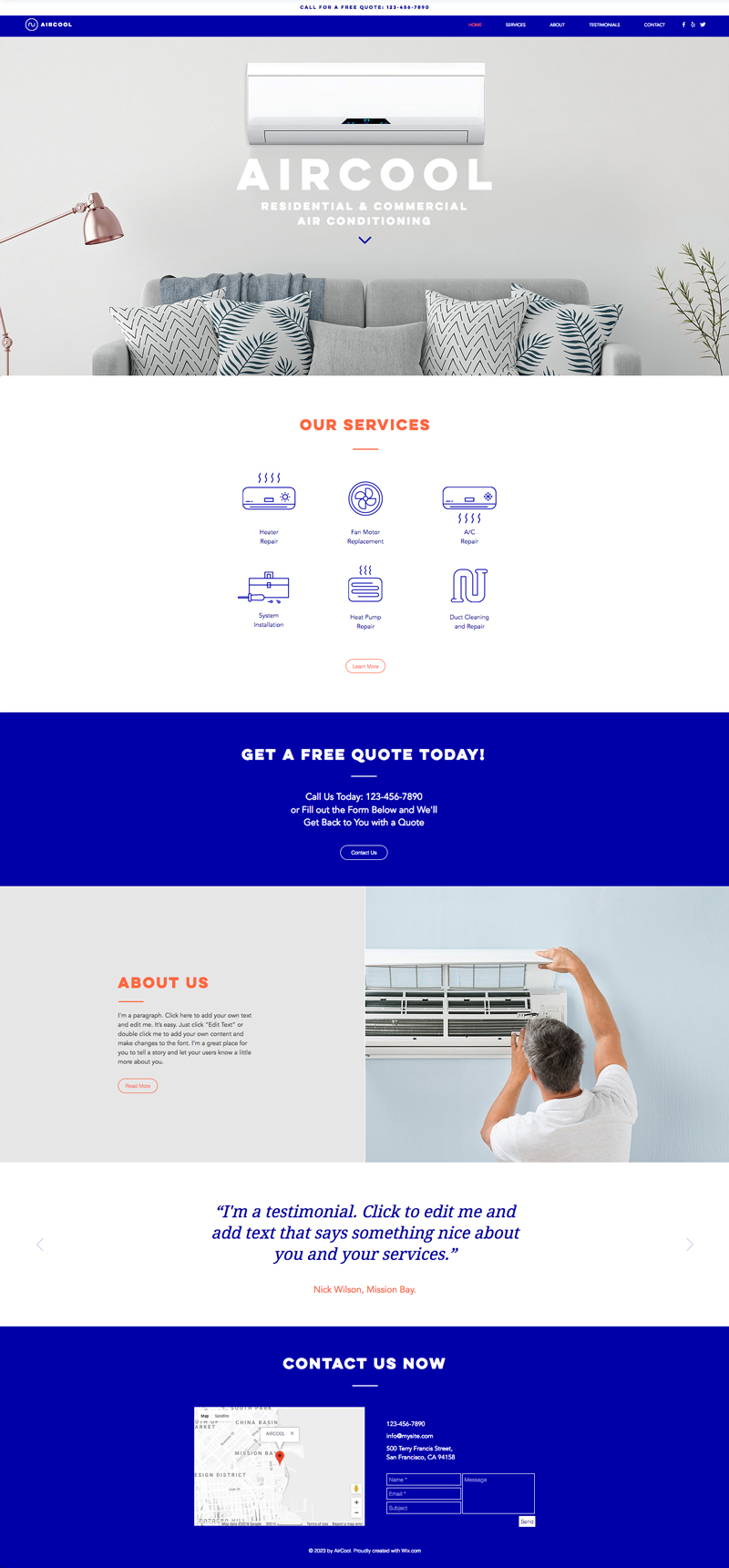 The HVAC template has a layered, parallax scrolling effect, along with a testimonial slider and sleek transitions when elements fade in.
Marathon
The marathon template has nice hover effects over the "buy tickets" section, and a parallax section that adds great dimension to the site.
Marketing
The marketing template may seem simple at first, but it has great typography, and the portfolio really shows of your work in a clean, sophisticated gallery.
Meetup
The meetup template has parallax scrolling, a full-width map, and fading elements as you scroll.
Salon
The salon template has several elements that animate and fade in when you scroll down the page. Also, there are nice hover effects over the images.
Vlog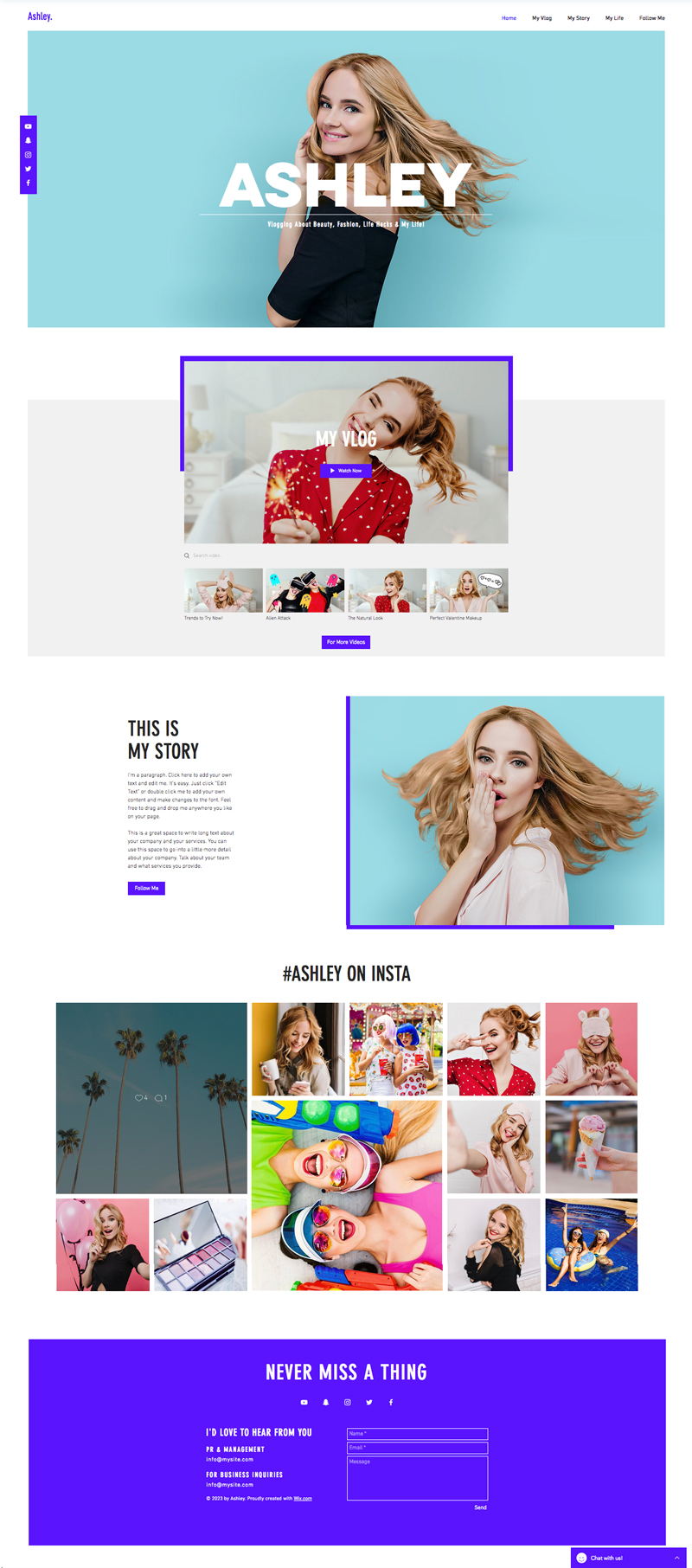 The vlog template has several sections with a nice parallax scrolling reveal, along with a section for videos. It also has a social icon section, where users can also share and promote your site and content.
Window Cleaning
The window cleaning template has a great background video. It also has elements that fade in. It is only one page, but when you click the menu items, it pops down to that portion of content on the page.
Cooking School
The cooking school template uses parallax scrolling, and a unique grid, with a combination of text, images, and video to catch your attention. It also has a testimonial slider and a subscription form.
Mechanic
The mechanic website template has a parallax effect on the main image. When you click one of the menu items, the new page slides in from the side, which is a neat effect.
Construction
The construction template has a cool effect where it combined background time-lapsed video with a parallax scrolling effect. In a thin area at the bottom is a spot when the video shows through.
IT Company
The IT company template has elements that fade in as you scroll down the page, and a well designed contact form at the bottom. It also has a testimonial slider.
Investment
The investment template is a sleek, modern design with parallax scrolling and subtle animated elements. You'll see text fade in and backgrounds slide in behind text.
Mobile Marketing
A simple template, the mobile marketing template has a fully working contact form, and icons with hover effects. It also has a spot for testimonials from happy clients.
Real Estate
The real estate template has parallax scrolling and animated elements in addition to it, such as the white box behind the contact form. it also has a scrolling gallery and an animated contact form. The bottom section has a nice background video, too.
Many of these templates utilize sought after effects, such as video backgrounds and parallax scrolling effects. Other bells and whistles include animated text, which is a great way to get more attention and keep it with online visitors. All of these templates are completely customizable. Use your own photos, your own backgrounds, and even your own videos.
You aren't trapped into using anything specific, since you're able to customize everything, from the fonts used, to colors and more. Everything about the site can be customized to match your logo and your brand. This is essential for building a solid website that will help promote your business is a professional way.
Another key element of your website is SEO. Wix has you covered with their comprehensive SEO guide and their Wix SEO Wiz tool. With the guide, you'll understand what search engines are looking for when crawling your website and determining your rank among other websites in your industry.
Wix SEO Wiz can help you to make sure that each page is optimized for search engines. You can craft everything from optimized page titles, to alt tags on images and meta descriptions. These elements are essential for any website, and is what sets Wix apart from other online website builders. Others are missing the ability to craft your search engine optimization options and add things that search engines like Google, Yahoo and Bing and expecting your website to have if it is a truly legitimate website.
Conclusion
With all of the website templates, and the additional tools that Wix has to offer, you'll be able to build a professional website without having to know how to code one. You should be focused on growing your business, lot learning a programming language. Wix helps you to cruise through the website building process quickly, with everything you need for a real, professional website that is optimized for search engines.