SEO Optimized WordPress Themes For The Win!
No matter how good your content is and no matter how vibrant the design of your website is, it is never going to matter until search engines like Google can find it. You could go on for hours writing the best possible content and even days coding and beautifying the layout of your website, but you can still lose on almost all the traffic if your website is not Search Engine Optimized.
Although the protocol used by search engines to look for websites remains by far their trade secret, there are still many things and tweaks that work universally and there are many plugins and even themes that will take advantage of all that is known about search engines and use all that to make your website a traffic magnet.
As you might already know, if you are not among the top results on Search Engines Results Page (SERPs), that is, the very first or second page, it doesn't matter what type of content you have, no matter how rich, no matter how beautiful. If you are on the second page, you are the first loser, because, as you might already know, people seldom go beyond the first two search engine results pages to find something that they are looking for.
Keeping all that in mind, it becomes imperative to make a website that is fully Search Engine Optimized. While you can go on for hours searching for tips, tricks, tweaks and plugins that will let you do so, there is an easy alternative which you must use on top of all the other things listed above to make sure your website gets the maximum traffic from search engines which eventually translates into more money. This alternative is SEO Optimized WordPress themes which you can install right now on your websites and start earning the benefits of a well-optimized website. In this post we have thus collected 30 Best SEO optimized WordPress themes all of which are best for driving traffic to your website, you can choose any of them depending on the additional value you want to see on your website.
SociallyViral
If getting maximum traffic from search engines as well as from the social media sites at the same is top on your list, then this is definitely the one you should try. The theme has been built for maximum user engagement, speed and most importantly to boost viral social traffic.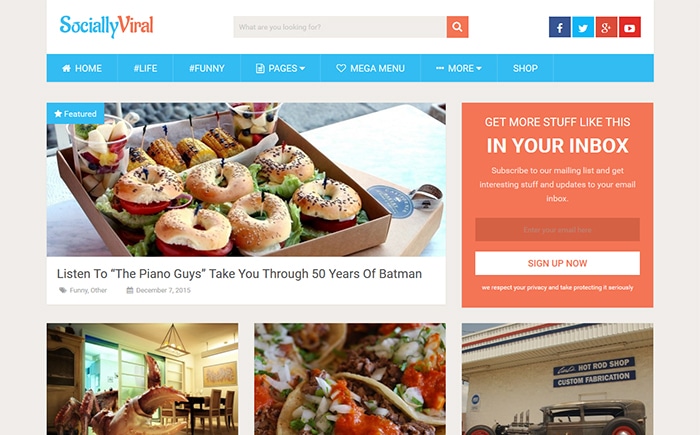 Schema
One of the most important thing when it comes to search engine traffic generation is the post snippet. A snippet is a little description that is available just below the title of the post, and the richer the snippet is, the higher are the chances of people clicking your post. Schema accentuates traffic from search engines by providing rich snippets in addition to all the advanced features that will help you retain the traffic and provide the immersive user experience.
Wake
Wake up your visitors with the bold colors and contours of this theme designed especially for bloggers who would like to take their website to new heights. All the features like speed, search engine optimization, and mobile friendliness has been checked and recognized for maximum search engine traffic generation.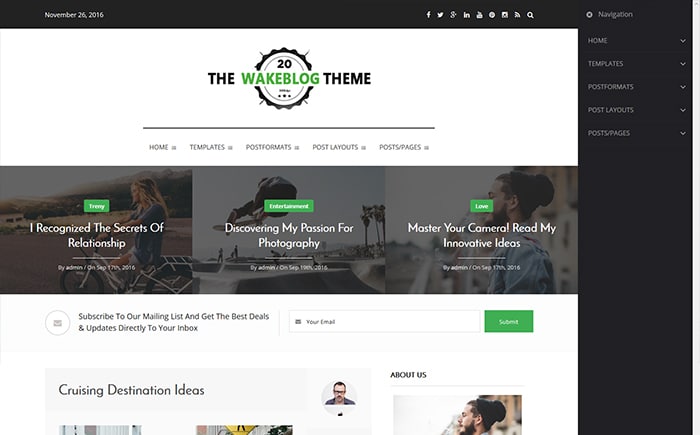 Newsmag PRO
You can use this multipurpose theme to power anything ranging from online magazines to news portals and even personal blogs. While the clean and posh design exemplify your content the theme's premium features will at the same time give you the flexibility to customize the looks of the theme like the way you always wanted.
Extra
Powered by Divi Builder, this one is an extreme WordPress theme that you can use to power almost any type of website ranging from online magazines to personal blogs. Some of the many unique features of the theme include category builder, post/page builder, full responsiveness, rating and review system, eCommerce readiness, elegant design and constant updates with premium support throughout.
BlogSpring
Particularly suitable for building online magazine and news websites, this theme will cover every corner of your website with amazing beauty. You can elegantly frame you thoughts to cover any of your interests like politics, society, events and happenings and publish it on your blog or professional magazine portal sites.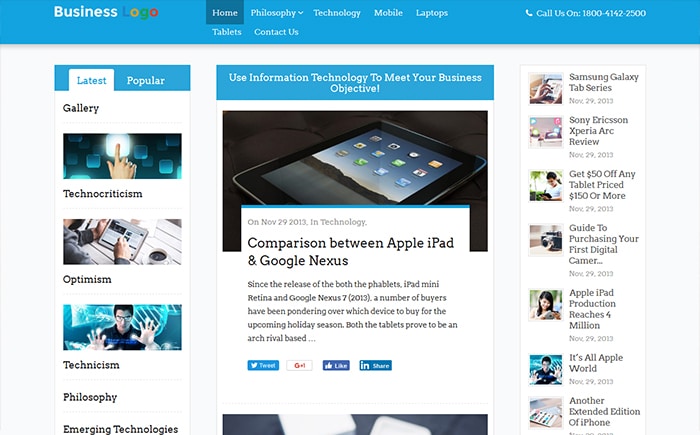 Jacqueline
Make your visitors come back for more often with this theme's elegant design and powerful dressing that is great for boss ladies, consultants, and coaches. The theme is very trendy and can be used to create a lasting impression in any niche you use it for.
JKreativ
With highly customizable features on top of a multi-purpose, fully responsive core, this theme is ready to handle any type of website you throw at it, while simultaneously maintaining a full blow traffic diversion from search engines. Some of the places where you can use this theme include beautiful photography websites, classic villa or hotel websites, interior designing or architecture websites, and any other type of creative business.
EasyNote
Ease of use, simplicity and elegance are some of the words that this theme stands for. In a nutshell, the theme just gets the job done while also enhancing traffic from social media websites and search engines.
Pixova
Get access to unlimited Google fonts, unlimited retina ready icons, unlimited color schemes, built-in update system, 50+ shortcodes & a proprietary, robust & feature-rich backend framework with this elegant one-page parallax theme designed to keep your customers is awe. The theme is a perfect fit for small agencies, freelancers or studios with its three headers, widgetized footer, and unlimited sidebars.
PointPro
A premium SEO optimized WordPress theme for professionals with all its beauty, clean and modern design, full responsiveness, stunning layout and lots of headings and section on top of a slew of other top-end features.
Genesis Framework
Take your WordPress powered site to places that you otherwise would have never thought possible with other themes. The theme provides security in addition to premium search engine optimization features that in addition to other advanced features will help you build an incredible website, quickly and easily.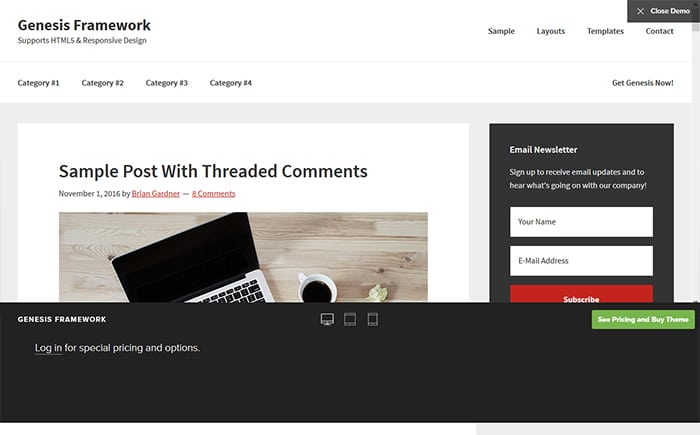 Ember Pro
A One-Page parallax website that is most suited to drive more traffic to your website from search engines while the ultra-fast core ensures you get sustainable traffic to your business, organization, or individual-centered websites.
Magazine Pro
Sporting a stylish frame that speaks volumes about the authenticity and authority of your content, this magazine styled theme will bring your magazine website on the front line of online publishing with its up-to-the-minute, high gloss looks and an absolutely stunning friendly feel.
Biopic
Looking for something to handle your vCard, personal portfolio, photography or wedding invitations needs? Biopic has got you covered with its intricate design that has been specifically designed to handle just that and then a lot more. Fully responsive design means that your website will look great on any device, including tablets and smartphones.
The Core
Another multipurpose theme that is bundled with features that will not only let you create an astonishing website for any niche but also will help you get maximum traffic from search engines with its efficient search engine optimization features. You can get the gist of the sheer awesomeness of this theme by looking at the twenty thematic demos that have been built by just using the tools and options from the back-end, without using a single line of code.
MH Magazine
You can present your words, photographs, images, videos and other digital content in the most beautiful way with this theme and combine all of these content to make an efficient and elegant website for fashion, travel, lifestyle, glamor or any other editorial website on your mind.
Monstroid
Monstroid will make your website stand out from the rest of the competition in any niche with its bundled features like a significant number of predefined pages, dozens of child themes, and above all, 23 built-in plugins that provide extensive customization options. Visually the theme is very pleasing to look at; that can be further accentuated with tweaks that will make your website look truly unique.
MoneyFlow
If you are serious about making a living online and don't know where to look, MoneyFlow is here to the rescue. You can take advantage of features and easy monetization options to impress your visitors with an overall dynamic and appealing layout. Other things that have been already taken care of by this theme include search engine optimization, AdSense integration and WooCommerce support, all you will have to do on your part is to start blogging, and theme will take care of the rest.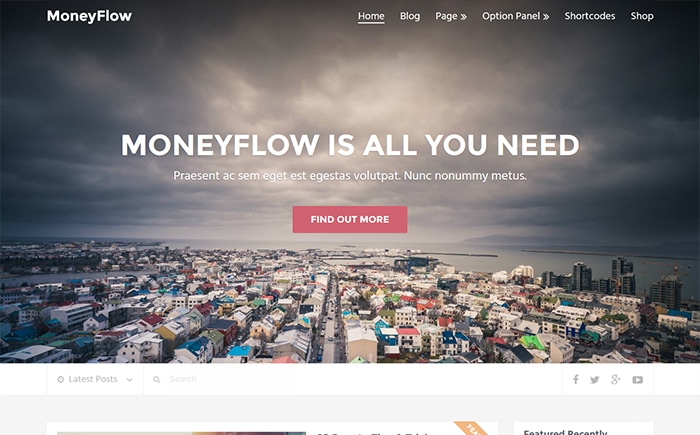 Eleven40
With full responsiveness and HTML5 core, this theme will look beautiful on any device you throw at it, including desktops, laptops, tablets and smartphones and also on any screen size and any browser.
SEO Business
This website is specifically suited for SEO companies and marketing agencies but is so versatile in design and function that it can be used for almost any other type of website also. The theme is the perfect blend of search engine optimization, valid code and microformats that are suitable for marketing and SEO agencies, SMM and SEO specialists, copywriters, online marketers and other professionals who demand fast, optimized and search engine friendly website.
Coni Pro
This one packs in and blends perfectly corporate display with stunning visual imagery to give your website a sleek online presence. On top of all that the theme features easy customizations, retina readiness, CSS animations, responsive design, and translation readiness.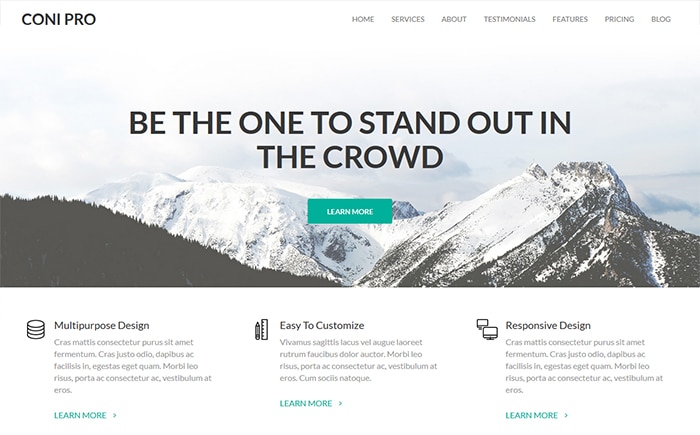 Bulan
A classy and moderate website that is both easy to customize and easy to handle with all the essential features that you will need to rank higher on search engine results page.
SmartMag
SmartMag gives you the best of the both worlds with its front-end usability on top of the back-end that is extremely easy to use. Create pages and designing homepage becomes even more easy with the drag and drop functionality. The theme doesn't lack in terms of search engine friendliness the theme has built-in support for SEO rich snippets and HTML5 that makes sure your website ranks higher on search engine results page.
Adelle Pro
This one is the beefed up version of the popular free Adelle theme, and all its features certainly justify its price tag. The theme is packed with all the premium features in addition to color customizations, custom header logo upload, slider, WooCommerce integration and much more.
Noozbeat
An incredibly easy-to-use theme that comes bundled with features that will help your website cross every search engine traffic milestone. The theme is overall very pleasing to look at and is also fully responsive and looks particularly good on magazine and news websites.
Insider
Insider will help you share your thoughts and insights with the rest of the while maintaining high design prospects and top-end functionality. The theme gives you control over almost every element of your website with its theme customization panel and also provides custom widgets, shortcode library and much more.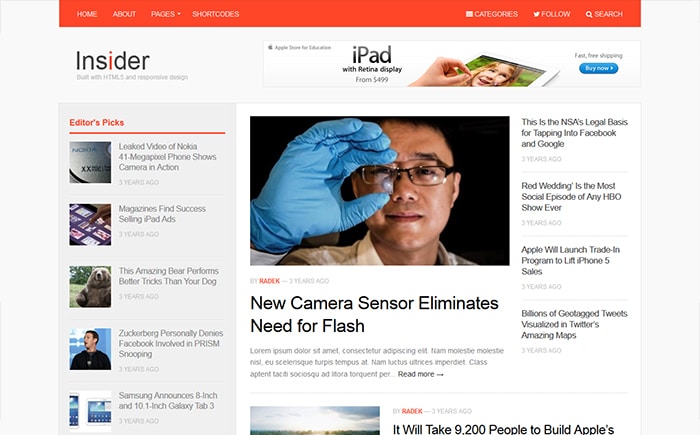 Polygon
Another multi-purpose theme that is both powerful and layered with elegance at the same time. The theme is ideal for any type of business or corporate website and is super easy to use. It goes without saying that the theme is absolutely responsive and search engine friendly.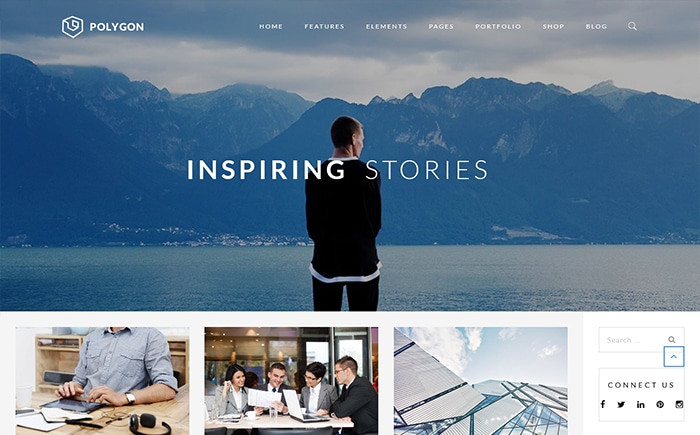 MagXP
MagXP blends form, functionality flexibility correctly to give you access to a theme that looks great on any magazine based website. The theme comes with four homepage layouts and an options panel that lets you control the design of your website.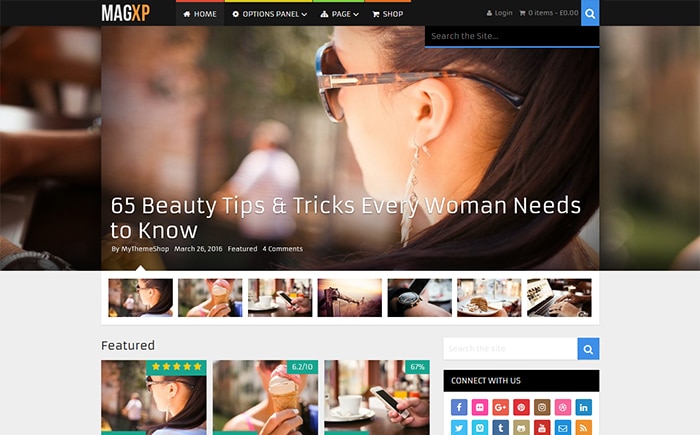 Ad-Sense
Increased traffic to your website and revenue go hand in hand, and Ad-Sense is the theme that will help you to reach the epitome of both. The theme is very Ad friendly and comes bundled with features like better ad management, ad placement, ad blocker detection, and content locking for ad block users. Simply put, the theme makes ads visible even to the people who otherwise wouldn't.
Save
Save
Save
Save
Save