40 Blooming and Fresh Flower Shop Templates
Flower Shop Template is an essential part of business planning. Attractive flower shop theme is a real necessity if you want to assess possible risks and opportunities before running your business or for its further promotion. There are many different programs that allow you to create a perfect e-commerce theme for a flower shop. However, you can choose one of 40 ready-made flower store templates and solve all your problems!
The main purpose of a flower shop is selling flowers, bouquets and floral compositions. There are things that can not be changed neither with time, nor by the situation in the world. Every day people fall in love, young men bring flowers to their sweethearts for any occasion just because it gives pleasure to both of them. Once a year we celebrate our birthdays and our guests usually bring us flowers. There aren't events that go without flowers. Anniversaries, weddings, proms, many other occasions require festive decoration and flower arrangements. And there aren't successful flower shop sites that work without stunning templates. Because stunning floral themes can not only complement and ideally emphasize the content of your flower website, but also raise your mood and improve energetic.
Flowers constantly bring us joy and aesthetic pleasure. Any home without houseplants seems empty, unfriendly and cold. These wonders of nature clean the air we breathe and fill our homes with vital energy. Being in close proximity with flowers and plants we get charge of positive energy. That's why, perfectly chosen flower shop template will help you to get rid of fatigue and irritability, calm down and relax. And best floral images will joy you and your clients with their greenery, blooming buds and tender petals. According to one legend, Lakshmi, the most beautiful woman in the world, was born from the rosebud. So here are 40 blooming and fresh flower shop templates to give birth to the most beautiful site in the world!
Delicate Petals – Flower Shop VirtueMart Template
Elegant Buds – Flowers Shop PrestaShop Theme
Crystal Snowdrops – Fresh Flowers VirtueMart Site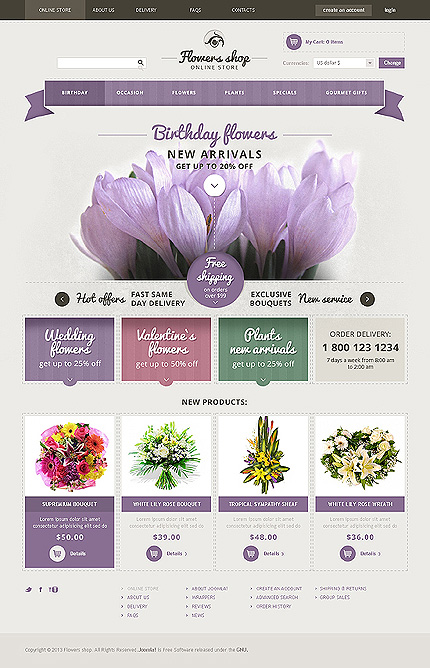 Floral Symphony – Flowers for Any Occasion Magento Website
Warm and Sunlight Flowers Store Magento Theme
Brilliance of Color – Fresh Flowers VirtueMart Template
Green Life – Flowers Store PrestaShop Site
Lush Green Flowers Online Magento Website
Flowers of Life – Flowers Store PrestaShop Theme
Share Good Mood with Flowers Store VirtueMart Template
Fragile and Translucent Flowers Store VirtueMart Site
Most Exquisite Compliment: Flowers Online PrestaShop Website
All the Colors of Rainbow – Flowers Online ZenCart Template
Spring Breath – Flowers Store PrestaShop Theme
Blooming Flowers PrestaShop Site
Your Special Day – Flower Shop OsCommerce Website
Wild Orchid – Online Flowers Store PrestaShop Theme
Classy and Gorgeous Flower Shop OsCommerce Template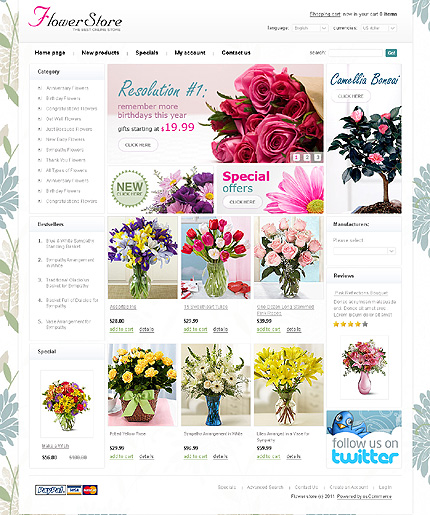 Gentle and Fluttering Flower Shop Magento Site
Feel the Life with Flower Shop OsCommerce Template
Art of Beauty – Flower Shop OsCommerce Website
Amazing Gift of Nature – Flower Shop OsCommerce Theme
Romantic Pleasure – Flower Shop OsCommerce Site
Elegant Flower Store PrestaShop Theme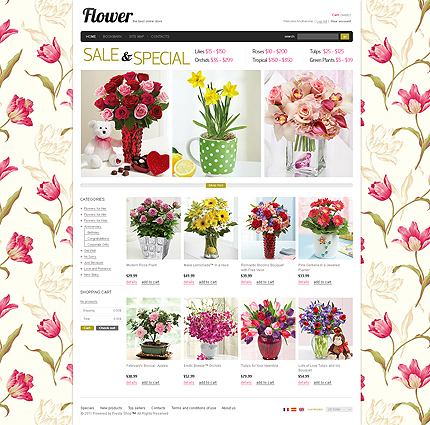 Pied and Bright Flower Shop ZenCart Website
Your Heart-Warming Happiness: Flower Shop ZenCart Template
Send Sunshine with Flower Shop OsCommerce Site
Your Joy for no Reason – Flower Shop ZenCart Website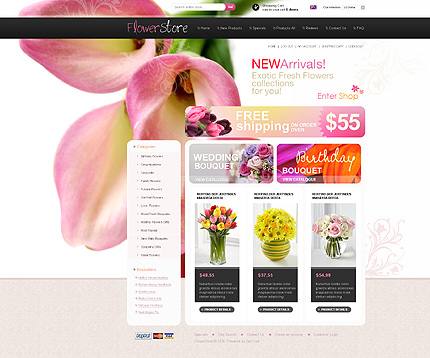 Unobtrusive and Vivid Flower Shop Magento Theme
Here Comes the Sun – Flower Shop OsCommerce Template
Sweet Dreams – Flower Shop ZenCart Site
Gentle Pastel Flower Shop OsCommerce Template
Brisk and Exotic Flower Shop ZenCart Website
Fresh Summer Collection – Flower Shop OsCommerce Theme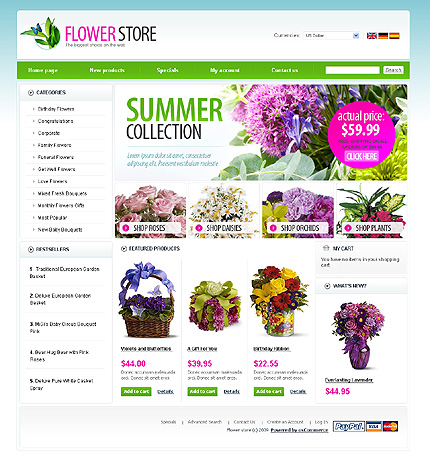 Pick Your Color with Flower Shop OsCommerce Site
Secret of Cupid – Flower Shop ZenCart Template
Sky-Blue Purity: Flower Shop ZenCart Theme
Real Beauty Does not Wither – Flower Shop ZenCart Website
Give a Bouquet and a Couple of Warm Words with Flower Shop ZenCart Site
Paradise Blooming – Flower Shop OsCommerce Template