Adsense Ready WordPress Themes
You have got great content for your blog and you are sure that readers will flock to your site. You can also impress Google AdSense to yield quick results. Now you are on your way to kick start your project. Wait a second, before you jump into the turbulent waters. You need to get your facts right about Google AdSense. It is a great tool for bloggers to make money, but it does not yield results on its own. You have to ensure organic traffic and a high click through rate (CTR) in order to make this happen, which in itself is a huge task.
However, you can easily do so with AdSense ready WordPress themes. These themes have all the qualities that are needed to impress search engines, such as responsive web design, great loading speed, clean code and SEO optimization techniques. What is more, they are also tailor made to attract readers and visitors, which automatically leads to higher CTRs. The web world is abuzz with shops and marketplaces selling AdSense optimized templates, but to help you pick the right one, we bring you a collection of 45 Adsense ready WordPress themes. Have a look.
The $35 OnePage theme is a robust single-page WordPress theme meant for portfolio and businesses. It offers a creative Drag and Drop homepage layout, unique blog layouts, responsive design, clean handcrafted code, good speed, SEO optimization and many more things. The theme is absolutely AdSense ready and you can easily monetize it to earn a good deal of revenue.
The $55 Truemag theme is a fully responsive, retina-ready and AdSense optimized WordPress theme. It is very stylish and offers first class design and functionality. The theme has got everything you need to make your visitors click the ads on your site and make money.
NewsTimes, from MyThemeShop, is the latest theme with pixel perfect design, ultra responsive layout, HTML5/CSS3 readiness, incredibly cool speed and lots more that help you rank higher. This directly translates into a higher click through rate and thus, helps to make money through Google AdSense.
Now you can make a good deal of money through your cooking/recipe blog, as the AdSense ready CookBook is here. It has been designed with food lovers and bloggers in mind. It carries all the features that you need to bring your blog in the limelight and make people take notice. What is more, all this is possible for just $49.
Created on 18 June, 2014; Grideon is a great WordPress theme that is optimized for AdSense and lots more. It is powered by the Redux Options Panel, which provides tons of options to manage and modify any aspect of the theme. You must check it out.
The $59 initiator is a great theme for all those who want to create an engaging magazine site and earn money through AdSense at the same time. It offers you a great platform to share equally great content with your readers. The template comes with light look and white-clean spaces that give your website an uncluttered appearance.
The $49 Oculus, from RocketTheme, comes with semi-transparent focused design and the transparency is concentrated in the header, showcase and footer areas. The theme is an instant attention grabber and makes for an ideal choice if you are looking to make some good money through AdSense.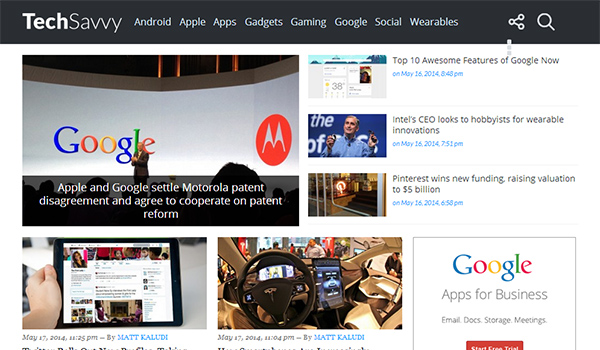 When you have super fast speed and ultra savvy SEO techniques in your theme, there is no stopping you from earning money. TechSavvy is such a theme with a responsive design, amazing speed and SEO optimization that are sure to flatter AdSense and make more money.
Minblr is a clean Tumblr-like theme with a fluid design and responsive layout. It promises to deliver your content nicely on all devices and since the theme is also AdSense ready, you can easily monetize it for great benefits.
Expedition is a superb directory theme that caters to travel agencies, travel and city guides, review websites, etc. It is bubbling with modern features and contains all the attributes you need to make the most of AdSense. You will really love this template.
Fit for personal and professional blogging, Allegro is a very cheerful and beautifully designed premium WordPress theme. It is loaded with all the modern features and you can also customize it to suit your personal taste. What is more, the template is well aligned with AdSense, helping you earn a good deal of money.
Quadrum is a super cool theme from OrangeThemes that is bursting with coveted features and customization options. It is mobile friendly and extremely simple to use, which means you can reach out to many viewers. This directly translates into high CTRs and better revenue from AdSense.
Produced by ColorTheme, Infanta is a latest, easy-to-use and stylish theme that can be configured to focus on your blogging, portfolio, etc. It is well coded and provides tons of options to manage and modify any aspect, so that you can impress AdSense and make it your own.
Meet Triksi- a stunning and unique animated magazine style WordPress theme. Priced at $49, this responsive theme is well designed to attract customers and make them click the ads on your site. You just can't miss this one.
TheHealth is a clean blogging theme that serves health and fitness niche. It brings the best exposure for your content and gives a thorough professional look to your platform. You can also earn a nice amount of revenue through Google AdSense as the template knows how to leverage it.
The $45 ProStore is a very clean and content friendly theme that can display a lot of content in a clean and user-friendly manner. Its 3-column grid and many homepage layouts are very smart. The theme is also optimized for AdSense. You will really like it.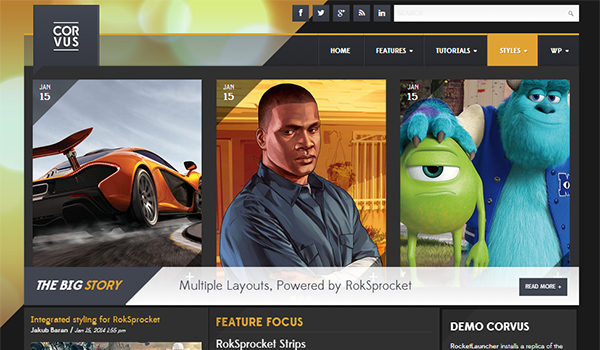 Corvus is a rich, dynamic theme from RocketTheme that puts your site's content at the forefront of user experience for just $49. It is very flexible, user friendly and also AdSense compatible. This ensures popularity and money for you.
iTheme2 is a responsive and fluid WordPress theme that comes with all the modern features. It is the perfect template for technology & Mac related blogs. What is more, you can also monetize it, for the theme is completely in sync with AdSense.
The $35 MagXP is the ultimate Magazine WordPress theme, which is super content friendly and customizable. It has a powerhouse of features and includes the much sought-after AdSense readiness. With it, making money is a cakewalk.
TastyFood, as the name suggests, is a Food Blogging & Lifestyle WordPress theme. It is very well crafted and helps you to earn a good amount of money through AdSense for just $59. All its features are up-to-date and give you the best design and functionality.
Prologue is a modern and mobile friendly, touch enabled magazine-style WordPress theme. It displays your content in an elegant and sophisticated way. In addition, the theme is AdSense ready. You can expect a good number of checks from Google.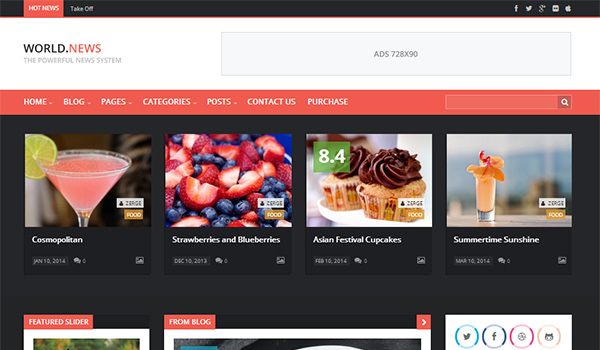 Designed for blogs and magazine sites, WorldNews is a super cool theme powered by the Redux Options Panel, which provides numerous options to manage and modify any aspect of your theme. The theme is fit for all and also compatible with AdSense.
Sharp Magazine is a clean and content friendly WordPress theme that uses ample white space to allow your content and images to shine. It is very nicely designed and carries the capability to increase your CTRs, which leads to better revenue and ranking.
Devised by Magazine3, Fit&Healthy is a premium Fitness and Health blogging WordPress theme. It is very professional and provides maximum exposure to your content. The theme is also AdSense friendly. You can easily make money with this Google tool.
Allegro is an alluring and efficient theme that comes with a rich array of features and customization. It helps you to become popular and drives a lot of traffic to your platform, which certainly converts into a higher CTR.
Alpha is a very useful theme that includes two skins: Magazine and Newspaper. It is responsive and designed to engage audiences. The theme is AdSense optimized, which results in more revenue.
Fully flexible and highly customizable, Responz is a 3-column theme for news and editorial sites. It is minimal, elegant and comes with great typography and AdSense optimization. The theme will bring you richer revenue and great response from your audience.
Voxel has a magazine orientated design and comes with amazing functionality. The theme is very open to customization. It is also in sync with AdSense. So, grab it fast as there is lot to earn in terms of money and popularity.
The $49 Trending News is a multipurpose Magazine theme that is clean and highly customizable. It is well structured and brings readers to your site in good numbers. What is more, the theme makes sure the readers click on your ads and bring you good revenue.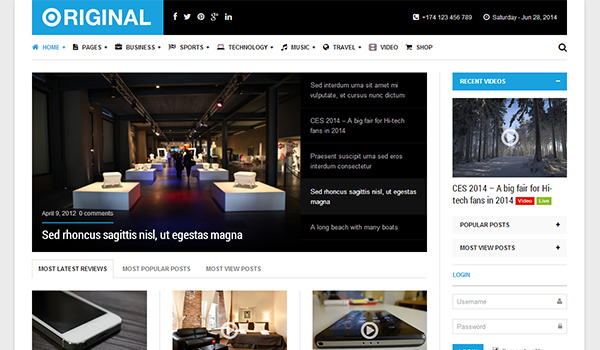 The $55 Original is a mobile friendly and modern Magazine WordPress theme that is also WooCommerce ready. It gives you all the options to build any website with ease. To top it all off, you can also monetize the template through AdSense. It has been designed to get the most out of your advertising space.
The $40 Solar is a simple blog theme that takes you back to the basics of WordPress and blogging. It is very easy to use, simple and helps you monetize AdSense for bountiful benefits.
Magazine is a 3-column theme that comes with lots of amazing features and styling options. With it, you can easily build any kind of layout. Use its widgetized banner ad areas to earn good amount of revenue from Google AdSense.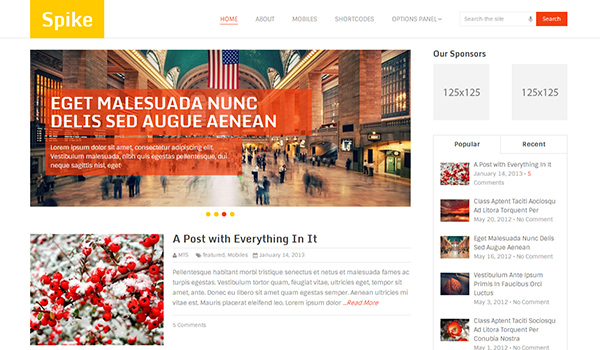 If you want a lively and colorful theme with top class functionality, then Spike is the right choice. This $35 responsive MyThemeShop theme is rich in features and can also make you rich with its extensive reach and AdSense compatibility.
Loaded with powerful features and cool customization alternatives, Neuton is a very classic theme that focuses on content and audience. It features a super cool hero section for your featured articles. It makes it easy for you to generate revenue through Google AdSense.
Volcano, from ColorTheme, is a content centric theme that can work best as a blog or magazine. It is bubbling with features that help you draw more traffic. Consequently, you can capitalize on it through AdSense. The best thing is that it is well suited for beginners as well as developers.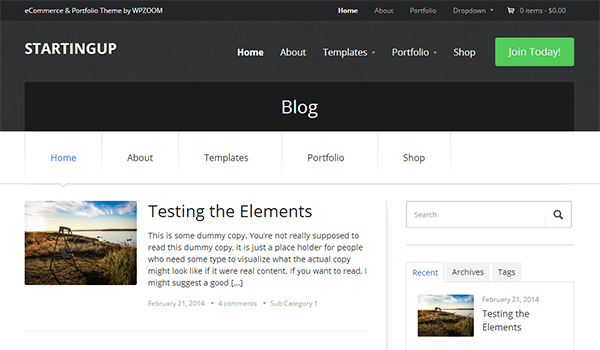 StartingUp is a perfect multipurpose theme that can serve as a portfolio, eCommerce store, etc. The theme is very customizable and also easy to install and operate. AdSense is also a very strong feature of this theme and you can use it to earn a lot.
The $40 Novelti is a bold News Magazine WordPress theme. It is not just super cool in terms of looks, but also comes with great usability. The theme is also AdSense friendly and makes it easy for you to get your audience to click the ads on your site.
The $69 Nexus theme is a very efficient theme that is packed full of custom widgets and content modules that give you control over your page. The theme can also handle lots of content without creating any feeling of clutter. It is loaded with lots of features, among them AdSense readiness is also a very strong point.
Novomag possesses its own banner system, in which you can add images, text, videos or any other type of HTML code. The theme is fit for all those who want to capitalize on the power of AdSense. You should definitely give it a try.
Ideal for businesses, studios and agencies; Tabula Rasa is a responsive and multipurpose WordPress theme. It is beautiful, clean and professional. The theme is also well organized to bring the best out of AdSense.
A cut above the rest of the ordinary magazine style themes, Papuros is fitted with the best design and functionality. It carries two types of layout for the homepage: Blog List and Group List. The theme makes sure visitors stay on your site, read your articles, and click on the ads.
The $45 Delipress theme is a flexible and mobile friendly WordPress theme for magazine and review websites. With it, your site will be online in minutes. You will be up and running, engaging audience and capitalizing on AdSense.
Now get ready to become a popular blogger who possesses a strong presence on social sites. BlogSpring capitalizes on the power of social media and brings a huge number of people to your site. This gets only better when you find that the theme is also ready for AdSense.
Launched by RocketTheme, Fresco is here with a visually rich design and powerful functionality. The theme has been designed with acute attention to detail. It is also ready for AdSense. You can place the ad banners at strategic points so that they get clicks and help you make money.
The $35 Schema theme is a very fast loading, ultra-SEO friendly WordPress theme that can easily find favor with search engines. This directly translates into a strong bonding with AdSense. The theme definitely deserves your money as it has all the best features of MyThemeShop.