WordPress theme development frameworks
WordPress theme development frameworks allow WordPress theme designers (and end users) to create sites based on WordPress that do not look like most other cookie-cutter WordPress themes. The following is a list of some of the WordPress theme development frameworks. They are listed in order of presumed updates (based on information from WordPress.org, developer's blog, and any other sources available).
Thesis 2
The Thesis 2 framework was built by and for developers, allowing code hacks and modular programming. This framework is the developer's dream, enabling them to create their custom programming without re-inventing the wheel. However, while it caters to developers, it can also be used by the end user who desires a flexible framework. The framework is designed with customization in mind, packed with many options to change fonts, colors, layouts and more. Users may need to read the manual on how to use Thesis 2, but they shouldn't be be discouraged, because the features are endless! The Thesis 2 blog was last updated in January of 2015, as of the time of this writing.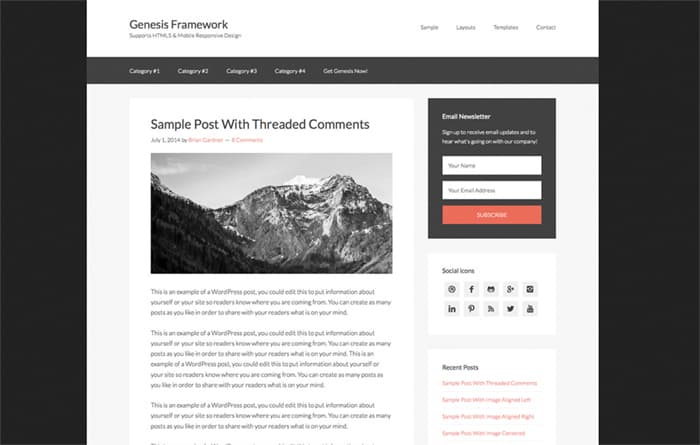 Genesis
Genesis offers you more options than we can even begin to list. Friendly to both beginners and advanced developers, Genesis allows the creation of highly customized WordPress themes that also keep search engine optimization in mind. This particular framework is very user-friendly for the end user. There is a support community full of developers and advanced users that have the experience and know-how to answer questions that the end user may have. The features and options are laid out in easy-to-use forms within the WordPress dashboard. Genesis' blog was last updated in December of 2014, as of the time of this writing.
Gantry
Available for both WordPress and Joomla blogging systems, Gantry allows developers to create themes that work on both computers and mobile devices. Custom presets allow for quick designs, and layouts can range from one to four columns with just a couple of clicks. Gantry was last updated on WordPress on December 18, 2014, as of the time of this writing.
WhiteBoard
WhiteBoard is a free, open source framework that focuses on speed, without losing quality. It is a lightweight, SEO-focused framework that is fully cross-browser compatible and embraces HTML5 and CSS3 coding. WhiteBoard's blog was last updated in June of 2013, as of the time of this writing.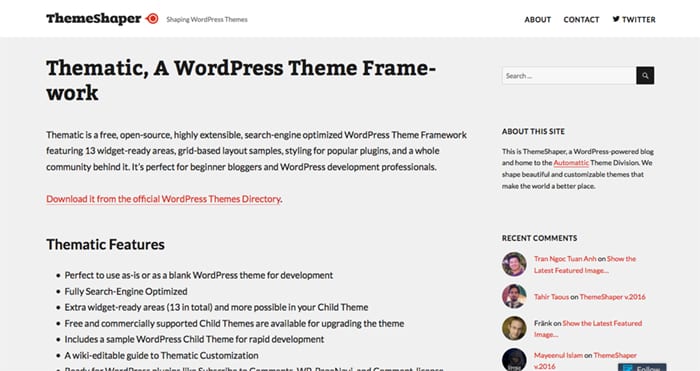 Thematic
Thematic is a framework focused on SEO, speed, convenience, and simplicity. Styling is available for the most popular WordPress plugins. With 13 widget-ready areas that designers and end users can enjoy, there's no holding back when it comes to putting out the best possible design for a WordPress site. Thematic was last updated on WordPress on April 9, 2013, as of the time of this writing.
Buffet
The Buffet WordPress framework is created with theme developers in mind but doesn't forget about the end users who may want to further customize a theme built on this framework. Buffet uses child themes, which allow heavy modification to a parent theme without needing to directly modify the parent theme's files. Buffet was last updated on WordPress on April 27, 2009, at the time of this writing. Hybrid Hybrid features several pre-made templates and widget ready areas for rapid custom WordPress theme development. Hybrid is open to all individuals and companies to use. Hybrid was last updated on WordPress on January 9, 2013, as of the time of this writing. There you have it, seven frameworks to choose from, for your WordPress development needs, whether you are the developer/designer or the end-user.
Joe Hall is a web developer and designer that enjoys helping his clients as much as possible. He recently published an article on saving money that featured CubicleConcepts.com among other awesome sites.