Free Music Vectors
Music is a huge part of our lives. Everywhere you go everybody loves some form of music. Music and art no hand-in-hand, and they always have. Music is considered it's an art form, but art that accompanies it such as album art and posters have been a part of our culture for decades. That's why this week I'm sharing free awesome music vectors. You can use these free music vectors and poster designs for concerts, album art, or to promote a music or dance party. You can preview days free music vectors below.
The first design in the set of free music vectors is the final record with notes flowing away from it. It actually looks like the notes are breaking away from the vinyl album and floating away. This is a really cool effect.
This design is a shiny vector note. This music note is supposed to look like gold or some sort of metallic object. The bouquet affect surrounding it makesit sparkle.
The third design and our set of free music vectors is a circular music background. Music notes fade in and out of this design and they flow in a circular formation.
This music vector design has a lot going on. It has subtle gradient backgrounds, and vibrant lighting effects. Then you have music notes that flow throughout the design was a music score as the background. Then, the last element is a retro text design in the top right hand corner.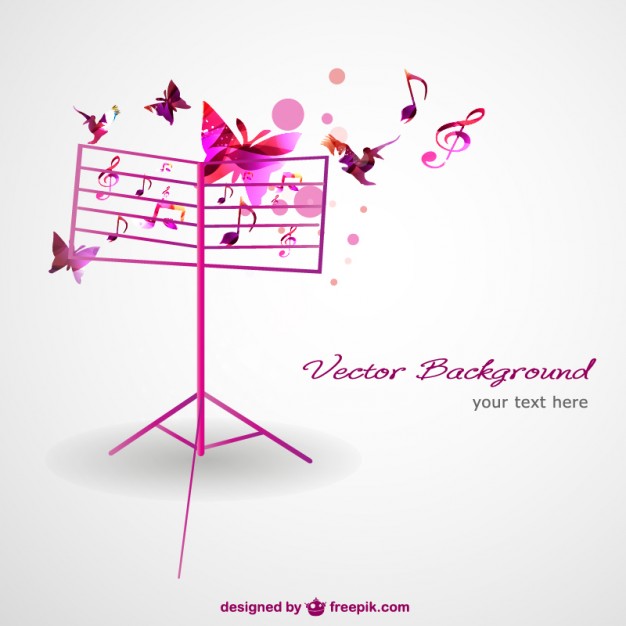 This design is a music stand that you would fine for musician playing a classical instrument. The mix of butterflies and music notes coming from the stand is an extra added effect. These extra elements are nice touch to the design.
These music shapes combined with the black background at the bottom create a silhouette effect that is popular for music posters. The geometric triangular background creates a great sense of contrast with the dark silhouettes.
This spiral effect creates a lot of movement. The notes seem to flow with the spiral and come out at the top. This draws your eye around the entire design and is a powerful effect.
This design is another album art effect. The final record is in the center, in the music notes seem to come forth from that album. This creates a sense of movement and has a lot of visual impact.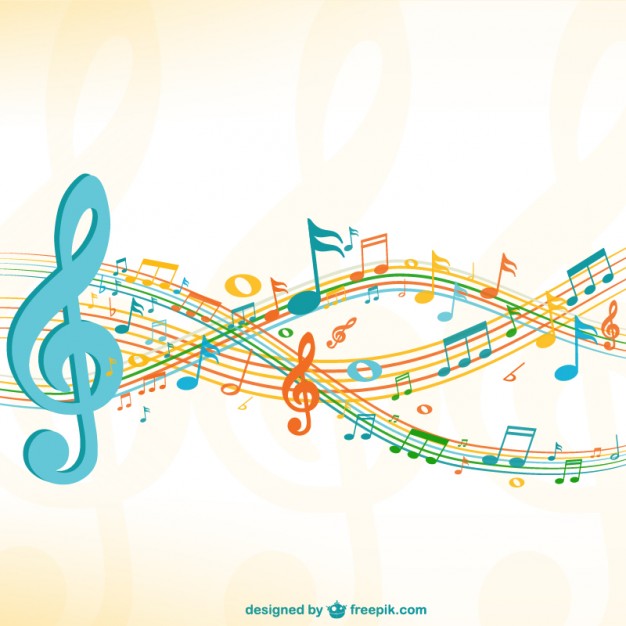 These colorful music notes and music scores are a great background for any kind of musical design. The colors have a retro effect it reminds me of the light 60s and early 70s teller schemes. The three different music waves crate a lot of movement in this design which really gets your attention.
This is a set of abstract musical instruments. I really like the colors in this design, and also like the different guitar shapes. The vector saxophone shape is a point of interest that stands out against the other guitar instruments. The microphone in the center makes you think that this is a design for a band.
This design is one of my personal favorites. It is a guitar made out of music notes and a music score. This creates a powerful image with music notes which gives this image a lot of impact.
The last free music vector in this set is a guitarist made out of colorful dots. Using the closure design principle are on makes the shapes due to color and proximity. This type of design really catches your eye because your I has to work a little bit to complete the shapes. Destroy dots create a sense of movement because they're not a part of the nine shape.
Conclusion: Free Music Vectors
What do you think about these free music vectors? You can use these in your design work to make your music designs stand out. Use these vector music designs as a base for your own projects. You can save time by combining elements from these designs with your own work for dazzling effects.