Create a Cartoon Character in Adobe Illustrator
Chances are, if you use Adobe Illustrator, and you get good with it, you'll eventually come across requests for cartoon characters. People use them in advertisements all the time to create a fun and inviting atmosphere. All cartoon characters are just a collection of basic shapes, you just have to know how to break down the complex shapes into simpler shapes. If you can understand this simple concept, you'll easily be able to create a cartoon character in Illustrator. In the Video below, I'll show you how to create a cartoon character in Adobe Illustrator.
The new shape capabilities in Adobe Illustrator make it easy to quickly alter shapes. If you understand how one shape relates to the next, you can change a corner or a segment and create the shape that you want in seconds. The base illustration is one that I created one day while playing around in Illustrator. In the video above, I break down that illustration into basic shapes to make it easy to understand how it is made.
Using panels like the Pathfinder and Align Panels will save you tons of time. I can position and merge two basic shapes and create a complex shape in just a couple of keystrokes. The best part is that I'm not doing anything fancy here; it just takes time and experience that comes with using the software.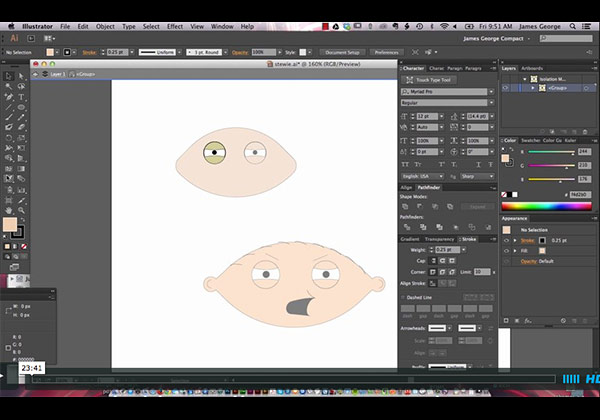 Were You Able to Create A Cartoon Character in Adobe Illustrator?
How did your cartoon character turn out? Did you run into trouble? Did you try creating a cartoon character of your own? I'd love to see your work! Save your cartoons characters as a jpg file and post them in the comments section below. If you need help or have questions, feel free to post those to. I'll try to help you as best as I can.