Escape Velocity: One Page Responsive Html5 Template
This week's html5 template is Escape Velocity, a One Page Responsive Html5 Template. Its completely free and is by Html5Up. Escape velocity is a great One Page Responsive Html5 Template that is a great base for any basic website. Not only is it responsive, but it features nicely done background textures as well. This adds a little something extra over just having a flat colored background. Escape Velocity is completely free for personal or commercial use, but be sure to give them credit if you use their template. Below are screenshots of the different areas of the Escape Velocity One Page Responsive Html5 Template.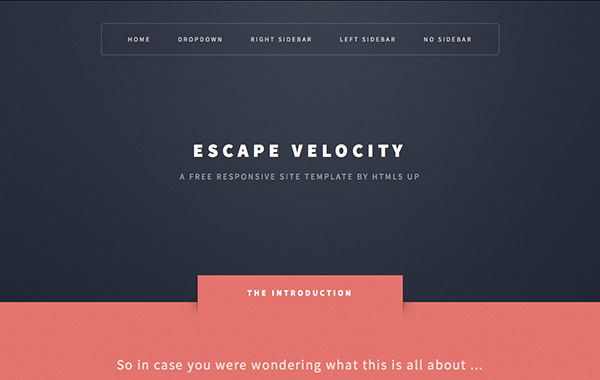 The demo shows no sidebars, but there are layouts available for a right and left sidebar section. The color combination of this template has a great amount of contrast and looks great.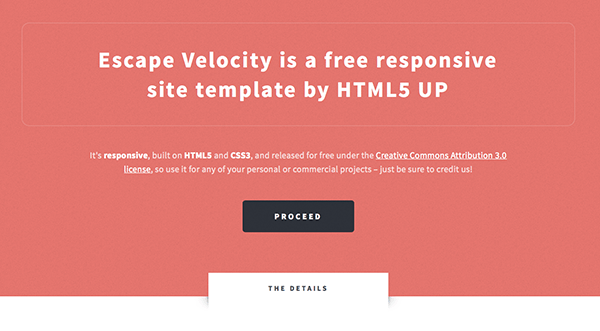 Escape Velocity is a one page design, so all information is displayed on the front page. However, with different sidebar layouts, you can add additional pages as need and they won't all look the same.
Type looks great in this website template, with plenty of negative space for letting the type speak for itself.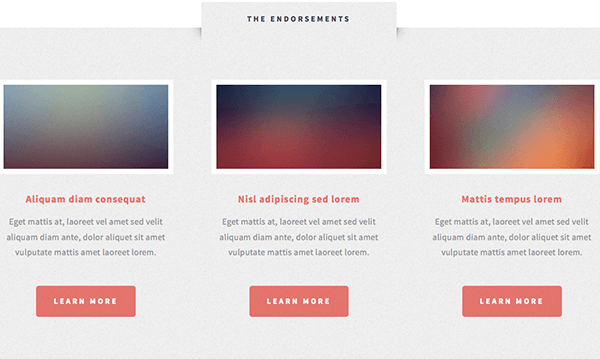 Escape Velocity has a built in contact form, with 2 sections to elegantly place contact information such as an address and social media links.
Download Escape Velocity: The One Page Responsive HTML5 Template
This is a great template created by Html5 Up and they did a great job of tying everything together to form a cohesive look. To download their template, click the green button below to be taken to their download page. Don't forget to give them credit if you use it, and also be supportive and give them a like and share via social media, too. What will you use Escape Velocity for? Do you have a side project or a portfolio site that you want to create using this template? Feel free to share your thoughts in the comments section below.