30 WordPress Designs with Lazy Load
Long web pages and one-page websites, where you just scroll through all the sections, is a hot new trend. Big-resolution designs with huge stunning images and a variety of visual effects are another one. But can a page like that, loaded with heavy images, meet the obligatory requirement every Internet user has today – load in a split second?
A few years ago your web developer would say it couldn't. Now the so-called Lazy Load plugins make it happen. Long, image-rich pages don't have to load all the images instantly. Instead, Lazy Load makes them load only those images that are in sight, and load more as the user scrolls down. Thanks to that, you can now build pages, as rich in visuals as you like, and still have them load in a blink of an eye.
If that's the website you always wanted to have, bookmark this collection of WordPress themes with Lazy Load effect! Your WordPress website can have a trendy new look and remain as fast as it used to be. And the best thing is there are more arguments in favor of the stunning designs you will see below.
Your Time and Money Saved
A website revamp doesn't have to be expensive and time-consuming. Just get a predesigned theme, ready for installation, and be done with it in a couple of days. Plus, the costs involved are much less in comparison with creating a custom design theme from scratch.
Your Mobile Visitors Happy
You probably know that mobile Internet users are a rapidly growing audience, so you want your website to be as convenient for them as it is for desktop users. With these responsive themes, your website will automatically adjust to any screen size for better user experience.
Your Design Made Unique
A ready-made theme is not really the unique look you want for your website? It can be. With so many possibilities for customization, you can create a one-of-a-kind look out of the predesigned theme you buy. Besides, all images are included and licensed, so you are free to use them on your website, if you like the design as it is.
Time to keep up with the latest web design trends! Take a look at the newest Lazy Load WordPress themes that will help you build a fast and visually rich web page.
Gamers' Meeting Place: Video Games Portal
With gamers, you always need to catch their eye: a visually rich and brightly colored design like this one is able to do it. Just perfect for a news portal on video gaming.
May Grace Be with You
A church needs decent online presence just like any other organization does. This warm and clean WordPress design will help.
Energy Resources Innovation
A clean and tasteful website like this will be perfect for the industry that seems so controversial for environment-conscious people.
Cutting-Edge Gadgets
Edgy-looking, with basic colors like black, gray, and bright blue, this design is just perfect for any technology-related website, like an electronics review web portal.
European Lunch
Make an accent on the delicious-looking food your restaurant offers: the rest of the design doesn't have to stand out. This WordPress theme is a nice example.
Out-of-the-Box Corporate Website
Are you tired of corporate websites that all look pretty much the same? If you are, this business website design is for you: it's what you would call thinking out of the box.
Where Jobs Meet Talent
Finding a new job can be tough, and so can be finding great employees. A clean and smartly designed website like this can make the process easier both for the applicant and the employer.
Education & Knowledge
This theme has everything a school or any other education-related organization might need: simple and tasteful design, lots of content elements for publishing news and events, and a few cool visual effects that liven it up.
Clubber's Night
A night club needs a website that will make people want to come there and dance all night long. This WordPress theme does exactly that.
Subtle Style
Style and taste are always subtle: there is no need to overwhelm the user with gaudy colors and elaborate fonts. This WordPress theme is a perfect example of a tasteful website.
Soft Pastel Web Design
Clear, combining lots of white with the softest light colors, this theme could make any web design agency proud of its website. After all, for someone creating websites for other people, having a decent one is an absolute must!
Tutors for Everyone
An education-related website needs to remain a little traditional. This one does it well: it is clean, simple, and combines navy with green in a pleasant-looking way.
Stay Connected: Internet Provider Website Design
Combine the 'big & flat' trend with a pleasant pastel color scheme, and you have a design that is a treat to the eye. It's pretty universal, too, and could work for a variety of businesses.
Industrial Equipment Leader
Does industrial equipment sound boring to you? Well, it certainly will not look boring with this stylish website design.
Gourmet Italian Food
Italy has given the world lots of delicious things – and they are all here, proudly showcased on the homepage of this design. Looks mouth-watering, doesn't it?
Give a Helping Hand
A charity website can do with a somewhat traditional, retro look that this design theme has. Especially if it uses a warm color scheme and natural-looking backgrounds.
Designing Buildings of Tomorrow
With a lot of space and big elements, this WordPress theme seems to be just perfect for a website of a modern architecture firm.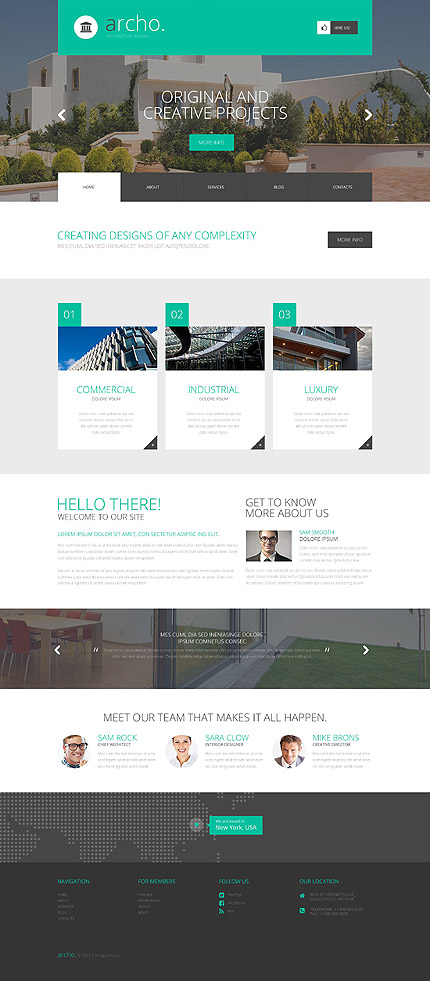 Family Fun
A sunny summer day in the park, having fun with your family, kids laughing – that is the perfect image of a family day. This web design for a family portal manages to create the image by using photos and colors the right way.
Fresh Investment Ideas
There is room for creativity in any business, including investment banking. If that is your major strength, make sure you add a creative touch to your website design. This theme is a good example.
Air, Ground, or Sea: Transportation Services
Make your customers trust you, with a professional-looking, clean, modern website design. This one will work perfectly for a transportation business.
Cozy Restaurant
Atmosphere is a great deal when it comes to restaurants. With a web design like this one, you can connect with your restaurant's customers on a more personal level and create a really warm, friendly image of your place.
Niagara Water Park
Energy, fun, movement, positive emotions – how do you say all that through design? This theme for water parks speaks to the website visitors with eye-catching colors and a variety of great images.
Innovative Architecture Design
Architecture is an art, and these days art is about simplicity. To match the minimalistic style of modern architecture, this WordPress design uses a minimum of decor.
All Credit Card Solutions in One Place
Slick, clean, with attention-grabbing coral details – this design look absolutely professional, like a finance-related website should, but manages to stand out from the crowd.
Your Computer Back in Order
Computer repairs are a technology-centered business, so the website of a business like that won't tolerate any fluff. Big, simple fonts plus a cold color scheme – this is the recipe for a website like that.
Taste and Minimalism for a Furniture Website
Reserved colors, simple lines and shapes, a minimum of decor – these are the attributes of tasteful, minimalistic modern furniture – and the attributes of this furniture website design, too.
Best Care for Your Loved Ones
Choosing a home healthcare agency is not easy: you need to absolutely trust the people you hire. This pleasant website design can help any healthcare agency build trust with its website visitors.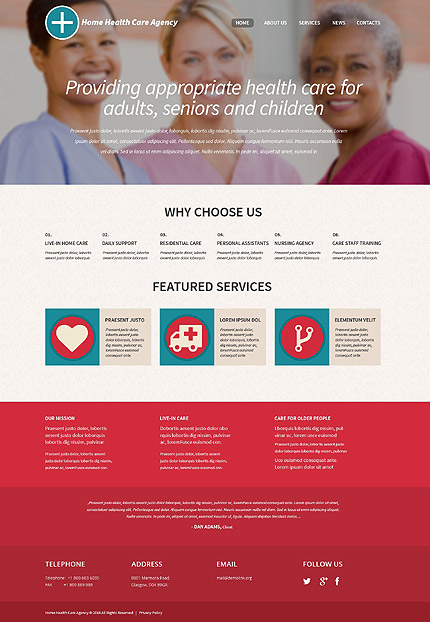 Travel Safe
If you offer travel insurance, make sure your website tempts the visitors to go for a trip – but persuades them to secure their lives first. This WordPress design does it well.

Creative and Active Team
Creativity, innovation, fresh ideas – these are the words everyone uses to describe their team and services. It's better to show than to tell, though: your website is the face of your business, so why not pick a design that truly is creative and fresh, like this one?
The Freshest Meat
Freshness and quality – this is what you look for when buying meat products. This WordPress theme for a meat factory's website has both these qualities.