2015 Calendar Templates
As we are winding down 2014, it's time to start looking ahead to 2015. One thing that we need to consider is picking up a calendar for the new year. The great thing is, our clients are thinking the same thing, too. This is a great opportunity to advertise and promote your business. If you create your own promotional calendar for 2015, businesses will use them in their offices. This can help to keep your business on the minds of your clients when they need your services. I've put together a collection of free 2015 calendar templates you can download and use in your projects.
This first template has a Bokeh background and is a colorful 2015 calendar template for any office.
This calendar is really created with its circular design. This would be great as a poster in a large office. Not only does it stand out visually, it's a different way to look at the days of the year.
This is a full-size desktop calendar template. It has plenty of room to make notes for each day of the calendar year. This template is available in EPS and.AI format. Each month of the year is a separate page. Each page is 23 3/4 inches wide by 16 3/4 inches tall. This gives you plenty of room to schedule all the appointments and events that your business will be attending.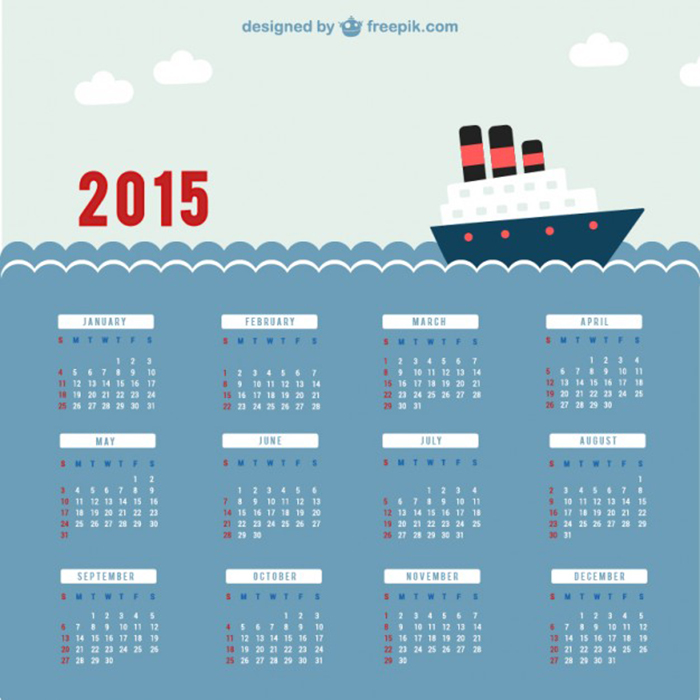 This template has a colorful nautical theme. This is a fine illustrated calendar template that will liven up any office.
This calendar template as a polygonal background. The months are well organized and overall the calendar has a very modern look.
This calendar template is a very geometric design. The circular teal elements really stand out against the gray background. The red hexagons standout, telling you what month it is. This is a very unique calendar template.
I just love the checkerboard design of this 2015 calendar template. The colorful squares really stand out, breaking up the monotony of calendar months.
If you want a minimally designed calendar, this template is the choice. Of course, you can customize this, as well as any of the other calendar templates I've listed here.
This template has a vertical format, which makes it great to use as a poster. Each month is a different color, which makes it easy to find when you need a quick reference. I also like the colorful stripes on the left-hand side.
Conclusion
I've put together a useful collection of free 2015 calendar templates you can use for your office. They are all in vector format, which means that they are infinitely scalable and will print with crisp graphics. Which one of these free 2015 calendar templates is your favorite? Feel free to leave your thoughts in the comments section below.