Free Christmas Banners
The Christmas season has crept up on us, and it's time to run seasonal promotions on our websites. The right banner can go a long way in getting the attention we need to generate more sales. When we think of the Christmas season, we typical think of a few things. We think of holiday decorations, lights, trees, etc. Today's collection of free Christmas banners are just what you need to get the attention of visitors and promote holiday sales. Let's take a look at this collection of Free Christmas Banners.
The free Christmas banners shown above use the colors you'd typically associate with the holiday season and Winter. The right balance of sparkles to represent Christmas lights, combined with elegant typography is just the look you need.
Bokeh is big around this time of year, due to the effect that is typical when taking photos with Christmas lights in the background. That's why they work so well as the backgrounds for holiday promotions. Red, green, and gold all work well as backgrounds for a variety of promotions.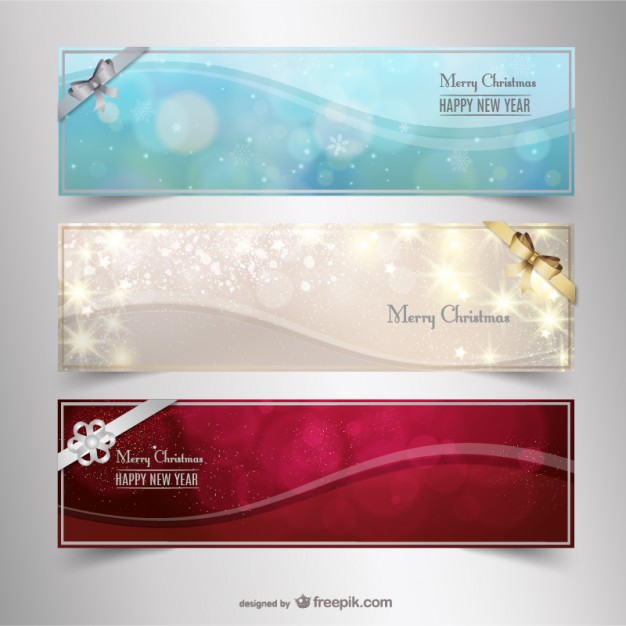 I saved my personal favorite for last.The white and silver, the red, and the soft, wintery blue banners all epitomize the Christmas season. These free Christmas banners are all topped off with bows to add that extra touch that makes them stand out even more.
Conclusion
Which one of these free Christmas banners are your favorite? I really love the third set. They all come together to create a great backdrop for your website ads or promotions. They are all in vector format, which means that you could adapt and modify them. You could end up turning them into Christmas cards or print advertisements. They'll look just as good, and they'll print out crisp and beautiful at any size.