A Cool Expanding Navigation Psd and CSS, Too!
This week's free Psd file is a Expanding Navigation template. The cool part is that this isn't just the psd file, you actually get the Css to integrate it with your site. If you've ever had a case where you wants a navigation bar that expands and tucks away when you don't need it, this template is for you. When you click the small button, the rest of the navigation bar is revealed, giving the user more things to explore. I've only seen this used in a couple of websites, but i thought it was an interesting touch. This free Expanding Navigation Psd is an excellent resource for implementing a unique feature on your site. It was created by krishnachaitanya, so be sure to check out his Dribbble page and show him some appreciation. You can see screenshots of the Expanding Navigation below.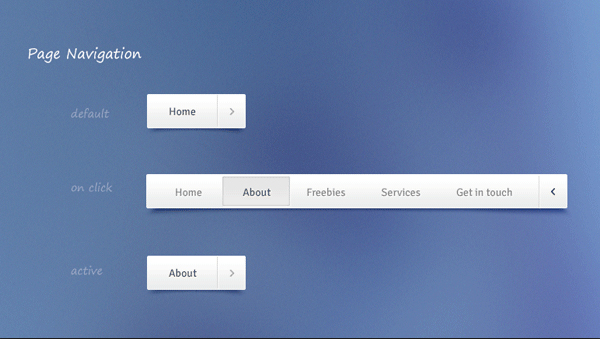 The regular Expanding Navigation menu is just a standard menu that contains the main links to your site. It detects what page you are actively on and displays it as the active state. It is a really neat concept and could actually call more attention your navigation menu.
This also works with social media icons. If you want to show only one and give the user the ability to seek out other choices, this template does a good job of that. Overall, I like the look of this Expanding Navigation menu. its presence is subtle, but effective. The design doesn't have a lot of frills, because the hiding and showing functionality is what makes this menu stand out.
Download The Expanding Navigation Menu
This is an excellent free Psd file, and it's awesome that it comes with aversion already coded, so you can just drop it right into your project. With clean lines and a minimal design, this Expanding Navigation menu would look great on just about any site. To download, simply click the green button below, and you will be taken to the download page. There are separate buttons for the Psd file and the Html and Css files, so be sure to click them both if you want it all.