Pick up a Free Twitter PSD Template
It's nice to have a mockupof popular user interfaces. I have seen mockups of Facebook that people have created all over the web. I have seen that many of Twitter, but they can be very useful. Let's say you wanted to create a Twitter app or something that is Twitter inspired. This free Twitter Psd Template is the perfect file for that. It is essentially a Twitter UI kit and it would be really useful for creating your own Twitter inspired user interface. This Free Twitter Psd template was created by Ryan O. Hicks who can be found on Dribbble. He has some nice work so be sure to check out his other projects. You might also drop him a line and thank him for the free template. Below is a screenshot of his free Twitter Psd Template.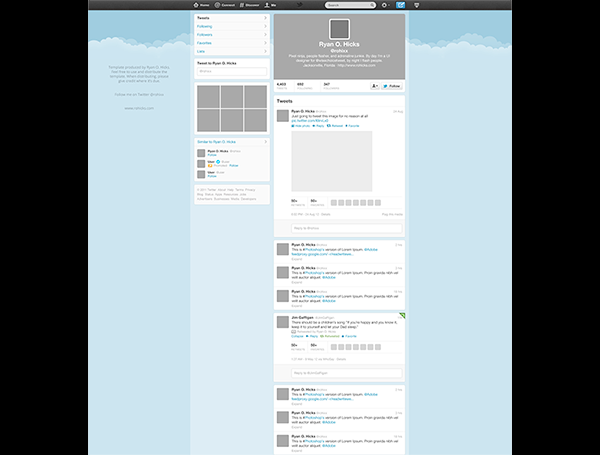 Some Things You might Use the Free Twitter Psd Template For
If you start a lot of micro businesses, then chances are that you have a lot of Twitter and Facebook accounts. Most of us know how to set up our Twitter profile details, but sometimes it is nice to be able to preview our branded items on Twitter before they go live. Here, you can preview your profile image, your header image and your Twitter background. Sometimes you just have to see the placement of things. This would cut out a lot of trial and error cropping and resizing. It would also keep you from having to re-upload your flattened jpg file each time. You could also show your client what their logo and branding will look like on Twitter without it being live. Its actually a nice branding tool for your business. The file is also laid out nicely, with guides and organized layers.
Download This Free Twitter Psd Template
This is a high quality free Twitter Psd Template that you can download and use to mock up your own branding or branding elements for your client. To download, Click the download link below to be taken to Ryan O. Hicks' Dribbble page for this file.