Free Vintage Nautical Vectors
Let's face it. We all love vintage design. Vintage type and retro styles are beautiful and lend themselves to an era of true craftsmanship. Today's free vintage nautical vectors are no different. They are incredibly well made. They utilize great vintage type styles and everything looks seamless. This pack of free vintage nautical vectors looks like an integrated set. You will find a lot of typical vintage styles that are well-crafted. Below is a preview of the free vintage nautical vectors that you can download.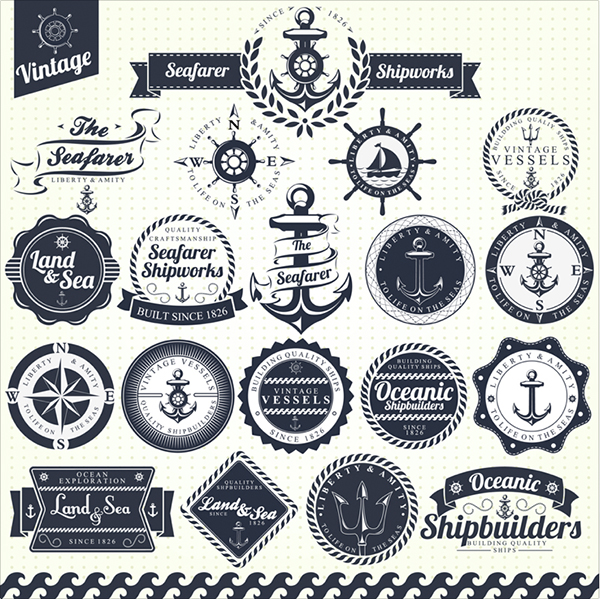 You can see above that these badges and vintage nautical vectors are amazingly well done. There are a lot of vintage ribbons. Some elements are tough to pull off on your own, such as the rope circular badge in the top right and the bottom 2 rows.  There are plenty of vintage dots and stripes elements that look absolutely incredible. The vintage nautical wheels and anchors are spot on and would look great for any nautical themed logo.
There are a lot of typical nautical elements, such as the traditional nautical compass. In the bottom right, there is also a vintage nautical compass. I like how there is a mix of circular elements and other shapes, such as ribbons, and diamonds. If you want to create a nautical design that looks traditional, this set is the one for you. They are all in eps format, so you can bring them into Illustrator and change them around however you need.
Conclusion
If you are looking for an excellent set of vintage vectors, this set is a great asset to anyone's vector library. There is a wide variety of applications that this set would be good for. Combine these elements with retro typography and you'll create a truly vintage experience for your clients. Adapt these elements, or use them as inspiration for your own vintage designs. What will you use these free vintage nautical vectors for? To download, click the link below.