Email Marketing: The Key to Success is in Your Email List
I'm sure you've heard that, right? Well, it's true! You can't makes sales if you don't have anyone to sell to. The biggest mistake that most businesses make is to write a lot of content and build a ton of traffic without having things in place to collect data. You're goal should be to get visitors to be long-term readers and build a relationship. Let's take a look at this approach and why these email marketing tools are so effective.
People are Busy!
People are going to come to your site, and whether or not they love your content, they'll forget about your site. You have to focus on the here and now, which means that you need to collect their email address, and send them useful stuff over time. Think about it like this:
Who are you likely to buy from?
A. Someone who walks up to you on the street and shoves all of their merchandise in your face screaming "Buy! Buy! Buy!!"
B. A vendor who is on the corner, offering free samples to interested people who happen to walk buy, who is friendly, and offers you discount coupons to come back and buy from him?
The answer should be obvious. It takes time to build a relationship with potential buyers. No one, and I mean no one likes having stuff shoved in their face and being pressured to make a purchase.
How to collect emails efficiently [For Free!]
You don't have to be a web master to collect emails from your website visitors. In fact, there's a free plugin I use for all of my sites, and that I recommend for all of my clients to install on their websites. It's called SumoMe, and it is a one-stop-shop for every list building and email gathering tool you can imagine. So what does SumoMe do? It gives you several tools that gives your email list building efforts rocket power. Here are the mini plugins that come with SumoMe:
List Builder – List builder is my personal favorite, because it is optimized to pop up when someone is about to leave your site. It's like a last-ditch effort to get someone's attention and entice them to stay updated so they can receive future posts and offers from you.
Smart Bar – Smart Bar is killer, too. I put it at the top of all of my sites to collect email addresses, or you can set it to link to special offers or landing pages where they can do something special. it can sit at the top of every page, so when you're doing something cool like running a contest or a giveaway, you can get peoples attention with little effort.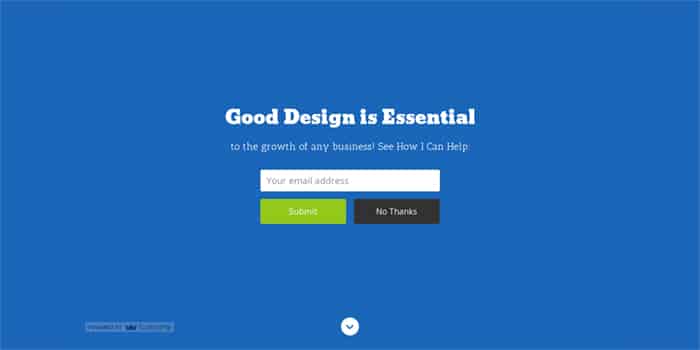 Welcome Mat – This is definitely a cool concept and a newer addition to the suite. It slides a full screen window down to remove all distractions, making it so that all of the attention can go into what you're offering. Promote an e-book, a webinar, or just to subscribe to your updates. The opt-in rate for Welcome Mat is really high, likely because visitors can't possibly miss it.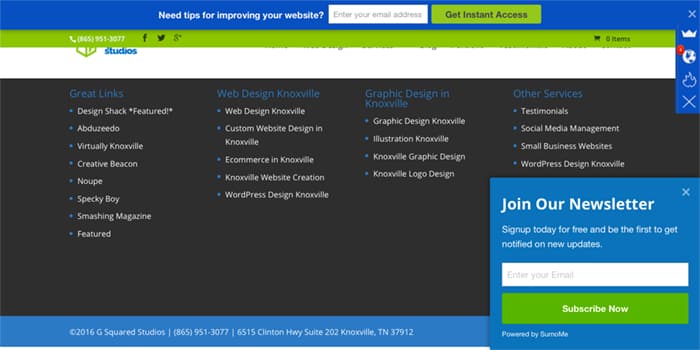 Scroll Box – Scroll Box is awesome, because you can set it to show up when someone scrolls so far down the page. This is a great way to connect with engages readers who are likely looking for more information.
See other Plugins in the all-in-one SumoMe Plugin solution.
Easily Customized to Match your Brand
SumoMe is easy to customize, so it will match your brand. With little effort you can change the colors and settings to match your own brand colors. SumoMe doesn't have to have a generic look. Just go into the design settings and add your own hex values. You can also customize the message, or even have most of these point to a specific page.
Choose Wisely!
Okay, unless you want visitors throwing their phones or computers across the room, you probably don't want to use all of these at once. It's a good idea to choose 1 or 2 to use in unison, and for different purposes. I usually install Smart Bar and List Builder by default. That combination has worked well for me, for multiple sites I run. My local web design business uses these, with Welcome Mat selectively to constantly generate leads for me.
How to get the most out of the Free SumoMe Plugin
The key to all of this is to add value. There are so many things you can do to convince visitors to give you their email addresses. Whatever you do, make sure it is useful. That is a surefire way to get poeple to invest their time into listening to what you have to say.
Give Away Free Stuff in Exchange for Email Addresses
That doesn't mean you have to give away all of your trade secrets. It just means that what you do give away should be useful to someone. Here are a few examples of things you can give away.
Checklists for completing multi-step tasks.
PDF Guides to how to do something little that you do, that someone may not know how to do.
E-books with good info.
Templates related to what you do.
Access to an exclusive video or web page with useful info.
A free trial to your software, etc.
Coupons where they can come in-store and make a purchase.
These are just a few ideas, but you can be as creative as you want to be. If you're not getting a lot of signups, try different things. Some of this involves a little trial and error.
What do you do with the email addresses you collect?
They need to be stored somewhere, so you can send emails out. You can't send a ton of emails out from a Gmail account. You need an email service provider to handle that. Any information you collect can be stored by these services, enabling you to generate personalized emails to your list. SumoMe connects with most major email marketing service providers, such as:
Mailchimp
Aweber
Constant Contact
Campaign Monitor
Get Response
Emma
Mad Mimi
Infusionsoft
Hubspot
Mailjet
ConvertKit
Vertical Response
and many others! It really is meant to easily connect to just about any service imaginable in order to make the process hassle-free. There's no lengthy setup, and no real technical prowess involved. You click the service, log in, and it will connect automatically.
Get Started Building Your Email List Today!
To get started, click the link below and follow the instructions on how to install SumoMe and set it up. It's really fast and easy, and the settings are intuitive.
[rad_rapidology_inline optin_id=optin_11]